See how time flies when you are having fun, I can't believe its Thursday! Well I hope you are ready for the hottest events to be spotted at this weekend. On this Edition of BN Events This Weekend; In Lagos from a cocktail Launch of the MegaCare Pharmacy which is absolutely free to attend to a captivating drama "Castles In The Air" to the city of London where some of our Nigerian designers will be doing us proud showcasing their latest collections to the big apple fashion set.
Cheers to the weekend!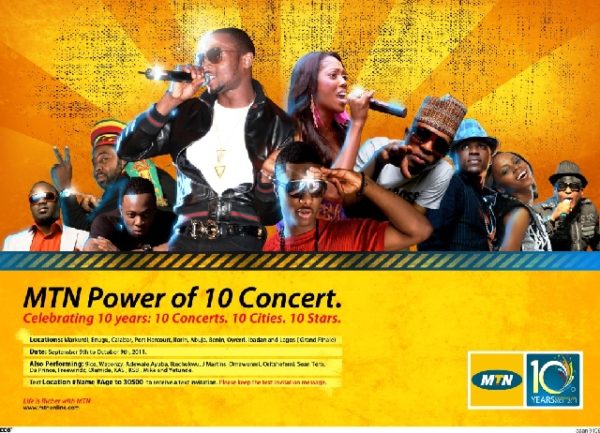 MTN Power Of 10 Concert
MTN is celebrating its 1oth year. So they are going 10 cities in Nigeria with 10 major artistes and others.You'll experience D'banj, Tiwa Savage, Naeto C, WizKid, Chidynma & lots more. MTN Subscribers in Calabar & Port Harcourt, you just have to text your Location#Name#Age to 30500 and you'll receive an invitation keep the message, so as to be allowed in to the concert! Tune in to BellaNaija.com to know when MTN is coming to your city.
Calabar
Date: Friday 16th September 2011
Venue: Cultural Centre, Calabar
Port Harcourt
Date: Sunday 18th September 2011
Venue: Civic Centre, Port Harcourt
___________________________________________________________________________________________________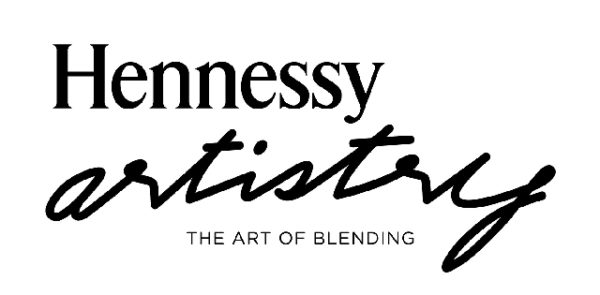 Hennessy Artistry
Date: Friday 16th September 2011
Venue: Nu Grotto, Victoria Island, Lagos
Artiste: BlackMagic
Venue: X- Lounge Port Harcourt
Date: Saturday 17, September 2011
Venue: Pearl Harbour, Festac, Lagos
Artiste: Shank
Venue: Cubana, Abuja
___________________________________________________________________________________________________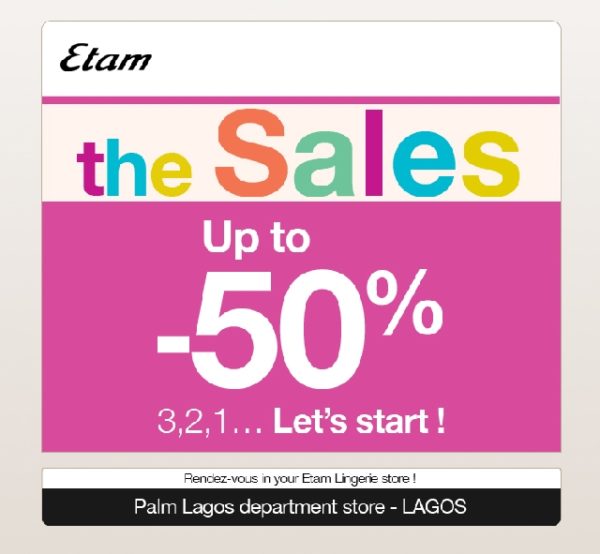 Etam: The Sales Up TO 50% Discount
Etam is giving 50% discount off their items in the store. Hurry now, this discount is only available while stocks last.
Date: From now Friday 16th September 2011 till stocks last
Venue: Etam Store, The Palms Shopping Mall, Lekki, Lagos
___________________________________________________________________________________________________
Reel Life Presents I Bring What I Love
An audience sensation at film festivals worldwide, I Bring What I Love, takes us behind the scenes and into the world of Africa's most famous musician Youssou N'dour. This never-told-before story follows N'dour at a turning point in his life and career, as he releases his most personal and controversial album, Egypt.The movie was directed Elizabeth Chai Vasarhelyi
Date: Thursday 15th September 2011
Time: 7:30 PM
Venue: The Life House, 33 Sinari Daranijo Street, Off Younis Bashorun, Off Ajose Adeogun, Victoria Island, Lagos
Contact: Log on to www.ibringwhatilove.com
_____________________________________________________________________________________________________

The Launch Of MegaCare Pharmacy
MegaCare is having a launch cocktail, there would be lots of wine, cheese, grapes, hot canapés, chic cupcakes, and great music. Admission is free. To RSVP for the event or If you require special IV's call 08169345364.
Date: Friday 16th September 2011
Time: 4 PM
Venue: Megacare Pharmacy Grounds '96, Awolowo Road, Ikoyi, Lagos
Contact: Call Pharmacy Hotline 08191473532 | Log on to MegaCare website www.megacareng.com
________________________________________________________________________________________________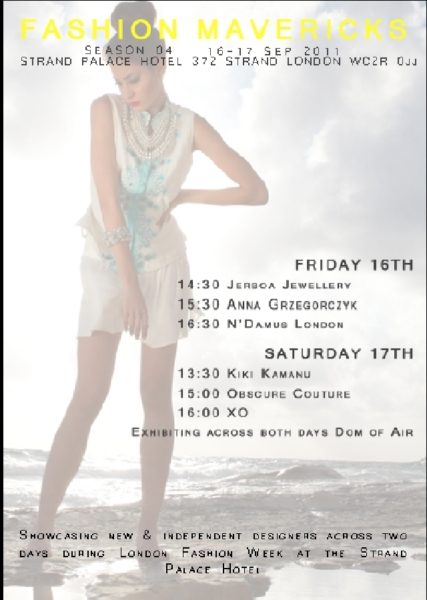 Fashion Mavericks Season 4
The event is aimed at providing a platform for British and international designers to an audience of international buyers, press, fashion enthusiasts and other key trade personnel during one of the most busiest times in the worlds fashion calender- London Fashion Week.Previous designers have included British-Nigerian designer Fabryan & Nigerian designer Kiki Kamanu.This coming season Nigerian designer Kiki Kamanu will return with a new collection amongst other international designers from around the world.
Date: Friday 16th September 2011
Designer: Jersca Jewellery/Time: 2:30 PM | Designer: Anna Grzegorczyk/Time: 3:30 PM | Designer: N'Damus London/Time: 4:30 PM
Date: Saturday 17th September 2011
Designer: Kiki Kamanu/Time: 1:30 PM | Designer: Obscure Couture/Time: 3 PM| Designer: XO/Time:4 PM
Venue: The Strand Palace Hotel, 372 Strand, London WC2R 0JJ
________________________________________________________________________________________________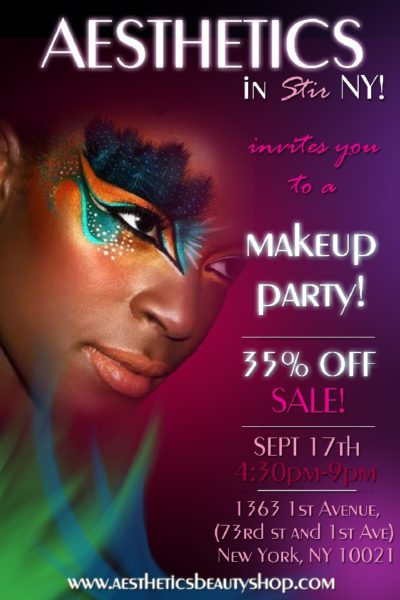 Aesthetics Beauty & Fashion Company Sales Event
Come join the beautiful Ladies of Aesthetics Cosmetics for a fabulous make-up sales event , there would be fantastic sales of 35-50 % discount, raffle draws for free on site make-overs and win tickets for free on spa treatments.T o attend you have to RSVP for the event.
Date: Saturday 17th September 2011
Time: 4:30 PM – 9 PM
Venue: 1363, 1st Avenue New York, NY 10021-9516, United States
Contact: Log on to www.aestheticsbeautyshop.com | log on to their Facebook page to RSVP http://www.facebook.com/event.php?eid=184966671568812
__________________________________________________________________________________________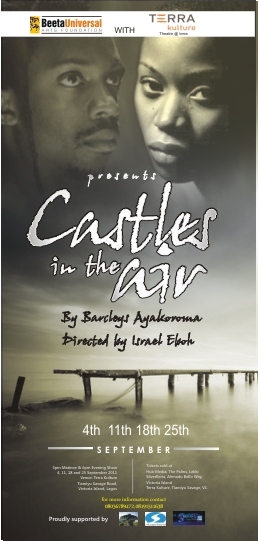 Beeta Universal Arts Foundation With Theatre at Terra Present A Play Titled Castles In The Air
A Playwright by Barclays Ayakoruma. The Story is centres around Aminu, his parents, an uncle and Aminu's love.Come and see the travails that Aminu faces in the quest to marry the love of his life.
Date: Sunday 18th September 2011
Time: Maintee at 3 PM & Evening Performance at 6 PM
Venue: Terra Kulture, 1376 Tiamiyu Savage Victoria Island, Lagos
Ticket Price: N 2, 500 | Corporate N 5000
Ticket Locations: Hub media, The Palms, Lekki | Silverbird Galleria, Ahmadu Bello way, Victoria Island | Terra Kulture, Tiamiyu Savage, Victoria Island
Contact: For more information and general enquiries contact Bikiya Graham Douglas 07082726363 [email protected] | Joshua Alli 08036789472 [email protected]| visit their Facebook page:http://www.facebook.com/groups/beetauniversalartsfoundation | log on to www.beetauniversal.org ___________________________________________________________________________________________________________
BellaNaija.com is not responsible for the organization or further promotion of these events, neither do we have a stake in their sales or popularity. Inclusion in "Events This Weekend" is Free. Contact – [email protected] if you will like your event to be included. Note that BN reserves the right to choose which events are featured. "Pay to attend" parties attract a fee