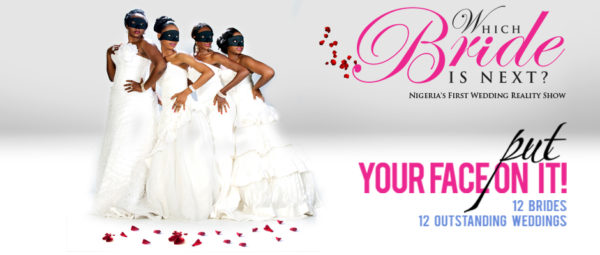 Not too long ago, yours truly gave you all the exclusive details about Which Bride Is Next? – Nigeria's first ever Wedding Reality show set to plan the perfect wedding for 12 brides. Now the organizers have revealed to BN all you need to know to be part of the exciting show.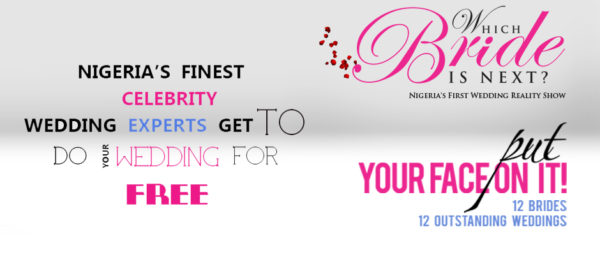 As you know, the wedding reality show will feature an amazing set of vendors including Absolute Elegance, Cakes by Tosan, Roberts Cakes, Simply Renee, Café Licious, RL Dessert,  Cocktails In & Out, Malas, Wine & Gold, Bobby's Signature, Debbie, Zubby, BMPro, Ewar, House of TARA,  Gbenga Adeyinka, Koffi, Tee A, Teju Babyface, DJ Humility, DJ Jimmy Jatt, Shuga Band,  Ade Plumptre, Body Lawson, QF Photography, 12 Baskets, Just Weddings, Omega Events and Zapphire Events. These vendors will do everything possible to make your BIG day an astounding success.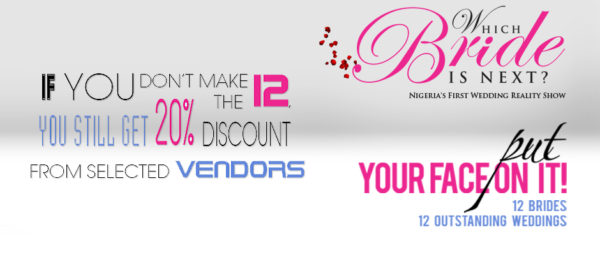 The organizers have promised a win-win situation for all applicants as those who don't make the top 12 will get a 20% discount from any selected vendors listed above. The WBIN vendors directory is still being compiled and anyone who would like to be listed should kindly contact them.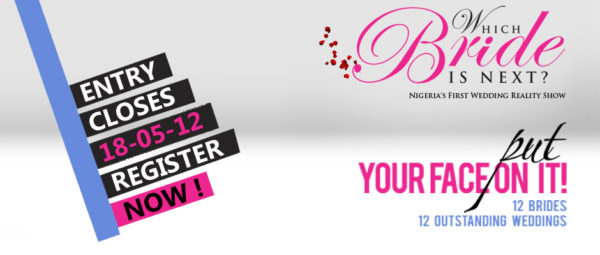 The deadline for entry is Friday 18th May 2012, so, log on to www.WhichBrideIsNext.com to check the show menu and all exciting details.
Application Details
Age – All participants must be female, 22 Years and above
Relationship
Participants must be in a marriage bound relationship and must be willing to get married within the next 5 Months
Divorcees must show proof of legal separation to apply
Married women willing to renew their vows are allowed to apply provided that you have been married for at least 5 years
Consent – Participants must have or be ready to provide written consent from their grooms and parents upon request
Dependence – Participating brides must be financially independent
Miscellaneous – Participants should be fun, adventurous and willing to go on a classy wedding ride with the organizers
Payment – Log on to www.WhichBrideIsNext.com to see the requirements and payment of N 5,000 entry fee.
To stay up to date with all the exclusive Which Bride is Next? news, join their G+ Page, Follow them on Twitter @ WBIN2012,  Like their Facebook Page and Log on to their Website –www.WhichBrideIsNext.com.
Watch the TV Commercials


WBIN is brought to you by HO9 in conjunction with Wedding Planner Magazine, Lagos State Ministry of Tourism, Bella Naija, Ovation Magazine, City People Magazine, TW Magazine, Mania Magazine, Protea Hotel Leadway, Vas2Nets, Inspiration FM, Rhythm FM, Beat FM, Camp, Red Cab, LASAA, LAGBUS and Pocket Moni