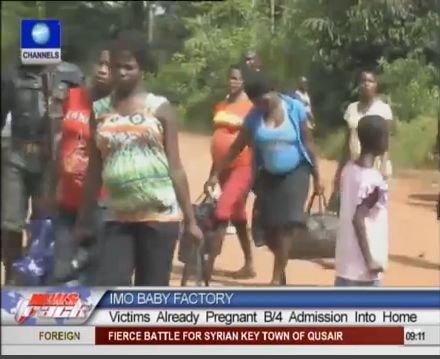 Every few months, news reports of a new "baby factory" or baby selling syndicate hits the news headlines in Nigeria. This shocking trend seems to be growing from strength to strength despite the fact that there is a structured process from adoption in most states around Nigeria.
Here is the latest report via Channels TV

The police have discovered that the pseudo motherless babies home located in Umuaka community of Imo State had held pregnant teenage girls hostage until they delivered their babies, with some of them allegedly binging the pregnancy from their homes. One of the victims who spoke to Channels Television revealed that all the occupants of the home were already pregnant before they were taken into the home. The girls were promised between N50,000 to N350,000 for a baby boy and N20,000 to N320,000 for a girl. However, the victims were barred from leaving the premises until their delivery.

Initial reports of the fake orphanage claimed that a young man who was arrested with the girls was employed to get them pregnant.
Watch the Video Report below.