On Wednesday 5th June 2013, Pernod Ricard Nigeria (co-leader in the premium spirits globally with a presence in 70 countries) organised a campaign "Responsib'All day Nigeria", an initiative created as part of the company's CSR initiative.
To promote responsible drinking, employees of Pernod Ricard Nigeria with partners and volunteers joined forces to promote the first Responsib'All Day Nigeria. The program kicked off at the Ojota Motor Park, Ojota, Lagos by engaging the public transport drivers and passengers in various activities including a talk on the hazards of drink driving; to which they were very responsive.
With all hands on deck, Pernod Ricard Nigeria employees handed out "Don't Drink and Drive" T-shirts and with the  permission of the vehicle owners, displayed stickers with the same tag line on public transport vehicles.
After leaving the motor park, the MD Of Pernod Ricard Nigeria Dariusz Opierowiec along with Sade Fagbola and FRSC representative Segun Ogungbemide were interviewed by Smooth 98.1 FM, further enlightening listeners on the danger of irresponsible drinking, not just in drivers but also for underage drinking.
At noon, the awareness continued at The Palms Shopping Mall, Lekki, Lagos. Shoppers were handed fliers on the importance of responsible drinking. They also got a chance to write messages to friends and loved ones that were lost of drunk driving by signing special messages on the "Canvas of Memories".
Later in the day, the Pernod Ricard Nigeria employees together with its partners and volunteers gathered for cocktails at Soul Lounge to celebrate the first edition of the event.
The next edition will take place on Thursday 5th June 2014. Just before then, check out photos from the event.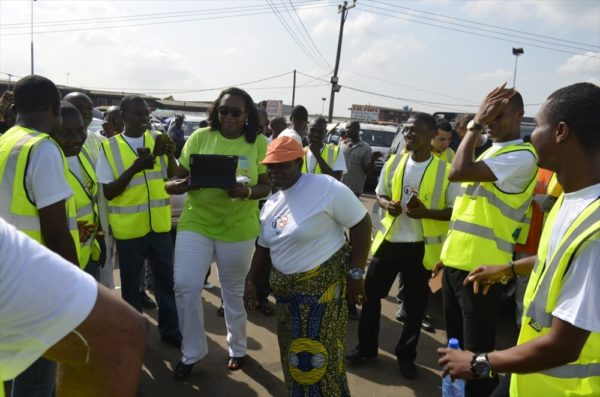 Partners include FRSC, The Palms Shopping Mall, CFAO, Smooth 98.1 FM, BellaNaija, Lost in Lagos, Maestro's Media and YMCA.
_________________________________________________________________________________________
Sponsored Content