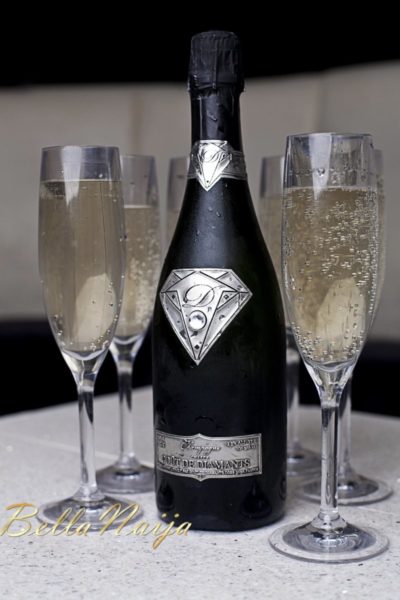 Do you have lots of cash to spend and you are celebrating any time soon? Then listen up, this may excite you.
Luxury designer Alexander Amosu has created the world's most expensive champagne in collaboration with luxury champagne brand Goût de Diamants. Called "Taste of Diamonds", the drink costs £1,200,000.
That is N 248,202,764.73 (248 Million, 200 Hundred Thousand, Two Thousand, 7 Hundred and 64 Naira, 73 Kobo).
The expensive drink by the luxury brand has been launched into the champagne market and is striving to become the world's most enjoyed champagne by commissioning this one off design for private clients.
The Goût de Diamants team met with Alexander Amosu and told him to create something special and unique. He created a design which takes its inspiration from the Superman style signature and hand crafted it from 18ct solid white gold weighing approximately 48gsm of solid gold centred by a single deep cut white diamond weighing 19cts.
The drink is also handmade in 18ct solid gold and weighs approximately 36gsm, handcrafted and engraved with the client's name.
More Shots of the Drink
Commenting on the design, Alexander Amosu said "The bottle already has a distinctive look with its natural design, all I had to do is bring it to the next level of ultimate luxury."
Shammi Shinh, the brand's rep said "All our bottles come as standard with an exquisite diamond-themed bottle design encrusted with a diamond cut Swarovski crystal. We wanted to take it one step further and create a one off masterpiece for one of our private wealthy clients and we are very please with the results."
So are you ready to say cheers to a bottle of this champagne? Let us know!
Want to order? Check out their website – http://www.goutdediamants.com/welcome.html