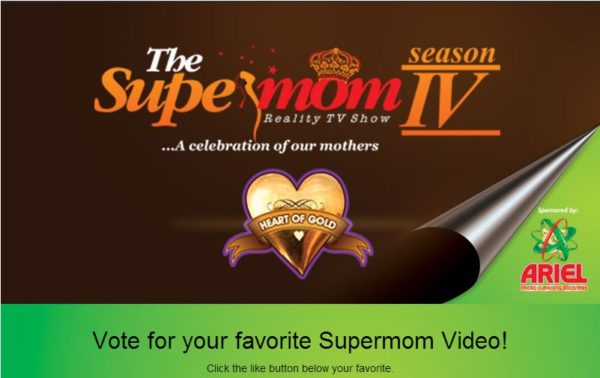 The Ariel SuperMom Reality TV Show aims at celebrating exceptional women in the society who take other kids in the community under their wings and make huge sacrifices by nurturing them.
This year, Ariel is sponsoring the SuperMom TV show to celebrate women with a "Heart of Gold". Ariel has created an experience booth at select shopping malls where consumers get an opportunity to give a video "Shout out" to their mom and tell why they think she is a supermom.
Each participant is expected to win a branded picture frame and the top 5 videos are selected weekly to be uploaded on the Ariel Nigeria Facebook page.
These SuperMom Shout-out videos are available for viewing below; watch and vote for your favorite video on the Ariel Facebook page.
Ademola Olupona
Stella Ojebuoboh
Adeniran Mariam
Omoru
Edunfunke Ibitayo
Adebanjo Busola
Amarachi
Gbemileke Morenikeji
To find out more, you can visit the Ariel Nigeria Facebook page here: www.Facebook.com/ArielNigeria
______________________________________________________________________________________
Advertorial – Sponsored Content