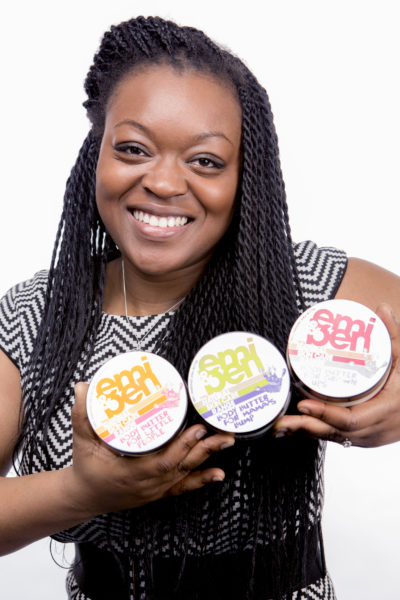 What is Africa's Best Kept Beauty Secret? Ronke Ige seems to have the answer.
On this edition of BN Making It!, BellaNaija spotlights the energetic serial entrepreneur.
Ronke is the picture of a working mother you can't help but admire.
While pregnant with her daughter, she had a light bulb moment about stretch marks and it involved raw Shea butter. Prior to that, she had worked as a PR executive for 15 years and suddenly, she knew what she wanted to do – make natural skin care products.
Ronke was born in London 34 years ago and has lived there all her life.
Graduating from the London Guildhall with a degree in Marketing & Communications, she's building her company Emi & Ben and delving into other entrepreneurial ventures.
Ronke's the ambassador for The Prince's Trust Charity as a result of the work she's done with her business. Named after her daughter and nephew, Emi & Ben got funding from The Prince Fund Charity to kick off her business. She's truly an inspiration and we hope that you would enjoy the interview as much as we did.

What did you do before you dipped into the entrepreneurial pool?
Prior to setting up Emi & Ben, I have been working in the PR industry for the last 15 years, crafting my career at an award winning London based consumer PR agency. Here I climbed the ladder as an Assistant Account Executive to Account Manager for international brands including Timberland, Ted Baker, Quiksilver, Paramount Home Entertainment and Channel 4. In 2005 I left the agency to start work as a freelance Communications Consultant under the name of Bread + Butter Communications, with a client roster including Ascot Footwear, Dutch fashion label Supertrash, American singer/songwriter Nikki Jane, leading leukaemia charity ACLT (who promote bone marrow, blood and organ donation with ethnic minorities and Nigerian actors Jimmy Akingbola and Chizzy Akudolu, who both starred in the British TV BBC 1 hospital drama Holby City.
Why did you decide to start your own business?
I set up Emi & Ben natural skin care to inspire and support women across West Africa and to achieve my own dreams of developing a business centred on West Africa's best kept beauty secret; Unrefined Shea butter.
What is Emi and Ben?
Emi & Ben is a natural skin care company which produces handmade body butters using the main ingredient of unrefined Shea butter and other exotic natural base and essential oils.
How would you describe the niche that Emi and Ben has carved?
All Emi & Ben products are handmade in the UK with 100% natural ingredients. Our main ingredients of Unrefined Shea butter is produced by local women in Nigeria in order to empower them to 'make things happen' for themselves, empowering them to achieve self-sufficiency through turning their labour into micro businesses of their very own. As I purchase the raw Shea butter in bulk, it is here in the UK hand produce all the body butters
Can you share some of the most challenging parts of starting a business of your own?
Cash flow and financial management is a challenge, as I know it is the case for other business owners. Other than the initial small loan I received when I initially started the business, everything else I have funded personally. As I'm looking to expand the business in a big way, self financing the company is no longer an option, so I'm currently seeking investment to take the business to the next level.
Were you able to get funding to kick off the business?
I was successful in securing an initial small business loan through the young people's charity the Prince's Trust at start up stage of the business for £3,000.
Tell us about The Price's Trust charity and how it works
The Prince's Trust is a youth charity that helps change young lives. They give practical and financial support to disadvantaged young people, aged between 13 to 30 who have struggled at school, have been in care, or are long-term unemployed. I set up Emi & Ben during the recession, as it became a struggle to secure long term PR contracts due to the financial climate. It was due to this situation I was able to apply to join the Business Programme with The Prince's Trust, which involved me submitting my business plan for Emi & Ben and pitching my business idea to a panel of enterprise advisers. The end result was me successfully securing the small business loan of £3,000.
What's the demographic of the Emi and Ben customer?
The Emi & Ben target customer is female between 18-35 years old. She has a disposable income, enjoys purchasing luxury items for herself and she likes shopping online.
What's the product range you offer?
The current Emi & Ben skin care range consists of five body butters which are handmade with the key ingredient, Unrefined Shea butter, mixed with other exotic, natural base and essentials oils.

Is there any special ingredient in your products that set them apart?
The most important ingredient within our products is the 100% Unrefined Shea butter of course! This wonderful all-natural product is rich in antioxidant vitamins A and E, and is naturally rich in three essential fatty acids.
Many skin care companies in the cosmetics industry market their products on the fact that they include Shea butter, however the Shea butter they use is refined; a scent free butter refined by chemically extracting the seed oil using dangerous petroleum by products. During this process the naturally occurring essential fatty acids and proteins that are extremely beneficial within raw (Unrefined) Shea butter are gone.
Emi & Ben only use 100% Unrefined Shea butter within its products, so customers can be rest assured they're receiving the true benefits of using a Shea butter based product. This is a skin moisturiser which contains Shea butter as a main ingredient for its real purpose of providing a natural moisturiser which improves the skin, locks in moisture, hydrates the skin making it soft and supple whilst reducing scaring and protecting it from the natural elements.
You described yourself as a serial entrepreneur… Can you give us an insight into some of your other business ventures
Aside from running Emi & Ben, I work as an independent PR Consultant (under the name of Bread + Butter) managing the PR and Marketing activity for a diverse range of clients including International Makeup artist Kamanza, British actor Chizzy Akudolu who currently stars in prime time BBC1 TV Drama Holby City, musician Sola Akingbola who is also the inspiration behind African funky roots band Critical Mass who I also represent.
I also founded Thames Markets; monthly arts, crafts and more market held in a town called Kingston –upon-Thames in the UK. The purpose of the market is to provide independent business owners a platform to sell their products and services to an affluent clientele on a consistent basis. This venture came about through my own frustrations from the poor service provided to me as a market trader, so I'm extremely happy that the market and our traders are doing well.
What would you say is your area of specialisation?
Within PR my area of specialisation is within the fashion, consumer and personal publicity sectors; however I have experience within entertainment and charity.
What's the most exciting part of running Bread & Butter?
Working with a diverse mix of clients and varying activities for the clients. From filming charity video appeals with a variety of personalities, office based work like drafting press materials to issue out to media, to rushing around like crazy, backstage at music gigs – any two days are rarely the same.
Can you share a particularly difficult business call you've had to make and how you resolved the situation?
I had to make a call to one of our suppliers who provide us with the labelling for our jars, as there had been an error made on their side with the sizing of the labels which I wasn't willing to accept. This was particularly difficult because the error was set to be costly to them. I knew this error would put them out of pocket (at no fault of mine), however I had paid for was not what I received. I calmly expressed my position as to why I was unhappy and why the job would need to be reprinted at no cost to us. They accepted fault and did the re print.
What's the most exhilarating part of being a young business owner?
Knowing my entrepreneurial achievements inspire other young people to follow the same path is exhilarating to me. That my achievements have helped to encourage another individual to go down the route of self-employment is a great thrill for me.
Do you currently have a Nigerian market?
Whilst Emi & Ben is yet to launch in Nigeria, we have some customers who purchase our product through The Nail Bar & Spa in Abuja and through our website emiandben.com. The feedback we've received from the spa owner and fellow entrepreneur Ameera Abraham is extremely positive. I'm really excited about expanding the range within my country of origin, so if you're a retailer who believes your store has a synergy with our brand, please get in touch.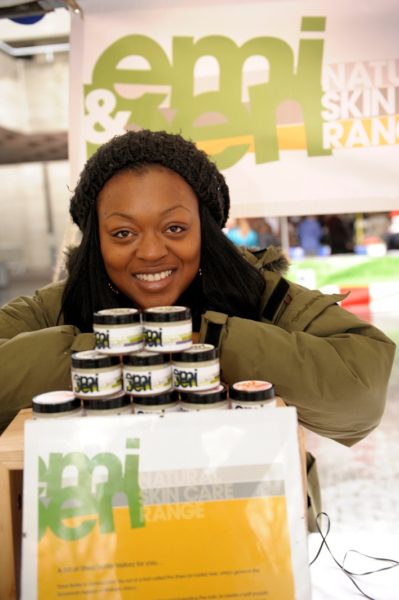 How do you ensure quality control standards in your products?
Following a strict quality control procedure when producing all of our handmade body butters, is paramount for the business. This was demonstrated by me forging strong relationships with our local UK Trading Standards office from the outset, to ensure production procedures implemented fell in line within UK guidelines, providing products to members of the general public which were of a high quality and fit for purpose, whilst following a quality control of the highest standard for all products produced.
How do you balance the work/ family dynamics?
My work and personal life is balanced by following the rule that there is a specific time allocated to do work and to do personal activities. My typical day starts at 6.30am, initially in the office at home answering emails and planning the day ahead. Once the morning rush of getting my daughter up and ready, preparing breakfast and the school run is out the way, it's back in the office for me until 6.00pm. After this time the office door is shut and we're busy doing homework, watching TV and cooking dinner. Once she's in bed and my husband has returned from work, I may sneak into the office to finish work off, but I try not to as that cuts into our time together.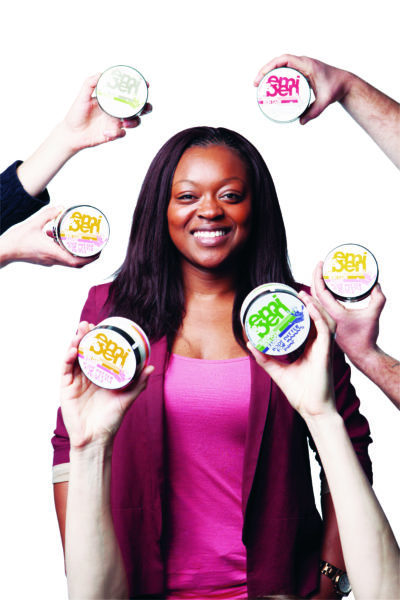 Where do you see your business in 5 years?
In 5 years time I would like see the business turning over a healthy revenue allowing us to develop our own projects in Nigeria and beyond which positively impact and support local disadvantaged communities, being responsible for empowering thousands of women in Nigeria to be self sufficient, the continuous expansion of the brand into new markets, working on the launch of new products, and also continuing to have a presence within import and wholesale markets for the brand and as a distributor of large quantities of Unrefined Shea butter and other natural products produced in Africa and used within skin care.
I also hope to take on staff allowing me time with my daughter, stepson and future children (nudge, nudge, wink, wink) and to have the ability to be run the business from any location in the world, however mainly from my home which in an ideal world would have space for a large office unit at the end of the garden with all storage and production of Emi & Ben products taking place on site! It's a big dream and I know I'm going to achieve it if I continue to be disciplined and focused.
Just for fun
How I Relax
Shopping or if I'm too tired I just like to kick back on the sofa to watch 'Real Husbands of Hollywood on BET!' I absolutely love it! Kevin Hart is hilarious. Going on short breaks with my husband or girlfriends when I can – which is not as often as I would like! I need to change this ASAP!
Favourite African Designer
Afua Dabanka, founder of luxury London shoe label MO SAIQUE. Her shoes are amazing.
Favourite Person in the Whole Wide World
Easy peasy, my husband.
Most Desired Super Power
Ability to fly
5 Pet Peeves
Rudeness
Noisy eaters
People who burp loudly whilst eating with others
Individuals who have nothing good to say
People who don't speak clearly and mumble to themselves when talking to others (This makes my head want to pop off!)
Ronke in 5 words
Friendly, ambitious, determined, hardworking, risk-taker
I Would Not Leave Home without
My Samsung Galaxy Note II
Currently Playing On My Music Player
Jay Z, Magna Carter Holy Grail
Most famous person on my phone
My dear friend, actor Jimmy Akingbola.
Favourite meal
Flaked fillet tilapia fillet with caramelised glazed sweet peppers and red onions. This is a dish created by UK based Ghanaian catering company Eat Jollof London. It's delicious!! They were my caterers for my wedding in September 2013 and I'm still dreaming of this dish today!
Favourite holiday spot
Anywhere where there is a beach, clear blue waters, good fresh food and plenty of sun. If these are all ticked, then I'm good! I recently came back from Dubai – that was a fab holiday.