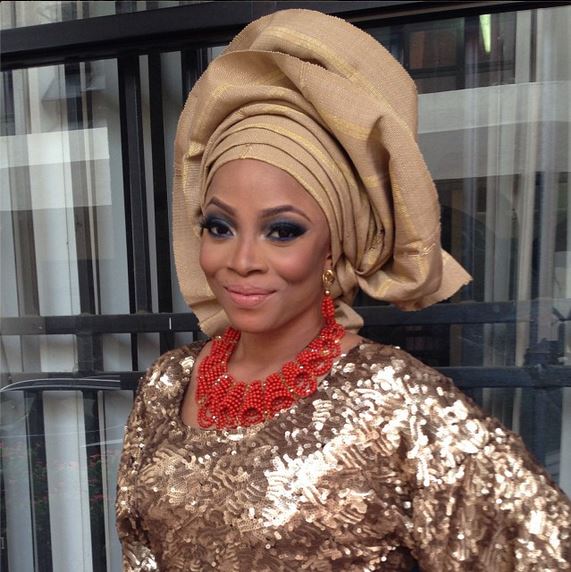 Toke Makinwa is engaged! The media starlet may have joked about getting a ring a few days ago (See Here), but she's already engaged! Toke shared the great news with Liz Yemoja for The Genevieve Magazine Show on Igroove radio.
Notable Quotables:
On accents,
"Do you expect me to sound like a savage? I'm sorry. And I studied English language … people spend so much time dwelling on the wrong things. Can the person just breathe?

Am I communicating? Then please just let it be."
On her engagement,
"I've known him for 11 years. We've been dating off and on for about 8 years. Yes, we got engaged this year. We were supposed to get married this year as well. I think it's our scheduling, our schedules got so busy."
On bleaching,
"I think it's unfair to think it's a Nigerian women thing. A lot of women all over the world, Asian women bleach, Indians, … You have music stars, Beyoncé and Rihanna who have advanced from how they were when they started their career."
Liz asks, "But have you gotten lighter since you started?"
"If I maintain my skin tone I think it's perfectly my business. I don't think it's something that people should be asking me about… How does that put money in your pocket? Have you gotten lighter? Are you telling me you haven't gotten a soap that says skin lightening or skin brightening, Liz responds, "I have" and laughs.

Let's just be honest with ourselves."
Toke also talks about how her sister encouraged her to audition for Silverbird and follow her dreams.
Watch the interview here:
By the way, this photo of Toke for her friends' traditional wedding on Thursday, makeup by Doranne Beauty. How gorgeous does she look? Can't wait to see the wedding looks! Her birthday is still round the corner, hope we see a ring pic!