A gathering of beauty buffs in Lagos.
On Wednesday 6th November 2013, House of Tara hosted make-up artists, bloggers, lifestyle entrepreneurs and the media for the first edition of its beauty bruncheon. The networking event held once a year, is created to foster engagement among key stakeholders in the Nigerian beauty and lifestyle industry.
Guests at the event were leading make-up artists – Tara Fela-Durotoye, Banke Meshida-Lawal, Bolanle Okusanya-Feyita and representatives from international brands L'Oreal, MAC Cosmetics, and the Brand Manager Maybelline New York Bukola Balogun.
Also at the event were a talented group of new generation make-up artists including Funmi Abeke, Lolade Ogunjim of Dainty Affairs, Joyce Jacobs, Theodora Mogo of Doranne Beauty, Debola Falana, Omontese Akhetuamn of BeautyCookStudio and Stella's Addiction.
Media personalities Kemi Ogunleye, Noble Igwe of 360 Nobs, Wana Udobang, Adaure Achumba, Onah Nwachukwu, Michelle Dede, Kaylah Oniwo and a host of bloggers and beauty enthusiasts also gathered to network over a delicious brunch.
In her keynote address to guests, Tara Fela-Durotoye (Founder, House of Tara International) said "As a pioneering company when House of Tara created the makeup institute it was with the vision to build makeup artists for the industry. In staying true to that vision, we have produced 1820 makeup artists. We support them and their businesses through mentorship and after training programs. In a bid to extend this support to the Beauty Industry as opposed to just Alumni, we created the Beauty Bruncheon".
Bimpe Onakoya was honored for her contribution to make-up artistry and for her recent appointment as the Artistic Director for Maybelline New York in Nigeria. In addition, Love Olaleye, Winner of the Face to Face Makeup Competition at The Makeup Show in Orlando Florida & a House of Tara Make-Up school alumnus was recognized.
Adesuwa Onyenokwe of TW Media who was the special guest of honour, in her short speech to guests expressed her delight in being in such an inspiring environment, and reiterated the vision for the Beauty Bruncheon, as expressed by Tara Fela Durotoye, who said "I hope that the beauty bruncheon becomes an empowering platform were collaborations and partnerships emerge, were mentorship thrives and support groups develop".
The highlight of the event was the speed mentoring session when guests were given the opportunity to ask questions and be given valuable advise by Lola Maja-Okojevoh, Tara Fela-Durotoye, Bimpe Onakoya, Banke Meshida-Lawal and Bolanle Okusanya-Feyita.
When asked about her thoughts on the Beauty Bruncheon, Stylist & Lifestyle Entrepreneur, Veronica Ebie-Odeka said, "It was really amazing! It is such a positive and encouraging intiative for the Lifestyle industry. I am pleased to have attended and next year, I hope to hear more speeches from veterans in the industry".
Ocho Adaji, a make-up-artist who attended all the way from Kaduna said, "It was fun, it was definitely worth my trip, I thoroughly enjoyed it".
One of the major reasons behind the Beauty Bruncheon was to facilitate necessary conversations, when asked if that was accomplished, Beauty Entrepreneur & Presenter, Liz Yemoja said "Yes! I was in the midst of likeminded people and loved the general atmosphere. I definitely made new contacts. As for partnerships, Glam Lashes will now be stocked at House of Tara studios!"
Germany's ARD TV crew was around to capture all the fun and exciting moments at the brunch.
View Photos!
The Scene
Let's Get Talking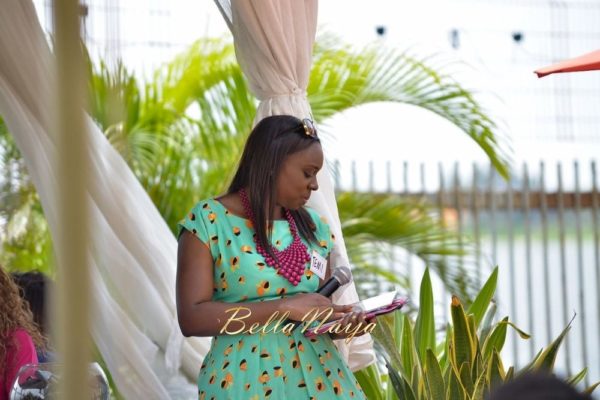 ________________________________________________________________________________________________________
Sponsored Content