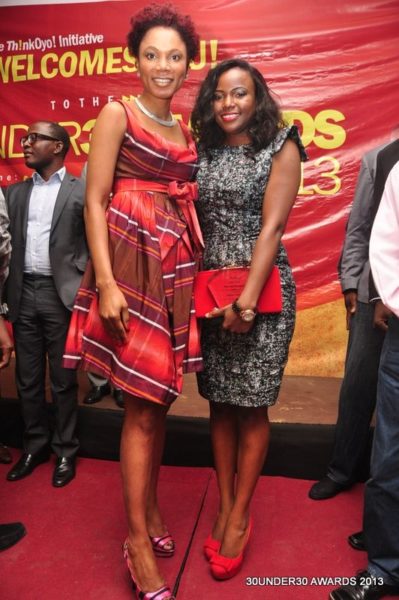 All roads led to the Civic Center, Ibadan as people gathered to witness  excellence rewarded at the Think Oyo Thirty Under 30 Awards on Friday 20th December 2013.
The maiden edition saw ten people from a larger pool of hundreds of nominations across 10 categories honoured. The categories were Advocacy, Creative Arts, Education, Entertainment, Entrepreneurship, Fashion, Innovation & Technology, Media, Public Service and Sports. The Think Oyo 30 Under 30 Awards had 3 stages; the nomination stage, the verification & the short-listing stage and the voting stage which climaxed the process.
For the nomination stage, members of the general public were asked to nominate any deserving young individual. The criteria were age (which must be under 30), place of origin and the place of residence/place where business is situated which must be in Oyo state. Every nominee had to fulfill at least one of these conditions in order to be qualified for nominations.
The nomination stage saw an influx of hundreds of entrants that had to be reduced down to just thirty. With the help of the judges that sieved through the nominees' bios, profiles, CVs and works, the final short list of 30 was compiled. Then the voting stage where each of the thirty short listed nominees was up for votes. It was a case of the nominee with the highest votes in each category winning the award for the said category. Voting was done in 2 ways; on the website at www.30under30awards.com/vote and via SMS.
Besides awarding the winners, there was a keynote address which was a major side attraction. The keynote address was delivered by ace broadcaster, Funmi Iyanda. In her address, she opined that young people need to rise to the challenge of nation building as it is possible for them to rewrite their own history.
Winners in each of the ten categories are:
Advocacy – Omotola Akinsola
Creative Arts – Okikiola Oladele
Education – Abiola Oyeneye
Entertainment – Adetoun Adekoya
Entrepreneurship – Seyi Agboola
Fashion – Yetunde Bamgboye
Innovation and Technology – Tayo Abobarin
Media – Oluwalonii Oke
Public Service – Oyekan Oluwadamilola
Sports – Amoo Korede
Notable dignitaries that graced the occasion were Funmi Iyanda, Dr. Muyiwa Gbadegeshin (the Oyo State Commissioner for Health), Farouk Umar Alao (the Oyo State Commissioner for Youth and Sports) to mention just a few.
Check out some more photos below.
______________________________________________________________________________________
Sponsored Content