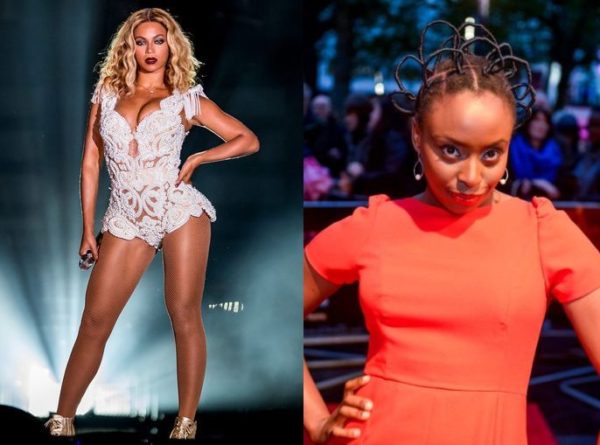 Chimamanda Ngozi Adichie has shown up on ELLE twice in the space of a week. Most recently an article about the blurred lines between smart women and fashion and before that and the crux of this piece, an interview of her on her work and the big sell, on her being Beyonce's favourite novelist, as the article was titled.
The article started out with a strong introduction extolling the success her considerable writerly powers have brought her, her personality, appearance, her smile being 'infectious'. The interview questions more or less followed in the same vein: how she discovers and develops her characters, the recurring themes in and exhaustive breadth of her work. And then finally, out of the lot there was one question about Beyoncé sampling her TED Talk in the track, 'Flawless' off her recently released self-titled album. Even then the question was largely about feminism and what it means to Adichie.
Essentially, there wasn't anything that indicated Adichie was Beyonce's favourite novelist other than the sampled her TED Talk though the article was titled thus.
In today's world of fierce competition for traffic and hits, it's not hard to see why ELLE went with the title, 'Meet Beyonce's Favourite Novelist'. However, this did not go down well with some readers and commenters and most likely strong Adichie enthusiasts, largely Nigerian, riled that Chimamanda had to be qualified by being associated with Beyoncé and not in her own right as an accomplished author and indeed, being something of a literary shooting star.
The first commenter fired the first salvo:
Abimbola Bamgboye
"Nice interview of a wonderful writer, but it was sullied for me by your title. I love Chimanda Adichie and had read all her books long before Beyonce sampled her TED talk. Maybe I am being sensitive, but I find it insulting that you refer to her as "Beyonce's favorite novelist", as if Chimamanda needs Beyonce to validate her work or to get our attention. Chimamanda Adichie is a literary star whose work speaks for itself. Let's keep her high profile fans out of it."
She makes a compelling point…
And then:
Michael Agba
"Chimamanda Ngozi Adichie is a genius well respected the world over, particularly in Africa. Beyonce's love of her works is simply a clear attestation to how brilliant she is. Even if Beyoncé never loved her works, it wouldn't have changed anything, because like the saying goes "A good wine needs no bush" "
Amarachukwu Onovo
"I total agree with Abimbola Bamgboye, there is no need to Tittle this piece with reference to Beyonce. She didn't get the awards she got cos Beyonce quoted. So please lets give her that respect, or honor without somebody else trying to look like the light that shone on her. Wonderful interview.
Others did not see the ELLE title as being out of place:
Ay Sangobowale
"Let 's be cautious of being too dismissive here. Beyonce actually has a right of preference too. One thing I can assure you is that Chiamanda will not complain about the publicity and on the same breath would have preferred that her fan was more of an intellectual person in the context of this story ( like Michelle Obama or Christine Lagarde). I also want to believe she is happy to know that her works are having an impact on people who are looking for inspiration to improve themselves ( like Beyonce or Nicki Minaj or Lady Gaga)"
Kasia Latajka
Please, do bare in mind that some of us would never know of Chimamanda if it wasn't for Beyonce. The truth is, I got the album and have been listening to ***Flawless over and over and it made me get Americanah and listen more closely to Adichie. That is what I see in it. Not the fact that Adichie needed Beyonce for any kind of validation. I think this album just made it possible for people all over the world to hear (and listen to) Adichie. She's an amazing woman.
– Please note comments were copied as is -errors and misspellings, warts and all.
Both camps made fair points. I would start with the very last. Yes, it can be said that an increased portion of people who know of Adichie right now is as a result of Beyoncé sampling her TED Talk in the track, 'Flawless'. It even helped the sales of her latest work, Americanah. According to an Atlantic.com article by Robinson Meyer: "At 5 p.m. on December 12, 2013—the day before the album came out—Amazon ranked Americanah #861 of all hardcover books. Five days later, the book was ranked #632. Today, the book is ranked #179. It's a staggering rise up the rankings. Moving with such speed through the top 1,000 books on Amazon is a slog, because books in the top couple hundred slots sell much more than books in the low thousands. It's much harder to advance from #200 to #199 than it is from #2,000 to #1,999." And yes, perhaps Adichie has nothing to complain about being put in the spotlight by perhaps the most influential singer on the planet.
Would it however make her any less of an author were she without this endorsement however or is she particularly enamoured of being included in Beyonce's track? I daresay, NO. I am particularly sure of the latter.
No, I do not know Adichie personally but was opportune to be at a reading when she was asked a question about how she felt about her work being so well-received and celebrated, as is the case here, in the West. Here was her reply and except she has changed sentiments, it's an opinion I am fairly certain endures till today:
"I'm always very worried when we measure ourselves by Western standards. In other words, we become worldly when the West says that we are. I don't feel gratitude being so accepted internationally. I'm not being done a favour. It's nice to be recognized, however, people abroad who buy my book are not doing it out of charity. They are doing it because they feel it is a story to be read. Western acceptance is not a feather in my cap."
Western acceptance, Beyonce's included is NOT a feather in her cap. Yes, Chimamanda Ngozi Adichie of three award-winning, best-selling books, recipient of PEN, O. Henry, Orange, Commonwealth Writers' Prizes, as well as a MacArthur 'genius' grant worth $500, 000, (awarded to persons across all disciplines who show "exceptional merit and promise of continued creative work")
End of.
________________________________________________________________________________________________________________
Ayodeji Rotinwa is a writer. He believes satire should be the palm oil in which words are eaten. He hopes, on here, you will not choke. His fiction (which he also writes) can be your water. He is currently a penman for ThisDay (Style) Newspapers and you can find him and others running word riots on a creation of his, http://www.theurbanemix.com/, an online magazine on Nigerian culture, social commentary and literary works. You can follow him at @ayodejirotinwa on Twitter.