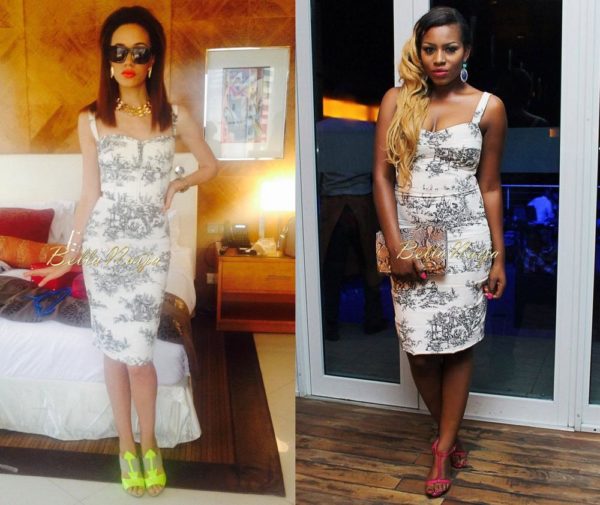 Yay! BN Style is happy to present another edition of BN Pick Your Fave.
Media personalities Eku Edewor and Liz Yemoja are both style stars who constantly present us with something interesting to talk about.
We sighted Eku and Liz rocking the same signature print Toile pencil dress by Elizabeth Waldorf.
Enough talking, let's see how they wore the dress.
Where: Filming an Episode for M-Net's Studio 53 Extra
How She Wore It: Eku Edewor was first to rock this piece for an episode of Studio 53 Extra show.
The TV sweetheart/actress and her stylist Bubu Ogisi, accessorized with gold earrings, a statement gold necklace, a gold cuff and a gold wrist watch.
She brightened things up by opting for neon heels, and bright orange lipstick. With her Veruschka-inspired hairstyle, Eku completed her stunning look.
Where: Liz Yemoja's 30th Birthday Party at the Radisson Blu Hotel, Victoria Island, Lagos on Saturday 29th March 2014.
How She Wore It: For her 30th celebration, Liz graced the occasion looking beautiful in the dress.
She opted for blue drop earrings, a snakeskin Biba clutch and a pair of pink Zara sandals.
Letting her long locks cascade down her right shoulder, she completed her b-day look with smokey eyes, red lipstick and pink nail polish – all by Geebalo.
Photo Credit: Shola Ajisegbede for Sniper Ajix Photography | Studio 53 Extra | Eclipse West Africa