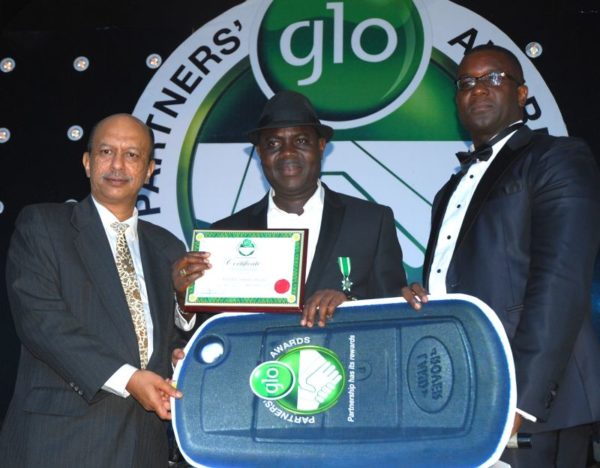 Globacom has rewarded its trade partners with 53 high-end cars and other amazing gifts.
The rewarding took place at the Glo Partners' Awards Ceremony at Intercontinental Hotel, Lagos and included a 2014 Range Rover Sport, BMW X6, Mercedes Benz S 550, Land Cruisers, Benz E350 Formatic and more!
The award night was spiced up with performances by talented singer and Glo Ambassador Flavour. Earlier, Omawumi had entertained the guests with vibes from her six-man live music ensemble. Sani Denja, another Glo Ambassador in the North also performed and then Yemi Sax spiced the night with his smooth-flowing saxophonic renditions.
The audience also had a taste of comedy as Akpororo delivered the jokes. The event was hosted by Funke Akindele and Okey Bakasi.
The operator's trade partners were honoured for exceptional performance in the sale and distribution of Globacom's products and services.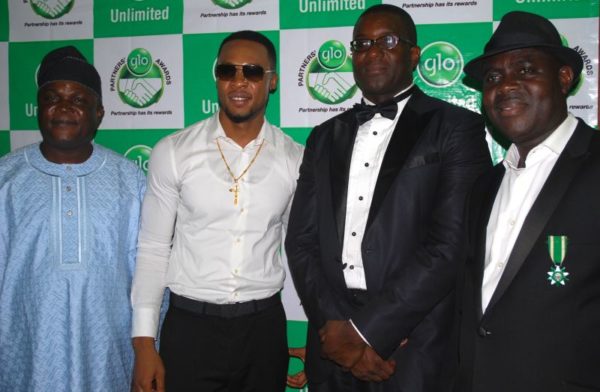 Long-term trade partner, Easy and Quiet Ltd., was gifted a Mercedes Benz S 550. The company also won in the Best Partner by Division category, taking home a brand new Toyota Hiace bus.
Another partner, Don P Communications, was rewarded with a 2014 Range Rover Sport and also clinched one of the prizes in the Best Partner by Division category, taking home a Toyota Hiace bus.
Ephybrand Limited won a BMW X6, in addition to receiving one of the prizes in the Best Partner by Division category which earned him a Toyota Hiace bus.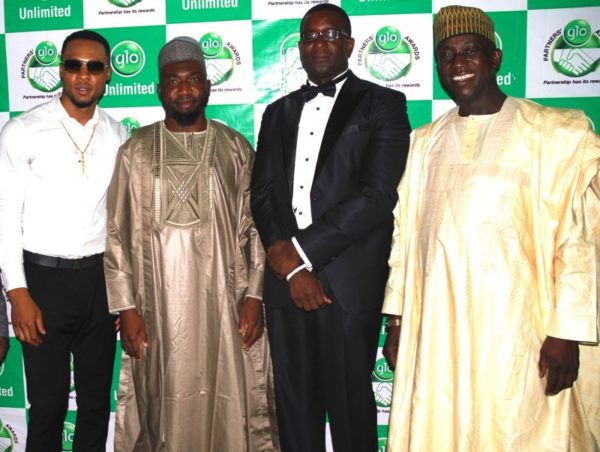 In the category of the Most Improved Partner (Revenue), Hephzibah Communications and Internet Solutions; BMG Communications and Lustre Communications emerged winners and carted away the latest model of Toyota Corolla.
In the category of the Most Improved Partner (Activation), Timothy and Temitayo Ventures and Topef Computer emerged winners from their various divisions and carted home Toyota Hiace buses.
A total of 18 winners went home with Toyota Hiace buses in the category of Best Partner by Division, while another set of 15 dealers emerged winners of a promotion Globacom ran for dealers last year. The total 15 dealers went home with assorted premium cars ranging from Mercedes Benz E350 to the latest model of Toyota Camry. The top 15 trade partners of Globacom went home with various luxury brands ranging from Mercedes Benz S class to Range Rover Sports, BMW, Land Cruisers, Ford Explorers and Toyota Camry.
The Chairman of Globacom Limited, Dr. Mike Adenuga Jnr. expressed profound gratitude to the dealers for their loyalty and commitment to helping Globacom take first-class telecommunications services to all the parts of the country.
He said the company is in the final phase of an aggressive network modernization and upgrade that will make Glo's network the best not only in Nigeria, but in the entire West Africa region. He urged the business partners to continue to show abiding faith in the vision and mission of the company.
Globacom's Chief Operating Officer, Mohamed Jameel, in his own remarks tagged the event 'Africa's biggest Auto Show by a private company', with a parade of some of the world's most sought after auto brands. He said, "it's all for our cherished dealers, who have shown abiding faith in Globacom".
__________________________________________________________________________________________
Sponsored Content