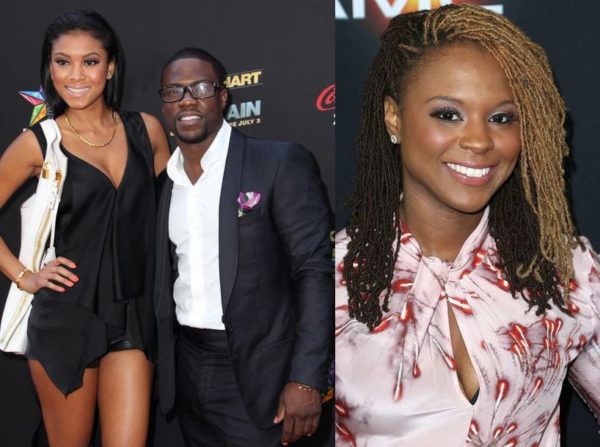 Kevin Hart is ANGRY!
With whom? His ex-wife Torrei Hart.
The actor/comedian's former wife of 8 years (2003-2011) called out his model girlfriend Eniko Parrish, in an interview with Rocsi Diaz on ET Online.
When Rocsi asked her how she feels when Kevin takes his girlfriend to the red carpet.
She said "I never lashed out. I never tried to punch her in the face, even though I've had moments where — trust and believe — I wanted to K.O. her a*s."
"It does hurt that my kids have to be around a woman who broke up a marriage. I was with [Kevin] when he was selling sneakers for five dollars an hour. I was at every show. I was at his first show where he ever did standup … I was his muse. I was there from the beginning." she finishes.
Kevin wasn't having it and took to his official Twitter account to react.
Fame is a unbelievable drug people, I say this because so many people want it and are willing to do whatever it takes to get it.

— Kevin Hart (@KevinHart4real) May 21, 2014
Everybody isn't built for this… — Kevin Hart (@KevinHart4real) May 21, 2014
Here's what's sad, My Ex wife is the mother of my 2 beautiful kids & is well taken care of,I go above & beyond what the court ordered me 2do — Kevin Hart (@KevinHart4real) May 21, 2014
Because she is the mother of my kids I would never slander her name or anybody that she's dealing with. — Kevin Hart (@KevinHart4real) May 21, 2014
I've actually embraced the man that she is dealing with with nothing but positivity. I'm a mature adult, I'm not a teenager — Kevin Hart (@KevinHart4real) May 21, 2014
That man is going to be around my kids and for that reason alone I want to have a positive relationship with him. — Kevin Hart (@KevinHart4real) May 21, 2014
4 her 2 continue 2 talk about my Woman is honestly sad especially after 5yrs of us being 3gether &a total of 6 1/2 years from me leaving her — Kevin Hart (@KevinHart4real) May 21, 2014
With that being said don't believe the hype people, I've been separated & divorced for a long time now people. I've moved on with my life

— Kevin Hart (@KevinHart4real) May 21, 2014
My woman has nothing to do with my past marriage problems in any way shape or form. It's almost 7yrs total of me not being with my Ex

— Kevin Hart (@KevinHart4real) May 21, 2014
I guess giving a woman over 20k a month and still being there for her and being a incredible father isn't enough! — Kevin Hart (@KevinHart4real) May 21, 2014
I want nothing but the best for her & her boyfriend and that will not change. I ignore negativity,being bitter & angry will get u know where — Kevin Hart (@KevinHart4real) May 21, 2014
I love the fact that my woman loves my kids and a smart woman should love that as well. What if it were the other way around?

— Kevin Hart (@KevinHart4real) May 21, 2014
What if a woman despised a mans kids because they weren't hers???? People don't think before there actions….

— Kevin Hart (@KevinHart4real) May 21, 2014
With that being said I hope my Ex wife honestly finds happiness. THIS HAS BEEN A KEVIN HART PERSONAL ANNOUNCEMENT. Have a good day everybody

— Kevin Hart (@KevinHart4real) May 21, 2014
I'm a open book with my life and I always have been. I don't hide anything from my fans. I'm as real as it gets people. Thanks for listening

— Kevin Hart (@KevinHart4real) May 21, 2014
Watch