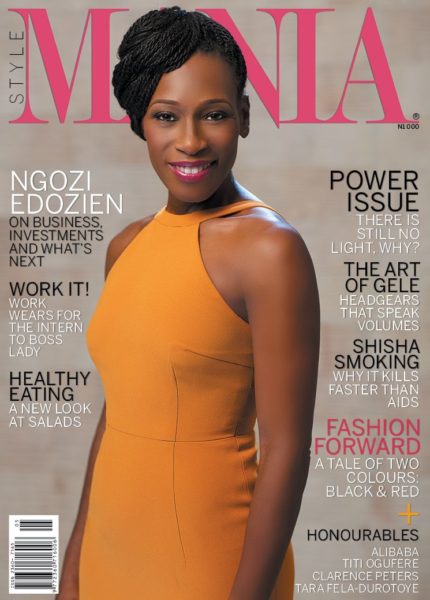 Mania Magazine has presented to us this afternoon, its May 2014 "Power" issue featuring Ngozi Edozien.
Ngozi Edozien is the Chief Executive Officer and managing partner of InVivo Partners Ltd – an investment company.
Rocking  an orange Clan dress, she spills on her meteoric rise in all her engagements in business with various high profile companies across the world that has earned her a place in the indices of inspiration.
Fun fact, she sits on the board of 4 multinationals to say the least and it is no wonder she is on the power issue.
The issue also highlights the power sector in Nigeria with both a visual narrative and an explicit article. The expose on the Gele will also educate and create new applicable ways to rock the head gears for everyday looks.
Also in the issue are profiles of comedian Ali Baba, video director Clarence Peters, Victor Ehikhamenor and more.
Credits
Cover
Photographer: Kelechi Amadi-Obi
Look: Clan
Fashion Editor: Godson Ukaegbu
Make-up: Banke Meshida-Lawal
Hair: Zubby Eneoma
BeautyMania
Photographer: Kelechi Amadi-Obi
Make-up: Bimpe Onakoya
Gele: Zubby Eneoma
Model: Janet @Hues &amp Shades
Politricks
Photographer: Kelechi Amadi-Obi
Stylist: Godson Ukaegbu
Make-up: Dorcas Otobo
Hair: Zubby Eneoma
Model: Nneka Edozie
Altered States
Photographer: Kelechi Amadi-Obi
Stylist: Godson Ukaegbu
Make-up: Oge Okafor
Hair: Zubby Eneoma
Model: Ife @Beth Models