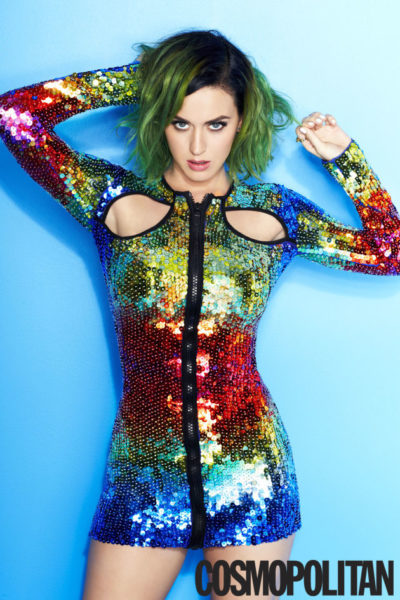 Great news for Cosmopolitan Magazine lovers, come this July, the fashion magazine will be launching its first ever global issue.
With such a huge first, you may be wondering who the cover girl would be. Beyonce, Rihanna, Miley…nope. The mag went with one pop star whose social media presence rivals royalty – Katy Perry.
The singer is full and frontal on the cover wearing a rainbow sequined mini-dress by Emilio Pucci on the U.S cover and will appear on a whopping 62 more covers of Cosmopolitans' international editions with portraits taken by Matt Jones. The pop sensation will have her interviews done by funny lady Chelsea Handler and Katy's close friend, designer Jeremy Scott.
In the magazine, she talks about why she wants to wear less makeup, the alcohol she'll never touch again, and what she really thinks about John Mayer (her ex-boyfriend) these days.
Cosmo seems to be adopting a strategy of using celebs with mega-social media followings like Miley Cyrus, Khloe Kardashian and Chrissy Teigen…and with a massive 53.3 million followers on Twitter, they should expect huge sales.
Check out some of her international covers below.
Singapore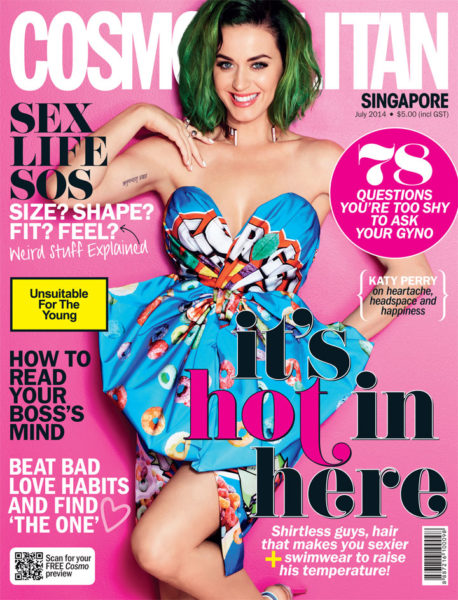 South Africa
Germany
Great Britain
The U.S edition of the July issue is set to hit stands on Tuesday 3rd June 2014. Visit cosmopolitan.com for more.