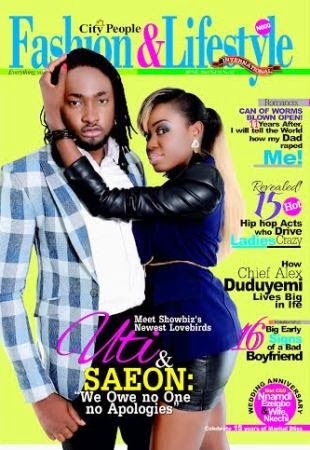 What's not to love about two people in love?
Nigerian TV personality/actor Uti Nwachukwu and his rising pop star girlfriend Saeon, are taking each day as it comes.
The couple who started dating in February 2014, have landed their first cover feature together.
For the June 2014 issue of City People Fashion & Lifestyle magazine, the couple were chosen as cover stars.
Rocking a checkered blazer, white shirt and black pants, Uti and his leading lady dressed in a blue shirt with leather sleeves, and a leather skirt, prove to be one hot couple.
They tell the publication, "We owe no one no apologies"
Earlier this week, Uti revealed exclusively to BellaNaija.com that people shouldn't expect any big news yet. "We are taking it slow", the Red Hot actor says, "…and enjoying everyday" he finishes.