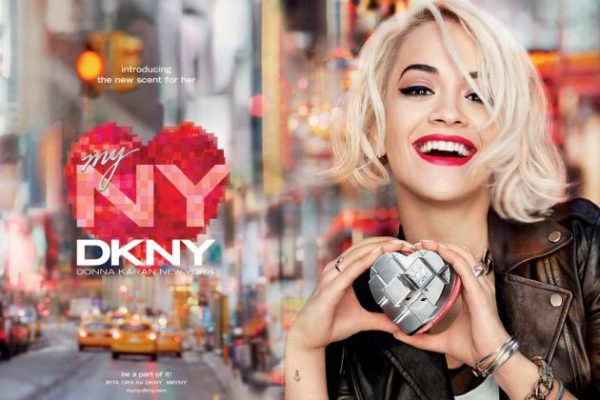 The relationship between Rita Ora and Donna Karan of DKNY is waxing stronger.
After closing her DKNY Spring 2014 show and appearing in a few DKNY Resort 2014 jeans ad campaigns, the singer has been singed on as the face of DKNY's latest fragrance – DKNY My NY.
Speaking on the signature scent, Rita, in an interview with WWD said this about her first fragrance campaign with DKNY – "Donna's a very powerful and confident woman. She comes across as very strong, and that's what I love about her line. It's a very confident, energetic line and it's about women who speak their minds. The fragrance celebrates New York City, which is unlike anyplace else in the world. I love the idea of being part of a campaign that captures the spirit of New York and the stories of women here, passionate about their dreams."
Rita wasn't the only with singing praises. Speaking about Rita, Donna remarked "If Rita can't sell it, I don't know who can. You've got a young, hip woman of New York speaking about it, a woman who goes from day to night. I think Rita's a great representative of DKNY. She's full of life, she's about what everyone wants to feel — energy. And I find her ageless. She's like this Energizer bunny who can wear anything from track shoes to stilettos, DKNY to Donna Karan. I love the girl as a person, too. She walks the talk."
The campaign was shot by Francesco Carrozzini at Times Square and features the adorable heart shaped bottle and the by-line – "introducing the new scent for her".
The scent is set to retail for $48 to $88, and will be sold in 2,885 stores throughout the U.S.
 Photo Credit: wwd.com