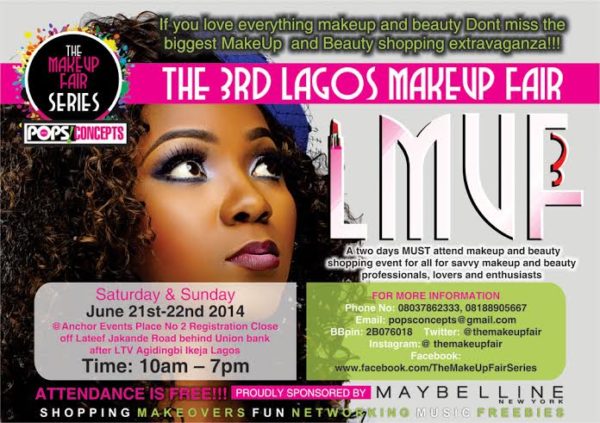 Back by popular demand, Pops Concepts presents the 3rd Lagos Makeup Fair (LMUF3), proudly sponsored by Maybelline New York.
The event, which for the first time would be held for 2 days is set to hold this weekend and promises to be the talk of the beauty industry. The popular platform was created by Omolola Faleye with the vision to revolutionizing the makeup business in Nigeria by providing the industry's professionals and aficionados with a credible and vibrant platform to: Showcase their brands, services, and products to an interested and engaged audience; Provide opportunities for networking and learning.
The MakeUp fair series is a great and conducive avenue  for all beauty savvy professionals, fashion and beauty conscious individuals and prospective buyers.
The highlights of the event include meeting makeup & beauty experts, launching of makeup brands and products, demonstrations, networking, shopping, learning makeup skills, special offers, treats, direct access, food and drinks, loads of freebies for grabs and lots of entertainment .
StanduptoCancer Naija supports The 3rd Lagos makeup fair and will be providing FREE clinical breast cancer screening for all ladies at the fair on Sunday 22nd June 2014.
Visit the Maybelline New York Nigeria Stand at the event and enjoy the following;
– Find your Smooth Shade
– Buy N5000 worth of products and get a FREE makeover
– Buy N10000 worth of Products & qualify for a Professional Makeup tutorial session with Celebrity Makeup Artist/ Maybelline MakeUp Artistic Director Bimpe Onakoya on Sunday 22nd June 2014.
The 3rd Lagos MakeUp Fair, promises to be fun as it will showcase a variety of makeup and beauty brands/Professionals. Some Exhibitors scheduled to attend include Maybelline Newyork, Giftys Daughter Beauty, Sleek Studio, Zaron Cosmetics Intl, Deva Petals, Akira Cosmetics & Fragrance Nig, My Makeup Cosmetics, Taries Beauty Lounge, Girly Essentials, Fablux Wigs Atlanta, Maradarah Makeup & Beauty UK, Hegai & Esther, Haute Beauty World, Arike Cosmetics, Makeup Maven Nig, MakeMeOver, Stella's Addiction, Evolve makeup Nig, Dazzling Looks, Shades & Sparkles, Accessories Ng, Ojulewa Institute/Makeovers, Beccas studio, Talking Faces, B.Lavida Makeup, St.Ola Makeup studio, Nsure Beauty, Topal Touch, among others.
Date: Saturday 21st – Sunday 22nd June 2014
Time: 10am – 7pm
Venue: Anchor Events Place, No 2 Registration Close, Off Lateef Jakande Road (behind Union bank after LTV) Agidingbi, Ikeja, Lagos
Attendance is FREE!!!
For more information: Please call: 08188905667 or 08037862333 | Visit their website: www.themakeupfairseries.com | Send an E-mail to: popsconcepts@gmail.com | Find them on Facebook: www.facebook.com/themakeupfairseries | Follow them on Twitter: @themakeupfair | Follow them on Instagram: @themakeupfair | Add them via BBM: 2B076018
____________________________________________________________________________
Sponsored Content