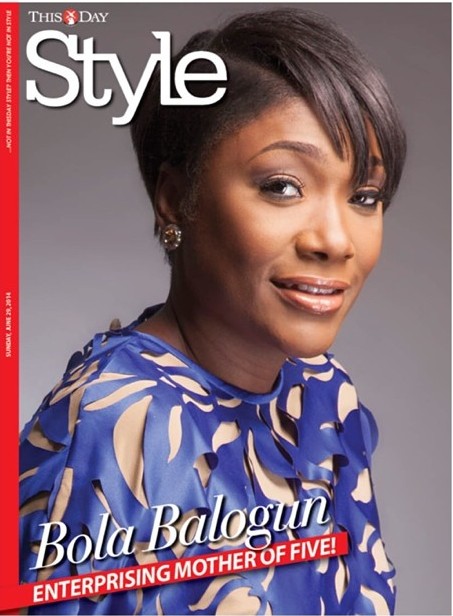 This past Sunday – 29th June 2014, ThisDay Style featured Bola Balogun, CEO of Glam Networks and Glam Brand Agency on its cover.
In the magazine, we also caught a glimpse of Bola's family including her husband Ishmeal Balogun and 5 children. The cover byline called Bola an "Enterprising Mother of Five!" and after we read the interview, we had to agree! Totally enterprising and inspiring.
Bola who grew up in the USA, worked as a stylist for publications and celebrities in New York before she moved to Nigeria in 2005, then she had to rebuild her career from scratch. She was a pioneer fashion stylist and currently runs leading lifestyle branding agency Glam Brand Agency and lifestyle/fashion production company Glam Networks which produced Glam Report TV.
Read Excerpts of the interview by ThisDay Style's Funke Babs-Kufeji.
On being a Styling Pioneer in the Nigerian Fashion space
It was exciting to pioneer and create a blue print to a new type of career in Nigeria. I believed we did a good job convincing people because fashion styling is a very popular career choice now and there lots of opportunities within the industry. I have also mentored and trained several popular stylists today. I'm so excited to know that People and celebrities can't step out without being styled by a stylist in Nigeria today.
On transiting to a New Focus (Lifestyle Branding & Production)
I've always had a passion for fashion and media. I'm also a believer in living your best life possible and following your dreams and passion in whatever you do. In my production company, I felt like so much was happening within the fashion, beauty and lifestyle industry that the world needed to see and hear about so I decided to start telling the stories of Nigerian creatives and products. Also, a lot of consumer brands that was targeting middle class and a more sophisticated consumer were coming into Nigeria and as an entrepreneur; I saw a gap to be filled. With my knowledge within the industry and some training, that's why I decided to start my businesses.
I founded Glam Networks in 2009 and Glam Brand Agency in 2012. Glam Networks is a television production company focused on creating and developing original content on fashion, beauty and lifestyle for television, web and mobile devices (Projects include Glam Report TV and the Fashion Protege for MultiChoice in collaboration with BellaNaija).
Glam Brand Agency is a brand strategy and public relation agency specialising in premium, luxury and niche brands within the fashion, beauty and lifestyle industry (Clients include L'Oreal Nigeria including Maybelline and Dark & Lovely, Polo Avenue – which officially stocks international luxury brands inc. Gucci, Balenciaga & Jimmy Choo, Sealy and Agbani Darego Limited).
We are always working on new projects. We are currently working on Season 2 of Glam Report, producing several contents for different companies and individuals and working on making the brands we represent household names in Nigeria to their targeted market.
On Family
My family is my number one priority and at times I've had to sacrifice my own career plans to build a strong foundation with my husband and children. But now my kids are a little older and independent so it's a little easier to juggle it all. All the kids are in school between the hours of 7:15 and 3:30 and my own working hours are between 9am – 5pm most times. My work schedule is very flexible so I can have quality time to spend with my husband and kids. Once you place priority on your family, you will find a way to work it out.
Her husband's Role in her Success
I thank God every day for giving me the husband of my youth, my best friend and life partner who has supported me financially, emotionally and physically in achieving all of my dreams. We all work together as a team to assist each other in achieving our life goals.
I've been happily married to Ishmael for 11 years. There are several secrets to my marriage. One of the first thing is God's grace and blessing in choosing and maintaining my husband. Authentic love and friendship is the foundation of our relationship. It also makes it easier because I married a man with great leadership skills and a clear mission and vision for his family. We are two matured adults that are committed and ready to do what it takes to maintain the love and keep the fire burning.
Her Personal Style & Lifestyle
My personal style is an extension of my personality which is authoritative, approachable and humble so I tend to dress in structured, classic and effortless pieces with a twist. I can't wear something I'm not comfortable in.
Moderation in everything you do is key. So I exercise some times, I'm careful about what I'm eating, I use vitamins and drink teas and I live a positive lifestyle and surround myself with like-minded people.
Regrets?
Well I'm only 36 and I'm still growing and understanding life everyday so my challenges and achievements so far have made me who I am today and I can comfortably say I love the lady I have become so I wouldn't change anything.
Encouragement for Enterprising Mums
All I can say is pray, work hard, learn everything you can about your industry, stay focused, surround yourself with positive people that uplift you And remember that at the end it's all about your internal happiness.