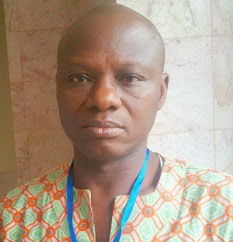 Calistus Ike was once an enterprising young man with big dreams of becoming a successful business man. Unfortunately, those dreams were cut short when he was sentenced to death after refusing to bribe a policeman N200 to absolve him of a crime he did not commit.
As a result, Ike who was convicted in 1989, ended up spending 23 years on death row. He was finally freed in 2012 through the intervention of a France- based human rights group, Avocats Sans Frontieres, ASFF, also known as 'Lawyers Without Borders France.'
He recently narrated his heartbreaking story to Saturday Vanguard:
The beginning
"It happened to me in the year 1989. I was resident in Benin, the Edo state capital. There was a man that lived in the same compound with me. His wife had stomach problem and he asked me to lead him to somewhere to collect a root (herbal medicine) for his wife.
We went there about  After escorting him to the place where he collected the medicine, I returned to my house.
The next day, I went to do my business. I did not know that the same man had engaged police to look for me and the other man that gave him the root, a man I didn't even know.
When I heard that police came to look for me, I inquired about the station they came from and went there myself.  I reported myself and asked why they came to look for me.
They told me that there was an allegation that I conspired with the man we collected medicine from his house and broke into my neighbour's house- who was the same man I accompanied to get the roots for his wife- and stole his properties.
I never knew that they had equally arrested the man that gave us the root. Thereafter, the policeman handling the case insisted that I must write a confessional statement otherwise he would deal with me. I refused to write anything. I told him that I would only narrate the exact thing that happened.
It was at that juncture that he started beating me with 'Koboko'. He flogged me mercilessly that day. I was tortured until the D.P.O in charge of the station asked him to stop and just take my statement.
After I gave them my statement, the same policeman that flogged me, came back and said that he could not find any evidence to pin the alleged crime on me. He said that he had concluded all the investigations and found nothing against me."
Request for Bribe, Refusal, and Consequences
"However, he said I should give him N200 so that he would drop the case and allow me to go home. Remember, we are talking about 1989. As at that time, that amount was big money to me.
So, I told him I had no such money to give out. I stood my ground that I was innocent of the charge and even asked them to take me to court if indeed they thought that I had a case to answer.
Within two days, the policeman took the matter to court. We went to court, at the Magistrate court, the policeman freed the other man I was accused with and pinned the whole charge on me.
From the Magistrate court, he took me to the Military Tribunal where the case changed overnight. From the original allegation of 'burglary and theft', I was charged with armed robbery.
Whereas the Policeman and that my compound man whose properties were allegedly stolen, as well as his wife, testified before Tribunal, I had no one to testify for me. I was left with only God and no one else."
Death Sentence
"After a long run of the trial, I was convicted and sentenced to death for a crime I never committed or even imagined. I never for once had such dream for my life, but I was condemned to death.
Nonetheless, my faith in God never wavered, I kept asking him to vindicate me. I was in death sentence cell in Edo state for over 14 years. After then, I was transferred to Enugu prison."
A ray of hope
"One day, I was there, inside the prison with other inmates when information got to me that there were some people from France that were helping inmates in Benin prison. I quickly called my brother and asked him to take my plight to those people, maybe they could help me to regain my freedom."
Freedom
"By the special grace of God, within three months, I was let loose from the grip of the wicked of this world and I thank God for it. What I however want Nigerians to know is that there is great level of injustice in our judiciary and because of that, many innocent people have died for crimes they never committed."
Reflection on time spent in prison
"Some of our lawyers are not helping matters. All they are interested in is money. Some cases they know they don't have the capacity to handle they will just force themselves into them and their clients will be condemned and killed.
Before my very eyes, I witnessed executions that took the lives of over 48 young and energetic men and women . It is a painful thing to experience.
I was released in 2012. After I was arrested in 1989, I stayed as awaiting trial inmate for seven years, and stayed on death row for 16 years. My case did not go up to the Supreme Court. It was tried by the military tribunal so I didn't even have the opportunity to go on appeal.
My experience in the prison was very traumatic. That place is hell on earth! Some of the prison warders are very wicked- even though there are some good ones too. The bad ones are tormentors. They torment inmates at will. The food inside there is nothing to write home about. Roofs of some of the cells leak badly when it rains.
Getting good medication is rather a luxury too big to imagine, except in critical cases or upon an order of the court. In the prison, every inmate is left to his own fate. Inmates are suffering badly even the awaiting trial inmates too.It hurts me when I see them on TV claiming that they are reforming the prisons.
I am telling you today that they are doing nothing. Anyone that is so convinced that our prisons are better now should volunteer and spend a weekend inside any of our prisons. The hardship inside there is better imagined than experienced.I saw hell!
If the government gets up now and say they are reforming prisons, they are doing nothing! I am saying this because I experienced it for years on death row."