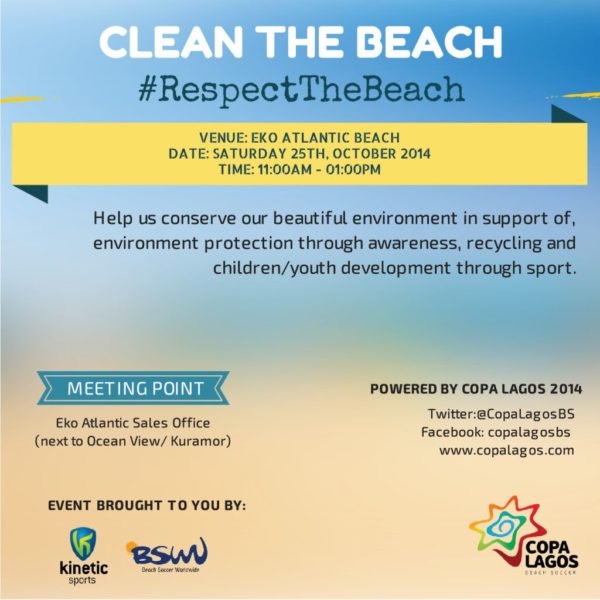 Further to its corporate social responsibility, Kinetic Sports, organizers of the international beach soccer tournament, Copa Lagos, is organising its annual Clean The Beach day out this Saturday 25th October 2014.
Clean The Beach is designed to encourage public attention to the maintenance of clean and sanitary beaches and pleasant waterfronts, and is one of a series of events leading up to the 2014 edition of Copa Lagos.
Clean The Beach will be a clean-up morning out at the Eko Atlantic City Beach, with diverse celebrities, including celebrated local and international sports stars, corporate executives, officials' of 1960BET and First City Monument Bank (FCMB) joining other beach soccer enthusiasts in gathering waterfront garbage and waste material from the Eko Atlantic City waterfront.
Th event will be a fun morning out, a prelude to Copa Lagos, Nigeria's highly entertaining international beach soccer festival, holding this year at the Eko Atlantic City, Victoria Island, from Friday 12th to Sunday 14th December 2014.
Copa Lagos 2014 will feature FC Barcelona Beach Soccer Team, with three of the biggest Nigerian clubs, including Enyimba FC, scheduled to play in The FC Barcelona Challenge.
Date: Saturday 25th October 2014
Time: 11AM – 1PM
Venue: Eko Atlantic City Beach, Lagos
1960Bet is lead sponsor of Copa Lagos 2014, and Eko Energy Estate under Orlean Invest will be venue sponsors. Other supporters include FCMB, Pepsi, Cool FM & Eko Atlantic.
For more information about the 2014 edition, visit www.copalagos.com | Follow Copa Lagos on Twitter @CopaLagosBS | Find them on Facebook – www.facebook.com/copalagos
____________________________________________________________
Sponsored Content