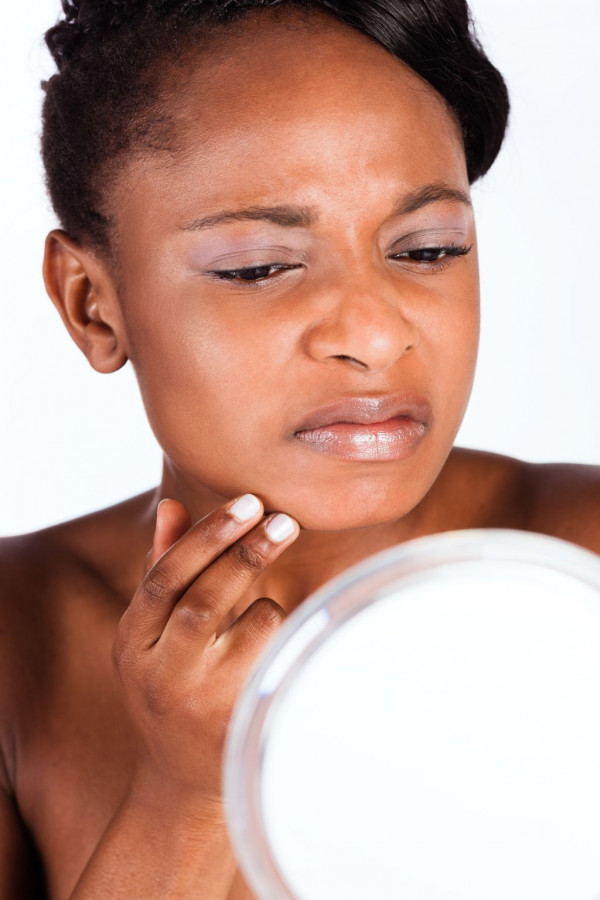 I am sure I am not the only woman who has woken up and wondered 'what the hell happened to my face while I was sleeping?'.
A few weeks ago I had that same experience and after panicking (a  little) I remember wishing I had some sort of guide that could tell me what to do in a simple way. I mean a real step-by-step guide to reassure me that; first of all, what I am going through will pass and secondly, there is a solution out there.
So I decided to go searching for 5 very important things to remember when a breakout is in town.
1. Do not press it (at least not immediately)
The first thing that comes to mind when you see your face has been invaded is to touch it and possibly press it. For some reason we believe that pressing it immediately might give us a better chance of recovery. But this isn't true.
The first thing to do instead is try to discover what type of breakout it is. It could be an under-skin pimple, a black head, a white head…establish this first. Chances are if you press an under-skin pimple, you will end up with a dark spot on your face, but white & black heads can be pressed the right way to aid removal. See how to pop a pimple the right way here.
2. Cleanse your face
After this, head over to the sink and wash your face with warm water. You can do this with a foaming cleanser or your cleansing bar. It is important to wash with warm water so you open your pores and the cleansing process can get under the skin. After you are done use cold water to wash the face a last time to close the pores. This will seal in the process.
3. Exfoliate
Exfoliation is a great way to remove fresh breakouts. After cleansing, gently exfoliate the skin making sure not to rub too hard so you don't run the risk of causing injury; this can lead to dark spots. Be sure not to exfoliate more than 2 times a week as excessive exfoliating can damage the skin even more and cause more breakouts because or repeated friction. See more on exfoliating here.
4. Stay away from lint towels
One solution that helps the skin with irritation is using lint-free towels on the face. Either let it air dry or use a lint-free towel or tissue to pat your face dry. Please note not to rub the face, instead pat it dry leaving a little moisture behind.
5. Use a topical cream
There are many ways to get rid of acne, but one of my favourites is topical creams. They are easy to apply, get absorbed into the skin and work their magic from within which I think is a great process of eliminating dirt and germs. You could use creams that have anti-fungal, anti-bacterial and more properties. A good example is to use Retinol due to its skin drying properties. Retinol helps dry the skin out, which pushes puss and bacteria to the surface where they can easily exit the face.
Please note that before using Retinol or any topical cream, you should seek medical advisement on if it is suitable for your skin. If not then ask for a recommended topical cream or otherwise that would work best for you.
***
These are only 5 ways to get away from breakouts, clean and clear. If you have more advice on the first steps to clearing a breakout, be sure to share them with us.
Photo Credit: Dreamstime