A Gift Registry is a compiled selection of gifts at a designated location that the recipient would like- a sort of wish list. They are used for various occasions but weddings by far serve as the most favoured instance in which they are used. The uptake of the concept in the Nigerian context has been relatively slow, however there are a selection of retailers such as Home Royale, a design-led home ware retailer who offer a Gift Registry service.
The gifting culture is unfortunately being relegated to a thing of the past. My favourite argument is: 'I bought your aso-ebi, must I buy you a gift in addition?' However for those who still believe in gifting, the argument as to how 'appropriate' or 'effective' the concept of a Gift Registry within our cultural context is a long-standing one.
Some would argue strongly for or against them whilst many are undecided. For many, the practicality of it sways them, whilst others think it bad taste to 'assist' someone in making what should be a choice driven act.
Here are 5 key arguments often put forward by both 'camps':
• The overly prescriptive approach to gifting implied by Gift Registries may not suit every guest, particularly those who favour a 'personal touch'. It leaves little room for creativity in thought for the gifter and some find it impersonal as they feel they want to hand the couple their gift directly on the day. However, the most favoured argument for is that a Gift Registry takes the guesswork out of giving, especially for people who don't know the couple intimately enough to know their taste- a particularly pertinent point to the nature of our 'attended by all'-type Nigerian weddings.
• A Gift Registry offers little anonymity for the guest in terms of what they have spent on the gift- the couple will know exactly how much a guest has spent on a gift for them. Whilst this is not to everyone's taste, a guest is more likely to receive a heartfelt and direct thank you from the couple if they bequeath them with a gift they like at a time when they have the headspace to appreciate it. A Gift Registry will maintain a record of who's given what, as such the couple are able to direct their gratitude.
• Some feel the Registry may expose them unnecessarily to their taste being judged by the extravagance of the gifts. However, a Gift Registry minimises the risk of getting unwanted gifts. Whilst coolers and Pyrex dishes are of great use, there's only so many of these one person can need! With a Gift Registry, duplication of gifts is avoided. It also provides the opportunity for the couple to receive some 'big money' items that they may otherwise not be able to afford themselves.
• Majority of wedding gifts brought to the venue end up MIA or if one's lucky being delivered to the parents of the couple's houses. A Gift Registry saves the couple the hassle of worrying about how bulky gifts are going to be collated and delivered to their home. For couples who do not live where their wedding takes place, or are too preoccupied with jetting away on their honeymoon after the wedding, transporting the gifts is not top priority. A Gift Registry has all the gifts in one place and can make the gifts available to the couple at a scheduled time.
• Some consider the overt prompt implied by a Gift Registry can sometimes be misconstrued as 'begging' and may offend some guests. However, in a society where the culture is to extend generosity to the parents of the couple towards a wedding, a Gift Registry serves as a subtle reminder that the day is about the couple. It provides an opportunity for the couple to experience bits of this generosity- after all there is life beyond the 'feferity' of the wedding day, no?
Some interesting wordings for informing guests about a Gift Registry;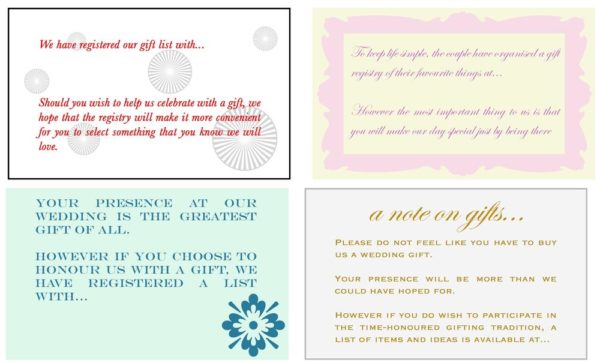 On the whole, gifting should be an act of choice. A Gift Registry does not necessarily challenge this notion. It is not a way of pressuring guests into buying gifts. It serves as a means of communicating between the giver and the bequeathed- a wish list shared.  Whoever said there is anything wrong with wishing?
 For the couple who have decided that a Gift Registry is for them, look out for Part 2: How to use a Gift Registry service.
For more information;
Email: info@home–royale.com | Website: www.home–royale.com
_________________________________________________________________________________________
Advertorial– Sponsored Content