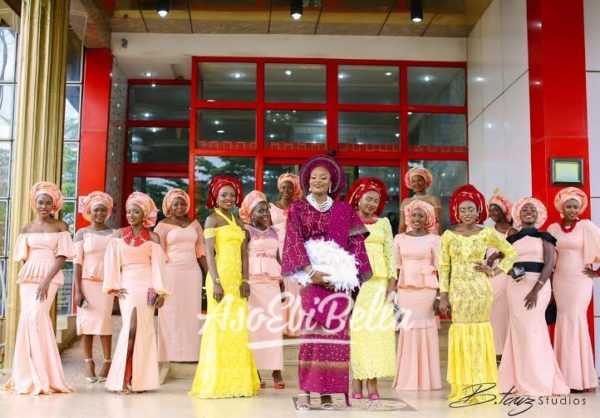 Almost anybody can see that the wedding culture in Nigeria has changed dramatically over the last 10 to 15 years, not only has the wedding industry seen an explosion in recent years but wedding ceremonies themselves have evolved into something that is a far cry from what our parents had some 20 something odd years ago. In particular, one thing that has caught my interest is the gradual fading away of the idea of presenting couples with gifts on their wedding day, the very idea would even seem passé to most.
Most would reason, after spending probably the equivalent of two months' salary or more on Aso ebi, tailoring expenses, hair and make-up and if you happen to be a bridesmaid or grooms man you can throw in the hen night, stag do and bridal shower into this mix, and very possibly ticket, visa and travelling expenses if your dear friends decide to have their wedding in Turks and Caicos, the couple should be pleased and take your presence at their wedding as a gift in itself, right? Seeing as you probably just spent 3 months of savings on their "own" special day.
But why do we give gifts in the first place? Weddings aside, the art of gift giving has been part of human interaction from time immemorial, gifts serve as a way to define relationships and strengthen bonds with family and friends. It is also a way to show and reinforce our feelings for our loved ones in the most caring and effective way. Wedding gifts in particular, provide friends and family with a thoughtful way of showing love and support to many young couples as they set out to build a life and a home together, which can be a struggle especially with what the dollar is saying these days! So regardless of how much you spend attending the wedding, always budget a gift for the couple, however small it might be.
As noble as this is, the truth is that a lot of us struggle with buying the right gifts for couples. Most times we haven't got a clue of what to get, a lot of us (well-meaning friends and family) end up just popping down to the nearest homeware store and getting the latest kitchen appliance or gadget that's within our budget, wrapping it with some fancy paper and presenting this to a couple that probably just received 3 other toasters like yours. These go unused, possibly re-gifted or even sold! It certainly would be easier if we knew the right gift to get.
This is where a gift registry comes in, it is quite simply a couples' ''wish list" made public. Quite frankly gift registries eliminate the unnecessary angst involved in buying wedding gifts, for one it would ensure that you are giving your loved ones what they actually need and as the registry system is designed to eliminate items that have already been purchased you are pretty sure your gift will be highly appreciated and put to good use, sounds to me like a win-win situation for both the giver and recipient.
So the real question is in the era of two months' salary Aso ebi and wedding vendors costing an arm and a leg (quite literally sometimes) are gift registries going to work in Nigeria, and how can a bride make it work if she chooses to use one?
I believe so, we all know that wedding celebrations hold a special place in the hearts of everyone, we can all recall quite a number of times where we have contributed in cash or in kind just to make the day extra special for those we love. Having a registry provides the perfect avenue for the couple to allow well-wishers to do this in a personalised fashion and this is where  BKGiftangels comes in.
At BKGiftangels we provide a unique gifting experience for you and your guests, delivering right to your doorsteps, with gifts created from a list of stores across the UK. Creating awareness about your gift registry, will require:
Sending out cards informing guests about the existence of the registry, this can go with the invitation
Ensuring that it is top of mind by prompting guests in follow up texts and emails about the wedding
Calls especially to all our aunties and uncles who are ever so generous with their wedding contributions (thank you), it should really be a breeze!
As part of a special offer, we are offering a $25 gift voucher for a friend who recommends BKGiftangels registry to a friend and $100 to a bride that signs up for our gift registry services (terms and conditions apply).
For more information:
W: www.bkgiftangels.com 
F: facebook.com/bkgiftangels/
I: @b_k_gift_angels
__________________________________________________________________
Sponsored Content