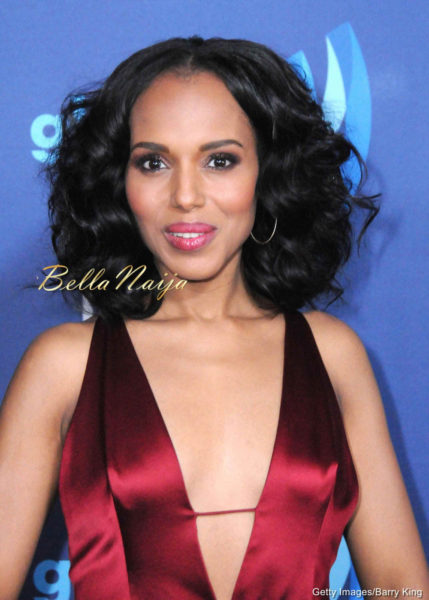 Hollywood actress Kerry Washington was the recipient of the Vanguard Award at the recently held 2015 GLAAD Media awards and as she was presented the award the gorgeous actress gave a powerful speech.
The 38-year-old actress started off her speech by saying:
On Monday morning, people are going to click a link to hear what that woman from Scandal said at that awards show, and so, I think some stuff needs to be said. Women, poor people, people of color, people with disabilities, immigrants, gay men, lesbians, bisexuals, trans people, intersex people…have been pitted against each other and made to feel like there are limited seats at the table for those of us who fall into the category of other. We need more diverse LGBT representation [in the media]. And this is big — we need more employment of LGBT people, in front of and behind the camera. We can't say that we believe in each other's fundamental humanity and then turn a blind eye to the reality of each other's existence and the truth of each other's hearts.
Watch the speech below.
The event was attended by a number of stars including Zoe Saldana, Aja Naomi King, Shonda Rhimes, Channing Tatum, Viola Davis, Samira Wiley, Ellen DeGeneres, Portia de Rossi and more.
Photo Credit: Getty Images/Barry King