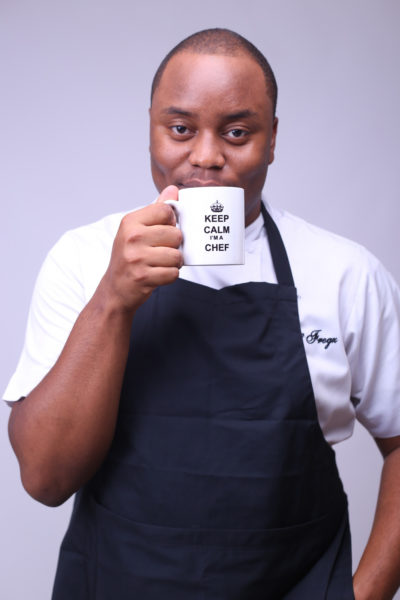 Gbubemi Fregene, or 'Chef Fregz' as he is known by his clients and friends, is no stranger to the BellaNaija Community. With his weekly recipes on the BN Cuisine page, Gbubemi has garnered a following amongst foodies! However, we wanted to find out more about the man behind Chef Fregz catering. Graduating from Covenant University with a degree in Human Resource management, Chef Fregz quickly identified the course he wanted to chart in life and has since chased his dream, building a business in something he is intensely passionate about – cooking. Convincing his family members to take a chance on him and invest in his dreams, he went on to the prestigious culinary institution – Le Cordon Bleu – in Paris.
BellaNaija reached out to him to talk to us about the art of cooking and the business of catering. He shared some of the nuances of running a bespoke catering outfit in Nigeria, and some of the challenges he has faced. It was a pleasure speaking to Chef Fregz, and we hope you find the interview as inspiring as we did.
***
Please tell us about yourself
Well my name is Gbubemi Fregene. I was born in Abeokuta but was raised in Benin city. I had my nursery primary education in Benin as well. I graduated fromOlashore International School in Iloko ijesha Osun state. I grew up in a small, very nuclear family: parents and one sibling – my sister Toju.  I interned and worked a little extra at a Jean-Georges Vongerichen restaurant Market where I was groomed by Jerome Toumlin.
After I realised I couldnt stay in Paris I moved back home tired and semi frustrated because all the hotels I applied to for a job weren't getting back to me and Paris was not looking possible anymore. So when I got broke I resorted to the only thing I knew how to do best – cbook food and get people to pay.
How did you get financing to start off your business?
I started with nothing. During my third year in University when I suspected that I may do a food business, I spoke to my friend about investing money so we put N10,000 together and went into Discovery Fund which is now ARM and where on this trust fund plan. However, when the chips where down and out, I cleared out that money and we never really went ahead with business plans.
After NYSC, I came back from Kaduna, I just picked up my BBQ stand and told Mrs Yewande Zaccheaus of Eventful Ltd at the time that I did grills and finger food and after roasting 2 chickens and a making a salad for her. I started to count my coins from there. I think that cost 10,000  –  delivery and all!
As business has gone on, between savings from my little humble beginning days of mai suya work and now that we do more bespoke dinners, endorsement fees from work with Knorr Nigeria, generous soft investments and loans from family and friends, I have been able to finance the business. However, it is never easy.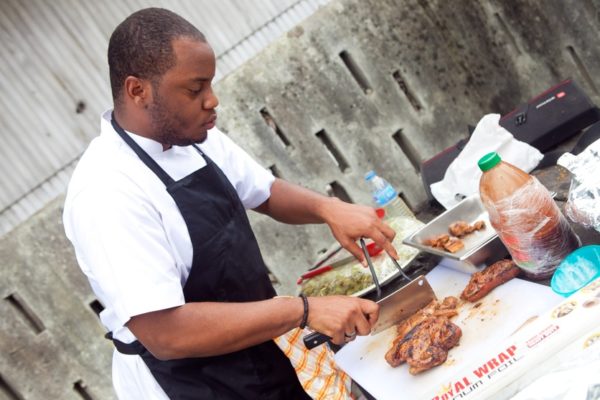 It always feels like it is never enough. A lot of money goes into updating your store, the presentation items we use from plates, cutlery etc. You also have to pay staff, even if all the money has gone into making sure the presentation of your food look amazing.

Running a kitchen you always have to have more than enough. You can't eat money that really should be a well stocked store. At Chef Fregz we must always have olive oil by the gallons, cartons and cartons of spices like oregano and black pepper.
At the point, we had to move from my grandparents place to our own office after we had expended everything I had to seek assistance from family. Some were loans  and some were "you have tried let's invest (dash) in you". But Christmas isn't everyday.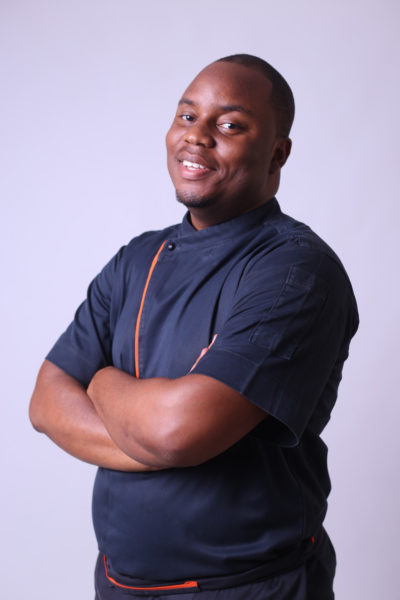 As I answer this there is still so much the business is working at financing, especially with renovation of our space. We have just learnt to grow organically and pretty much cut our coat according to our size. We are 4 years old. It was not overnight.
That's pretty impressive. Please share a little bit more on the growth and expansion of your business
I'll start off by saying that growth is painful but worth it. Growing the business has been such a journey. In the last year we realised that we had come into our own as an established brand. So we can do things like forecast, strategise and be more proactive to reaching out to our clients as opposed to hoping they would find us.
Chef Fregz started of as DVARD which was a grilling BBQ and finger only brand. We slowly ventured into doing food for people but kept it low at 20 people maximum. It progressed to us being able to cater for larger crowds, but not more than 50 people. We also started to  specialise in bespoke private dinners. We did tailor-made menus to the specifications and desires of our clients. We also sold experiences to our clients not just food. The business kind of just ran with all that came its way. Suddenly we started doing work for major brands like Knorr, Kenwood and most recently Samsung. As of now Chef Fregz has grown to the point where we have our space and have product lines like our canapés, our private dinners, catering and consultation work.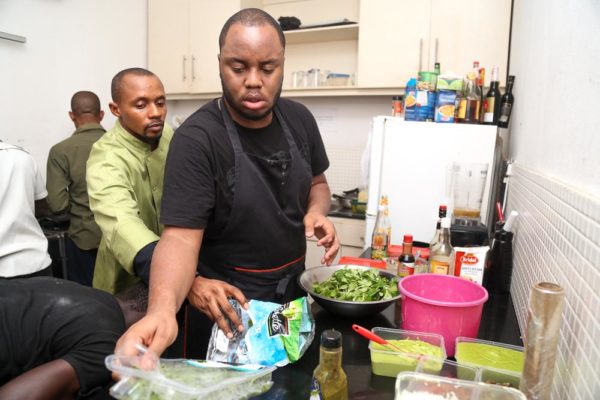 So how profitable would you say running a private catering company is?
Running a private catering company is successful to the bone! However, it takes time for you to really experience the billions. You have to figure out what you're really good at and allow it grow organically and figure out who to reach a large number or a small reach but premium charge.
What's the staff strength of your Chef Fregz Catering?
As of now 2 permanent staff. 12 contract staff.
What's the most difficult challenge you have faced running a private catering company
Staff. Staff sometimes seem hell bent on driving one mad; but you have to keep devising ways to motivate them and give them reason to see why you need them to do things your way,
Secondly, people want Gucci but want to pay Dollar Shop money. I mean, you cannot go to Harrods on a Primark budget. It just cannot work.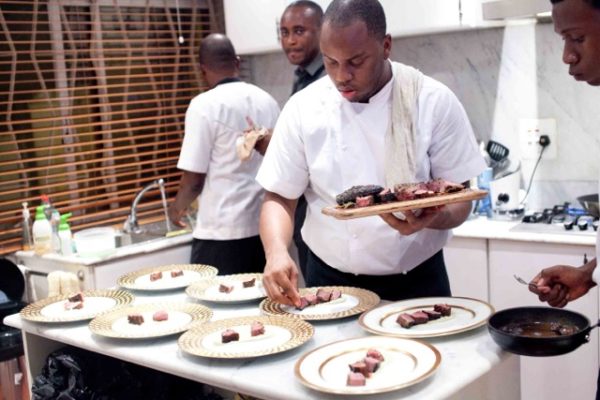 What would you describe as the most exhilarating and defining moment of your journey so far?
Wow! There are so many but I'll highlight two. Cooking alongside Chef Ade Adesina, who is a Nigerian-British Chef who is a Gordon Ramsay protege and has been on Great British Menu.
The second one was cooking at the Italian Consulate and have Italians tell you that your food reminded them of their grandmother's cooking.
Chef Fregz Catering uses a lot of food resources that is not locally sourced in Nigeria, how do you get and keep fresh produce?
Luckily for me there are a few stores and people like Lepicerie and La Pointe who bring in a lot of produce that's not locally grown or available. However, a lot of new small scale farmers and even large scale are producing fresh herbs like rosemary and thyme. My friend Sola Ladoja, for example, does this. Also, people like Chef Renne Chuks and Uzo of Cupcake Couture Lagos provide this service.
I have also learnt to make do with what I can get here. Our Herb Roast Chicken Salad for example looks like something that can only be done from away but it's all locally available stuff. Even the rocket we use sometimes is locally grown.
In light of the recent rise in exchange rate, how have you managed to stay afloat – especially since you import a lot of produce
That's not easy, because how do you just increase your price like that when clients already feel like Chef Fregz is Hermes bag. It's a thing where we have learnt to do menus that have use majorly locally sourced things and a dash of imported produce. We also let clients know that they have an option of other dishes, but it would cost them a little extra. So when clients are made to feel like they are considered, they know how to go about it. Thankfully some clients understand and pay still. Also even if our margins are a little smaller, it's a matter of doing volume so we are still operating at a profit.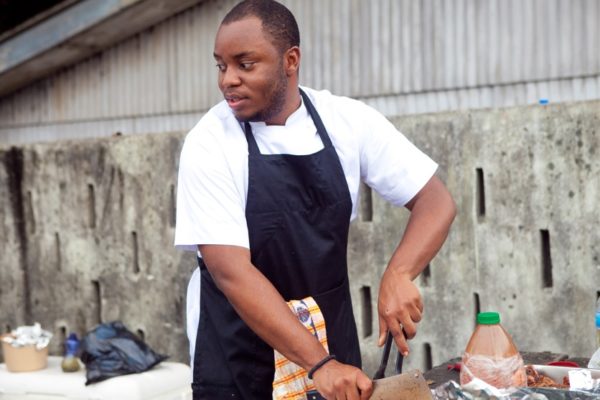 What keeps you going amidst the infrastructural challenges of Nigeria?
To quite honest, apart from passion I have no other option. Cooking is all I know how to do. Thankfully eating and celebrating from the time of creation has always been a thing so I know I would always be in business. So I stay hopeful. I also read a lot about successful Chefs and their own stories most times have times where economic factors almost made them crumble but somehow they pulled through; that gives me hope as well.
Please describe an average day in Chef Fregz' life?
I wake up at 6am-7am. Most of the time I pray. I am out of the door by 10am to do shopping and running around for whatever event we have been booked for. We get back to HQ or home go through the menu with the team and we start prep. If it is the next day we round up by 12am-1am. We are up by 4 or 5am if it's a lunch or breakfast. If it's dinner we are up for 8am to continue. We prep and move to client's site and continue with setup cook and get home for what… 1am and we are exhausted.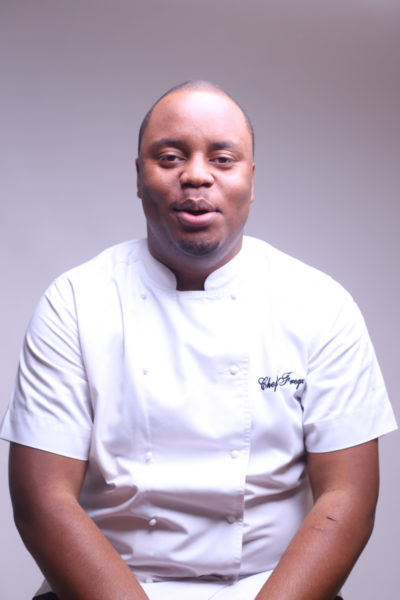 On other less busy days. I resume to my office which is my dining table for now. The real office is still under construction. I am in front of my laptop and my assistants and I are forecasting, planning weekly recipes for BN Cuisine and Samsung, responding to emails, going through targets and strategies and past decisions made. In between all of this, I am constantly on my Instagram. Yes, I am slightly addicted.
Who would you say largely inspires your business drive?
I would say people.
Ehime of Sweet Kiwi I just respect her business drive. Doesn't take No for an answer and she is very calculated.
Kabir Shagaya of Speedy Logistics. He is such a mentor.
My friend and Accountant Bimbo Bamigboye of Audeo Nigeria Advisory Services
Then there is just the sheer fact that man must wack. Whatever his name is…so everyday I am hustling.
Would you say there's a fundamental difference between the business of cooking and the cooking business?
Hahaha! The business of cooking is understanding the fact that you need to know how to cook for two and larger numbers. For example you need to understand how pre-do things ahead, and know who to finish off and it would appear like you have made it in one go. Cooking business like any other business you need to just figure out how to grow the brand and deliver great food and service every time.
How do you unwind?
Unwind… when I am rich I travel. When I'm meek… we go to friends' houses, go and eat pepper rice in Lekki, catch a movie. Most times I just stay at home.
Let's relax a bit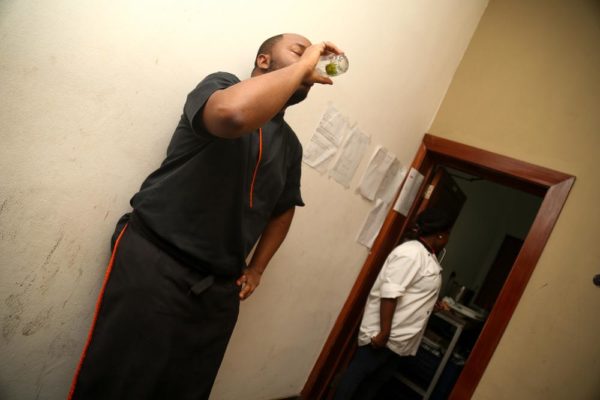 What is your guilty pleasure?
Food… Gingerbread cookies. Sweet Kiwi Froyo. Orange Juice and eating too much Jollof Rice. Amazon unnecessary shopping. I always seem to need everything I buy.
Three things you can't leave home without?
My Note 4
Sanitizing Wipes.
My bag that must have my orange notebook, at least 2 black pens and the first two.
That's cheating, but we forgive you. So, how would you describe your sense of fashion?
My fashion hmmm.. I would say simple stylish. Shorts. I love shorts. Everything Polo Ralph Lauren does. They make clothes for me. Accessories… Please give me Ted Baker or I die.
I'm into Danshikis these days. I'm obsessed with them. I'm also slightly addicted to shoes as well. I have every classic style. My favourite pair of shoes right now are these black pair of loafers from some Italian designer and my Nike running shoes.
Thank you for taking the time to chat with us. We wish you the best in your future endeavours and look forward to seeing more recipes from you.