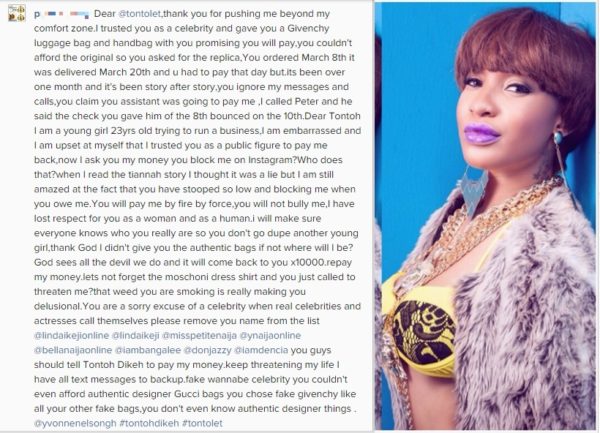 A luxury personal shopper has called out Nollywood actress Tonto Dikeh on Instagram for reportedly ordering for some products worth almost N200,000 (approximately $1000), getting them delivered, and not paying up.
The personal shopper, who is also the official rep for Whitenicious by Dencia in Nigeria, started things off with a blank video clip that had Rihanna's new song 'B* Better Have My Money' playing in the background with the caption:
#JustATeaser #iWillComeForYouSoon #WithYourName and #Profession #FakeCelebrity #Living #FalseLife #ClaimingToBeBusy #ItsNotACrimeToBeBusy #ItsNotACrimeToBeBroke #ButWhenYouIgnoreMyCallsAndMsgsForWeekssss #YouAreObviouslyIgnoringMe #ItsOverAMonthNow #B*BetterHaveMyMoney #YourCrewSoBrokeTheyAskedIfMyThingsWereForRent #SoThatYouWillNowPoseWithThemForTheGram #JustForTheGram #IHaveOurMsgs #DontPushMeToScreenshotThem #Joker #BBHMM #Fast @tontolet
She then posted a screenshot of her trying to get through to Tonto Dikeh on Instagram and her blocked account:
With the caption:
Dear @tontolet, thank you for pushing me beyond my comfort zone.I trusted you as a celebrity and gave you a Givenchy luggage bag and handbag with you promising you will pay,you couldn't afford the original so you asked for the replica,You ordered March 8th it was delivered March 20th and u had to pay that day but.its been over one month and it's been story after story,you ignore my messages and calls,you claim you assistant was going to pay me ,I called Peter and he said the check you gave him of the 8th bounced on the 10th.Dear Tontoh I am a young girl 23yrs old trying to run a business,I am embarrassed and I am upset at myself that I trusted you as a public figure to pay me back,now I ask you my money you block me on Instagram?Who does that?when I read the tiannah story I thought it was a lie but I am still amazed at the fact that you have stooped so low and blocking me when you owe me.You will pay me by fire by force,you will not bully me,I have lost respect for you as a woman and as a human.i will make sure everyone knows who you really are so you don't go dupe another young girl,thank God I didn't give you the authentic bags if not where will I be?God sees all the devil we do and it will come back to you x10000.repay my money.lets not forget the moschoni dress shirt and you just called to threaten me?that weed you are smoking is really making you delusional.You are a sorry excuse of a celebrity when real celebrities and actresses call themselves please remove you name from the list@lindaikejionline @lindaikeji @[email protected] @bellanaijaonline @[email protected] @iamdencia you guys should tell Tontoh Dikeh to pay my money.keep threatening my life I have all text messages to backup.fake wannabe celebrity you couldn't even afford authentic designer Gucci bags you chose fake givenchy like all your other fake bags, you don't even know authentic designer things . @yvonnenelsongh #tontohdikeh#tontolet
She then shared a screen shot of her message to Tonto Dikeh from 4 days ago with the caption:
My message to @tontolet 4 days ago. She is a criminal now she is threatening me,you can't do anything to me be it juju power or man power because I am covered by the lord.broke & fake. @lindaikejionline @lindaikeji @ynaijaonline @ladunliadi @misspetitenaija @bellanaijaonline @iambangalee @donjazzy @iamdencia
BN reached out to Pearl to authenticate her claims and she sent us a few screenshots of her conversations with Tonto Dikeh as well as conversations with Tonto Dikeh's assistant, Peter.
In the chat Pearl also states that the original designer products are out of stock but that the replica is available for delivery.
In the screenshots the conversation moves from Pearl and Tonto Dikeh to Pearl and Peter as the messages from Pearl become more frequent and the ones from Tonto Dikeh & Peter become more hesitant.
Photo Credit: Instagram