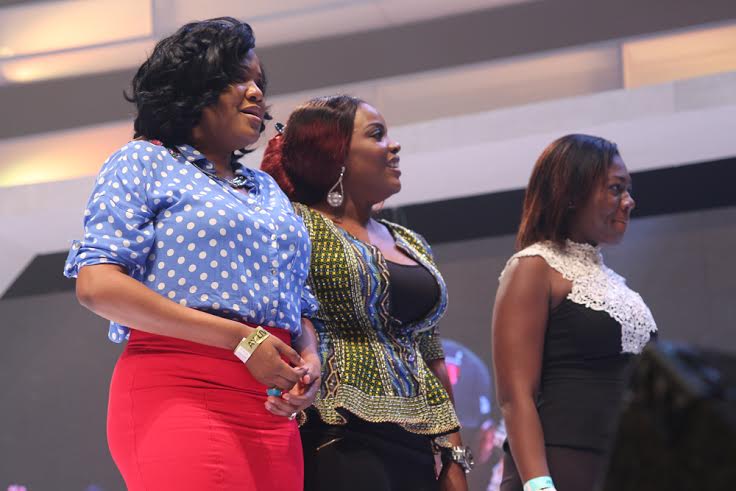 Toyin Aimakhu-Johnson, Empress Njamah and 8 other lucky winners got a super surprise when midway into the AY Live Easter Edition Show, which held on Sunday at the Eko Hotel & Suites, they were announced as the lucky winners of Maltina's surprise gifts – iPhone 6 phones.
The Nollywood actresses, alongside eight other guests, were presented with brand new iPhone 6 phones courtesy the event sponsor, when the quote on their Happiness card which was distributed to all guests at the event, was announced as the winning quote.
Receiving the gift, a very thrilled Toyin Aimakhu-Johnson couldn't mask her excitement as she smiled very joyfully. She commented – "This is very awesome, I am still very amazed. I had no idea that this was going to happen. When it was announced that Maltina will be surprising 10 guests with iPhone 6 phones, you could practically hear the mumbling in the crowd; and all of a sudden I here the quote on my card announced as the winning quote. I've had so many wonderful surprises this year and this is certainly one of them. Well done Maltina, this is really remarkable."
Speaking on the reason behind the surprise gifts, Senior Brand Manager Maltina, Adewole Adedeji confirmed the move to surprise guests in a way that will trigger real excitement, as part of the brand's way of sharing happiness.
"We love to see our consumers happy, that's the core message of the Maltina brand – "Sharing Happiness"; and this is one of the reasons we decided to renew our partnership with AY Live. Happiness and pure excitement is the real proceed for all the hardwork we put into the brand and we are glad the winners were indeed overjoyed", he said.
The AY Live series will continue with the Port Harcourt and Abuja legs billed to hold later in the year and Maltina promises consumers nothing short of an experience as memorable as that of the Lagos edition.
________________________________________________________________________________________________
Sponsored Content