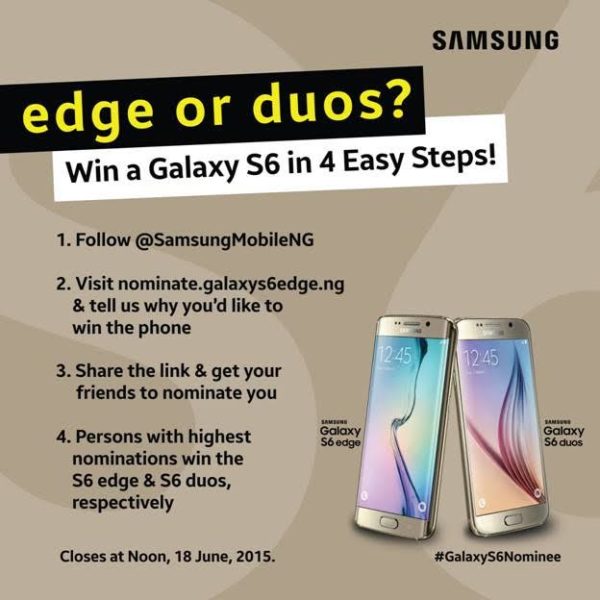 Carved out of a combination of corning gorilla glass 4 and high tensile metal, the S6 edge features the world's first dual curved glass display with an exquisite glass and metal finish giving it a refined look and feel. The S6 duos is the dual SIM version – with no curved edges.
Both devices have a super-fast charging feature that allows the device run for four hours after just ten minutes of charging. The Galaxy S6 edge battery charges from empty to 100% full battery in just about 85 minutes (80 minutes for S6 duos). The devices come with a state-of-the-art wireless charging technology that has evolved to make charging easier; simply place the phone on a wireless charger and charging starts.
What more?
The Galaxy S6 edge & S6 duos have a 16-megapixel camera with Optical Image Stabilization (OIS), which lets you take better photos in low light. While the superfast-launching easy-to-use camera allows users instantly capture every precious moment, the tracking auto focus technology keeps every moving object in sharp/clear focus. Selfie lovers can also rejoice in the boosted 5-megapixel front camera with 90 degree wide angle.
In addition, the camera can capture 360 degrees angle around an object and takes photos in less than 0.7 seconds through the new double-tap home button shortcut. The OIS feature lets the lens move inside to correct blurry effects that result from movements of the hands while taking a picture. It also automatically adjusts the white balance. You can even take pictures in slow and fast motion!
Order the all-new Samsung Galaxy S6 edge and Galaxy S6 duos today via www.galaxys6edge.ng; network providers, MTN, Airtel, Etisalat and GLO; e-commerce platforms Jumia & Konga; and Samsung Experience Stores nationwide.
You can also nominate yourself or anyone else you believe deserves to win a Galaxy S6 edge or S6 duos at http://nominate.galaxys6edge.ng today!
Nominations end by noon on Thursday, June 18th 2015.
__________________________________________________________________________________
Advertorial– Sponsored Content