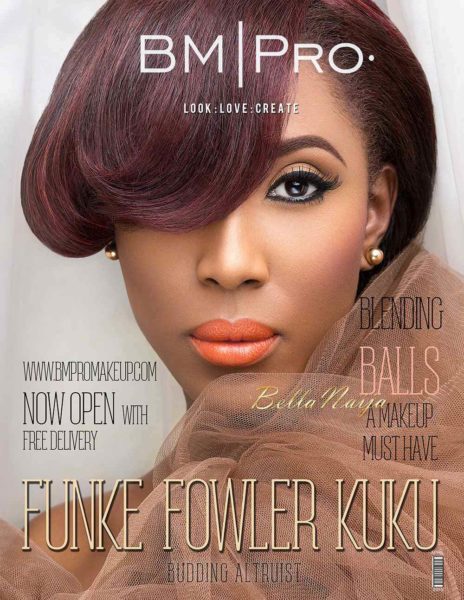 We can't get enough of the lovely BM|Pro Covers!
The June cover shows a stunning Funke Fowler Kuku photographed by Big H with her beauty look done by Banke Meshida Lawal.
The creative direction of the shoot was done by Yomi Black.
Speaking on the cover, Banke Meshida Lawal says:
Just before starting Funke's makeup the other day, I asked "Why are your Lower eyelashes so long?!!!!! And this Hair too, why?!!!! She looked at me apologetically and mumbled "I don't know o" I burst out laughing and said "Funke, chill! I'm not scolding you in fact I'm in Awe!" We both started laughing and she said "Ahn ahn the way you attacked me ehn, I had to be sorry or something"

Too much makeup doesn't flatter her but strategic product placement is what I strive for when working on Funke. 100%Mink Eyelashes is also a personal favorite for her top lashline. They don't come cheap so I reserve them only for people in the know and she is definitely one!

A fashionable and stylish one to watch, she effortlessly stuns in her ensembles. Her love for BM|PRO longlasting lip glosses has also made me love her more as she gushes about how great they are to wear alone and instantly add glam to any look. (Yaaayy!)

Usually quiet and reserved in her demeanor, this fashion retailer and altruistic young woman got me applauding the giant strides and impact she is making with her Dress For Success project…all about Helping women who need a lifeline and putting a smile on their faces. After reading up on it I couldn't help but offer to sponsor and be a part of this beautiful project. Making someone happy is indeed something we should all strive to do.

Funke has an innate love for clothes and dressing up and has infused this into the Leila Fowler Boutique she also runs as you will find beautiful unique pieces in there. Always elegantly clad, never OTT, she is definitely one to watch.
Photo Credit:
Creative Director : Yomi Black
Photography : BIGH
Makeup : Banke Meshida Lawal
Model: Funke Fowler Kuku