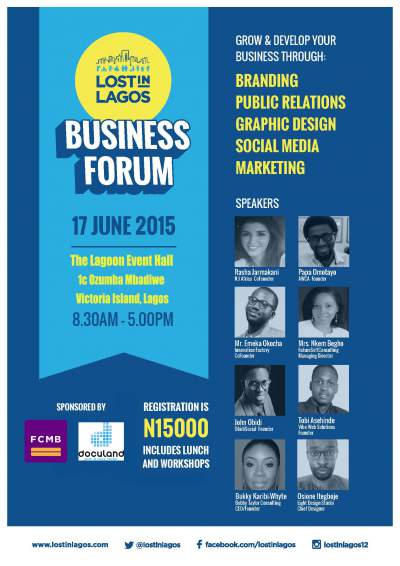 Lost in Lagos is set to hold its first business forum tagged 'LIL Business Forum'. At the event, industry leaders will be sharing viable information and tools that will help small and medium businesses take advantage of contemporary communication methods such as Social Media, Marketing & PR, Graphic and Design to help improve business growth and development.
"We are excited to have some fantastic speakers to share industry secrets and give tools to business owners to empower them and their businesses. We want to see businesses in Lagos grow so they can compete on an international level with international standards".
Papa Omotayo (Creative Director, A Whitespace Creative Agency), Nkem Begho (Owner, Future Software Resources Ltd), John Obidi (Social Media Strategist, ObidiSocial.com) amongst others will be addressing attendees on various ways they can create more brand exposure.
Other speakers at the event include Bunmi Taiwo (PR), Tobi Asehinde (Online Marketing), Osione Itegboje (Branding and Graphics), Rasha Jarmakani (Branding and Design), Emeka Okochi (Social Media), Seema Bharwani (Content Marketing), Bukky Karibi-Whyte (The Bobby Taylor Company) and Karishma Chugani (Branding).
Participating brands will hold interactive workshops at the end of panel discussions in designated booths. Our sponsoring bank, FCMB, will be on ground to give insight on special packages for SME's, such as loans. Of course, attendees will get to learn more about the fantastic new Lost in Lagos services and products.
Date: Wednesday, 17th June 2015
Time: 8.30 AM – 5 PM
Venue: The Lagoon Event Hall, 1c Ozumba Mbadiwe, Victoria Island, Lagos.

Registration Fee: N15,000 (includes lunch, coffee break and workshop sessions).
Buy Tickets on http://www.afritickets.com/event/lil-business-forum#

The event is sponsored by FCMB.
__________________________________________________________________________________
Sponsored Content