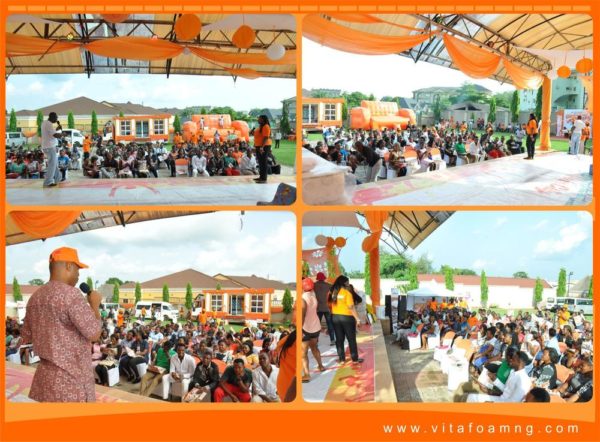 Enugu is the next city that had the delight of hosting the Vitafoam Orange Moment!
With a great turn-out at the Villa Toscana Hotel, Enugu for the Vitafoam Orange Moment, the event was kicked off with the celebration of the kids and recognizing the key distributors in attendance.
Guests and prospective customers were educated by Elder Bonnyface, Sales Manager on making beneficial purchasing decisions. They were also told to purchase Vitafoam products only at branded Vitafoam comfort centres, Vitashops and accredited distributors to avoid buying fake and substandard products.
Guests present at the event included Patrick Iro, Assistant Marketing Director, NTA (South East region), Ben Collins Okosun, Marketing Manager, Vitafoam Nigeria PLC., Elder Bonnyface, Sales Manager (Enugu), Martins Unishemi, Regional Sales Manager (South/South) and more.
The highlight of the day was when Aniekwe Ujunwa, student at the Institute of Management and Technology mentioned 31 Vitafoam products at a go. No other contestant in the 11 states toured has come close to such a feat. She was presented with fantastic gifts and an immediate Industrial Training Placement at Vitafoam Nigeria PLC.
Check out photos from the event below.
__________________________________________________________________
Sponsored Content