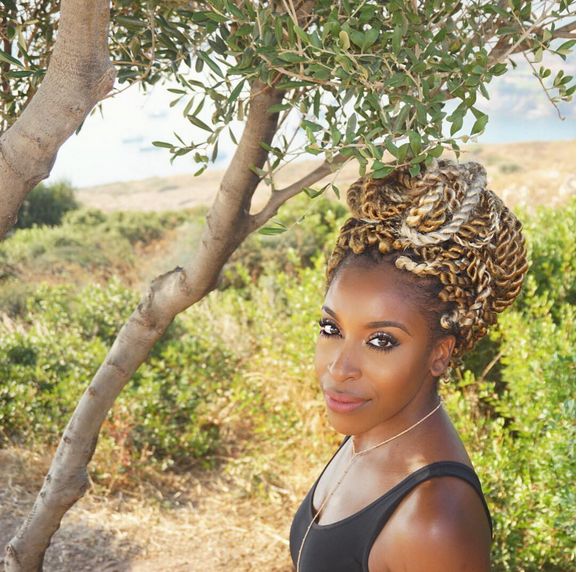 We've all been there – your sweat runs pink because you are sweating out your blush, your eyebrows get shiny because of the oil on your face and you're not feeling as flawless as before. Well, we can fix that.
Today, we are sharing makeup tips from one of your favourite beauty gals Jackie Aina or MakeupGameOnPoint.
She loves travelling, and so along the way, she has picked up a few tips and tricks for keeping her makeup game flawless and on point while on the move.
See some of her tricks below;
1. You have to moisturize (even if it's hot).
2. You need to use a primer. Because every good foundation application, needs a good foundation to start with.
3. Apply primers where you experience the most oiliness or where your pores show the most.
4. If you have issues where your eyebrows get really oily, you might want to consider using an eyebrow waterproof base prior to filling in your brows.
5. Stay away from cream products if you have oily skin; instead use a cream-to-powder consistency so you don't add to your already oily skin.
6. Work your way up. Layer with light applications and continue until you get your desired coverage. This way you don't have heavy application but you have just enough.
7. Using a setting powder keeps your face from creasing and getting shiny as you go about your day. It also helps keep your makeup in place so it doesn't move about when you sweat or your face secretes oil.
8. Try using a long-wear eyebrow pencil. When shopping, do a swatch on your wrist, and wipe it off. If it goes off easily, then it isn't long-wear, but if it doesn't, then buy it.
9. Try setting your brows with a brow gel so your hairs stay put all day. This is especially helpful if you have full brows.
10. When using a blush, use a cream blush first and then set with a powder blush. It is always better to use the same colours, but you can switch it up if you would like some variation in the shade that you can't get in one product.
11. Carry some extra products with you like blotting products and loose powder. This is so you can easily touch up as you go.
She has loads more where that came from, press play for more;

Photo Credit: @JackieAina (Instagram)