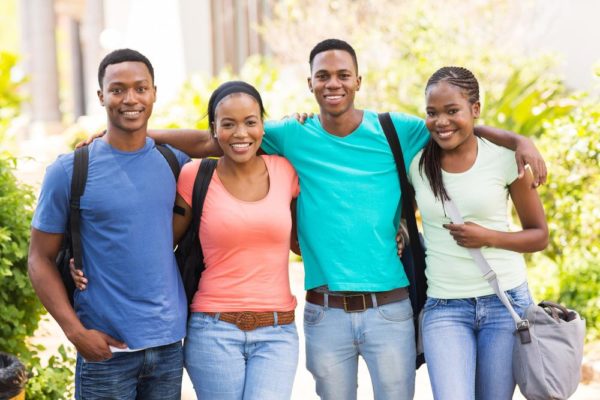 In my family, we have pet-names for each other. These days, those names are nomenclatures of endearment, calculated to tease the so-named. However, growing up, it did not feel that way; there was always the intent to ridicule or provoke backlash. I mean there is nothing sweet about being called 'akpa rice" (bag of rice) due to the size of my girth, and the way it rolled with glee as I wolfed down my junior's sloppy seconds.
My elder sister's byname was "Amebo" – as she had a knack for snitching on the other siblings by telling my father all that had occurred in the house in his absence. Before there were security cameras, and even before there were Northern maiguards with bows and arrows or torchlights, there was Amebo. She had a Kodak photographic memory and dished details of every wrong-doing to my amused father, who then dispensed punishment or reward based on her stock-taking. Not even the house-helps were safe, so they learnt to hide any misdeed from her. Or bribe. One was spied by Amebo nicking stockfish from the pot of Egusi soup. The help split half of the booty with Amebo, who told on her anyway. Anyone who is bribed with panla has trust issues.
My baby sister was knighted with the name "Kpomkwem"-  as she would cry for an article like her beloved doll, and once it was given to her, she quit wailing instantly and broke into a wide smile, like full stop. Like Dats-all.  She wore her heart on her sleeve for real. My cousin who loved to suck his thumb was called "Amuka" by a teacher, and the name stuck even until marriage, appearing on their wedding IV and associated literature. Amuka weds Stella.
My parents were not exempt. We called my ma, Shaolin;  she aimed at her Jaguar slippers at you if you misbehaved and it had the accuracy of a kung fu spear. You ran, and turned around the corner, and the slipper boomeranged around the curve with you, like a homing missile. My dad had a Mercedes V-Boot that he had used his life savings and all the coins he could gather from under his bed to procure. It was his pride and joy. He instructed his driver to shine it every morning and night, and brought it out only for special occasions like weddings. When it was time for oil changes, he serviced it strictly with Super Visco Static, which was the premium engine oil at the time.
That car was tagged "Joseph" by us kids, as it seemed to get preferential treatment. My dad "mized" that car until the model went out of vogue, and then he started over-driving it to get mileage and his money's worth out of it. Then he sold it to our mechanic a decade later for a pittance. Our mechanic started using it for kabu kabu. Yep, Joseph was sold into slavery. Wax on, wax off.
We all know glorious Nigeria – a country where ordinary strangers are eager to bestow a nickname upon you; replacing your government name with an informal title reflecting your physical characteristics or status in life. These days we can do without nicknames, as we already have to contend with other less flattering names given to us by foreigners once they see our green passport. Labels like "potential Boko Haram terrorist" or "419 scam artist" or "corruptor".
Just try walking into a public place like a market, or motor park and watch catcalls from the traders "Psst! Milk Factory! I get your brassiere size for here!"
Or "Onye Eze, you wan buy spare parts? Which one you dey find? We get AC compressor for hia"
Or "Chairman. Come enter this motor – space dey front. Hold your change o"
Then if that street seller or trader got repeat business from you, they usually gave you a name which they used anytime you stopped by their store: "Haba, Yellow. You no go leave this change for me?"
Soon that new name replaced your real name, especially if you didn't protest the first time.
Even Igbo chieftaincy titles were crafted out of nicknames. There was this strongman of East Nigerian politics who whose title was "Agu ji egbe" (a lion with a gun). Another had a moniker "Onwuchekwa" (so death has not conquered you yet). A man of the people, who was known to spread his wealth, resources and goodwill about, could be titled "Ikemba" (power to the people). You should see when these Chiefs when they are announced at events and called by their nicknames, they make it rain.
Most people pick up their nicknames in school. In secondary school, my schoolmates called a guy that had thick lips that would shame Jay Z – Calypso.  In law school, there was this chick who always rocked a scarf as she seemed to always have bad hair days. She was nicknamed Taliban, and she owned that moniker.
Then there were names giving not cause of physical characteristics, but because of material possessions. Like Tunji Money (dude's folks were minted and that afforded him an expensive lifestyle, or Folake Passat (she drove a Passat).
Calling someone who was sensitive by their nickname could get you a stern warming or beaten to 50 shades of grey, by that person. Especially if the person you called the nickname is not friendly with you like that. My cousin is cross-eyed. He has had to deal with taunts and different tags like "Lazy Eyes" or "Quarter-past 4 Eyes" from friends and people he grew up with. He even started calling himself "Snake-Eyes" as it sounded rather cool. Then someone he hardly knew called him "Anya Mpi" (cross-eyed man). KPOW! The blow/slap the name-caller received was louder than a bomb. Stay in your place. Or I press your re-set button again.
The crazy thing is that the more one fought a nickname, the harder it stuck. In fact if you wanted a nickname to go away, your best bet was to pretend like you were not fazed by it. Then maybe, just maybe, your detractors would look for something more civil. It reminds me of a lyric I wrote in literature class:
She used to be called the Michelin
It stuck like plastercine, until she became immune to it, like Penicillin.
Photo Credit: Dreamstime | Michael Zhang