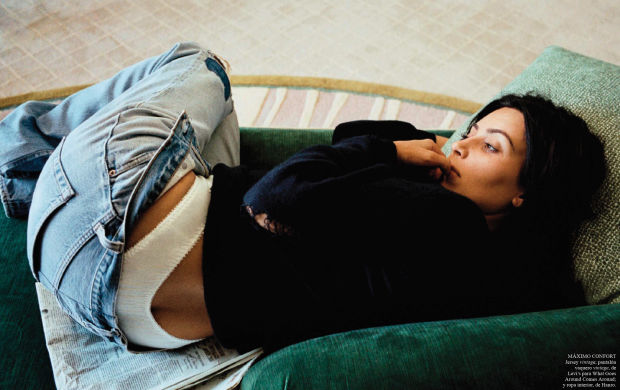 A few days ago we unveiled Kim Kardashian West's makeup-free face as the cover for Vogue Spain's August 2015 issue (Click here if you missed it). With not much to go on, even Kim was excited to share the issue's editorial with us.
But now that we get to see the images, we know why.
Dressed in jeans, makeup-free, filter-free, air brush-free and looking the most "normal" we have ever seen her, Kim's Vogue Spain spread shows us a very different side of the pregnant mom of one – a side maybe only family and the occasional KUWTK viewer gets to see.
According to Kim, the shoot was not meant to be some glamorous venture, instead they wanted to capture her just being herself – tying her shoe laces, lying on a sofa, sipping tea, doing everyday things.
Even her fans and critics love the photos leaving comments on her Instagram like – "She looks like a mom. She looks natural and beautiful", "Yesss!!! She looks beautiful with no makeup", "more beautiful without makeup".
What do you think?
We don't know about you, but we like this Kim. She should come out more often.
Photo Credit: @KimKardashian (Instagram)