For the past few days while social media has been buzzing about Drake and Meek Mill, there has been another topic trending and it has to do with rapper Future, singer Ciara, their young son Future Jnr and Ciara's new love interest, Russell Wilson.
Several photos surfaced online of Ciara and her son at Russell Wilson's training and the three of them looked picture perfect with Ciara's son cuddling up to Russell.
The photos must have rubbed Future the wrong way because he went on a Twitter rant about it.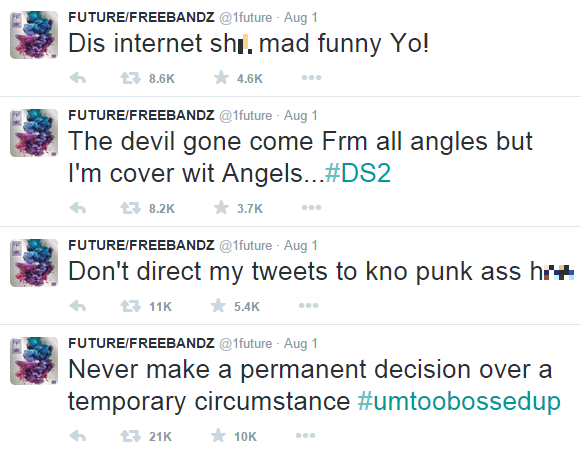 This isn't the first time the 31-year-old rapper is expressing his annoyance at the fact that Russell and his son are getting close.
Twitter exploded with different opinions – while some people don't see the harm in Ciara introducing her son to her new man, others feel Future has every right to be upset.
See some tweets below.
Lol I just realised everyone is angry at Ciara for meeting a guy that takes to her son whilst her baby father raps about drug abuse ????

— OLORI… (@Yemicita_) August 4, 2015
People are mad at Ciara because they can't stand a woman having a life outside the man that fathered their child — black regina george (@fatalitiess) August 4, 2015
2 types of people in this world. Those who understand how and why Ciara has the right to put a good man in her sons life and those who don't

— Juice (@DjWalt_) August 4, 2015
Where were all of the parenting experts when Future left Ciara and his son? — ㅤ ㅤㅤㅤ ㅤㅤ (@itsJarm) August 4, 2015
I believe Ciara loves her child enough to know when to introduce a man to him. So… yeah. Miss me with this ranting BS.

— Miss DEE #SGIT 16/7 (@AVARIBERRY) August 3, 2015
Future Should have married Ciara if he didn't want someone else around or help raise his son — Mind Vi$ionaires (@RoyIsThaTruth) August 4, 2015
Future did exactly what Ciara said he would do in her song "I Bet" ???? @ciara @1future pic.twitter.com/wJSOLGq3gC

— Loading……. (@Breezy_Bxtch) August 4, 2015
The world wasn't upset when Ciara was playing step maw tho… pic.twitter.com/MJGw7B1zXg — HANDSworth (@MostUnfollowed) August 3, 2015
Ciara did nothing wrong, she moved on with her life, Russ did nothing wrong he accepted the baggage that came with the woman he wanted…

— knowledge™ (@Corderoknows) August 4, 2015
Where is ciara wrong at smh some of y'all are dumb and ignorant but this the world we live in smh pic.twitter.com/kbhsVYEsE6 — True 2 Love (@True2_Love) August 4, 2015
Ciara has done nothing wrong.It's just ppl with crazy double and meaningless standards. If he was a fling she wdnt have her son meeting him

— PrincessTosynBucknor (@TosynBucknor) August 3, 2015
You all think you care about Ciara's sons wellbeing more than she does? FOH. All of you. — Mirror Me (@FisayoLonge) August 3, 2015
Imagine if you were future and this is your son, tell me this wouldn't hurt you. Ciara is not wrong but be honest. pic.twitter.com/OtN3qxfGfa

— ⠀ ⠀ ⠀ ⠀上海 ⠀ ⠀ ⠀ ⠀ (@NasMaraj) August 3, 2015
A number of people have pointed out the fact that Future is a father of 4 children from 3 different women and Ciara has been pictured with those children (and their mothers) in the past – when their relationship was rosy.
People have also pointed out that Russell Wilson is a 'good Christian man' who just extended his contract with Seattle Seahawks for four years and $87.6 million – and that Future Zahir Junior could not have a better role model and father figure.
We had to bring the discussion to our BN fam.
Do you think Ciara is right/wrong to introduce her son to her new man? Do you think Future is out of line?
What are your thoughts…Let's talk about it!