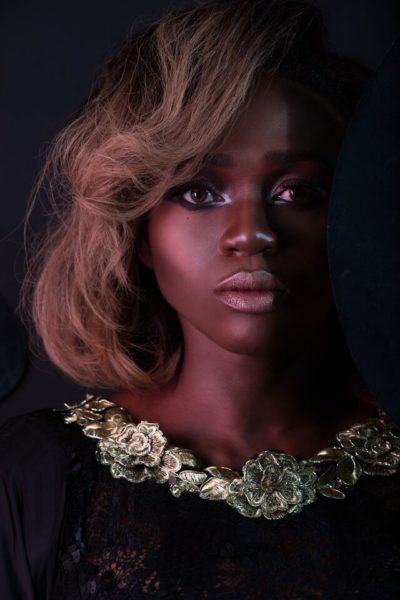 If you want an opportunity to get to know music star Waje better, this is the perfect one.
Blanck Digital had a chat with the star who released a new single a few days ago (click here if you missed it) and in the interview she answers 110 questions about anything and everything.
Blanck explains that 'Waje takes the Blanck 100 questions challenge and it's everything we hoped for. Answering questions from her most prized possession to heartbreaks and one night stands, The wittiness that is only so natural to her kept us smiling till the very end. Waje has a terribly busy schedule, from studio sessions, to photoshoots and stage performances; we can only applaud her for taking time out to tackle over 100 questions. This only goes to show that she is in no doubt one of the most tenacious female celebrities in Africa.'
See some Q and A's below.
Who is the most important person in your life? MY DAUGHTER
What is your priceless possession? THE AIR I BREATHE
What caused your last break up? FAMILY COMPLICATIONS
Who do you look like, your mother or father? MOTHER
Where were you born? AKURE
What number are you in your family? FIRST CHILD
If you were a car what type would you be? LAMBORGHINI VENENO
Beyoncé or Rihanna? BOTH
What's your favourite travel destination?  ZANZIBAR
What two items must we find in your bag? MY POS MACHINE AND MY PERFUME
Worst date ever? MR *** TOOK ME ON A DATE. Luckily I HAD VEX MONEY COS BROTHER couldn't PICK UP THE TAB
How old is your mother? 67
What age did you first have sex? PASS
Hardest thing you've ever done? LIED TO SOMEONE I LOVE
Have you ever had a crush on your best friend's boyfriend? NAAA
Have you ever left the house pant-less? HAHHA WHO HASN'T?
What are you mostly afraid of? FAILURE
Have you ever been heartbroken? YEAH
Do you miss your first love? HECK NO
Hard or slow sex? HMMM HARD
Have you ever been slapped? YES
Fish tail or head? HEAD
What's your most priceless possession? MY DAUGHTER
What is your real age?
REAL???? MY AGE IS MY AGE
Do you masturbate? NO
Have you ever cheated in a relationship? NO
Have you ever been dumped? YES I'VE BEEN DUMPED BEFORE
Do you get jealous? YES
Does Size matter? YES
Head over to Blanck Digital for more.
Photo Credit: Remi Adetiba Photography