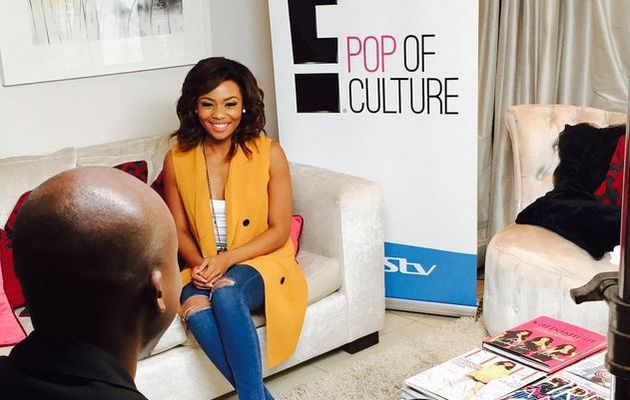 You'll be seeing her and a lot of other African celebs on E! soon.
The TV network recently announced the launch of its first locally produced series – E! News Special which will profile African pop culture personalities including actors, models, socialites and sport stars. The aim of the special is to showcase the African talents and shine a light on the growing crop of celebrated African creatives.
The first to be showcased will be South African TV & radio personality, Bonang Matheba.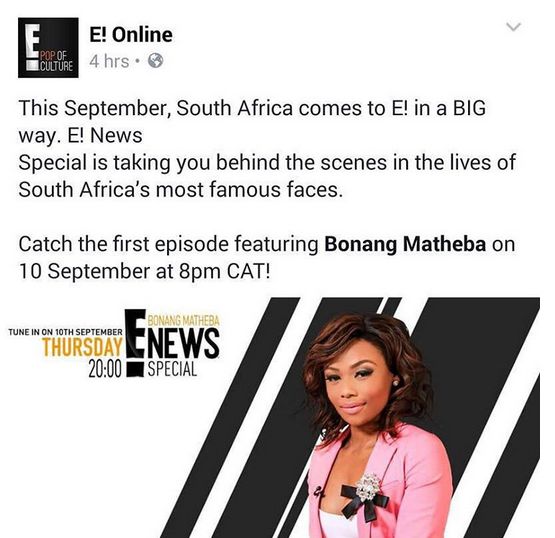 Speaking on the 12-part TV special, a representative of E! News Special said in a statement – "Each episode of E! News Special will chronicle the journey of a single personality' giving viewers unique insights into their lives through a mixture of exclusive interviews and other footage."
So far a few South African personalities like rapper, AKA; actor/songwriter, Danny K; actress, Terry Pheto and model/TV host, Shasi Naidoo have been listed to be featured with more names to be released soon.
We wonder which Nigerians will be featured.
Colin McLeod (Managing Director' Emerging Markets' NBC Universal International Networks) commented on the special saying – "We are delighted to launch our first-ever local production on E! in Africa and add E! News Special to the channel's exclusive line-up of high-quality' original programming." "We are confident that the profiles of local celebrities will resonate well with our audience' making E! the TV destination for the pop of African culture."
The series will be produced & filmed in South Africa and will premiere on E! in South Africa on Thursday 10th September 2015 at 8PM.
Which Nigerians do you think definitely deserve a spot?
Photo Credit: @Bonang_M (Insatgram) | Happenings.com.ng | MzansiLifeandStyle.com