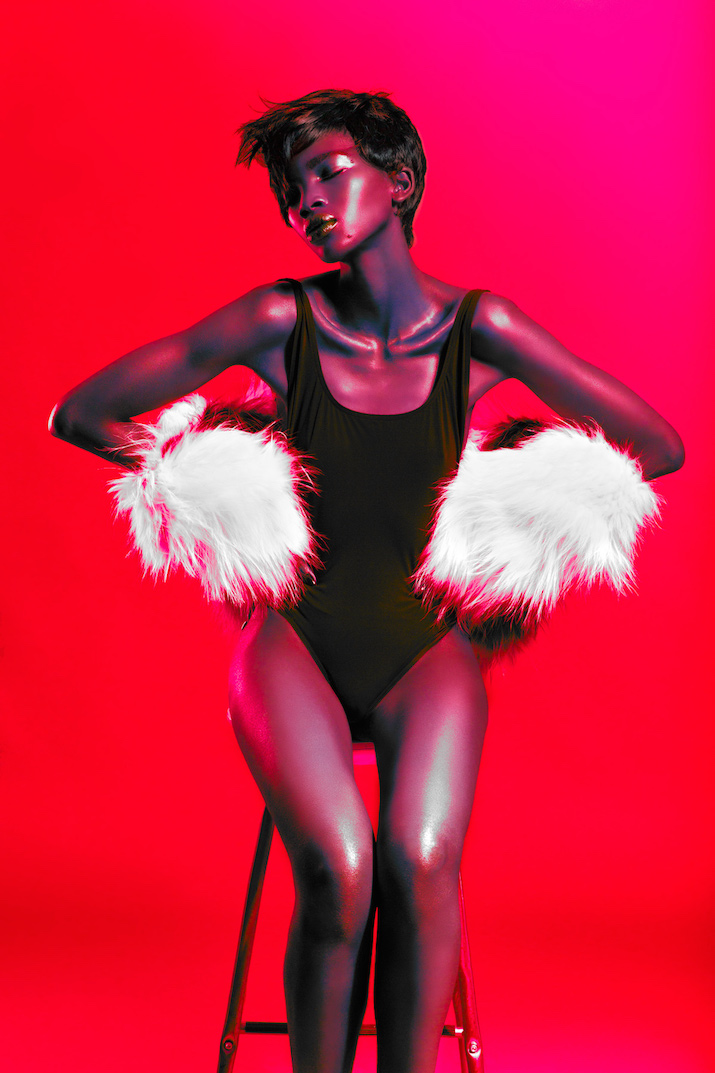 Ugandan model Aamito Stacie Lagum has come a long way from winning the debut season of Africa's Next Top Model (ANTM). From walking the runways at New York, Milan, Paris and major fashion destinations in the world, to countless spreads in magazines, and fashion collection lookbooks – she's quickly becoming one of the biggest names in fashion.
To capture her essence, motivation & achievements so far, Nigerian Fashion Photographer, Creative Director & Judge of Africa's Next Top Model – Remi Adetiba, shot the 22-year-old model in collaboration with CoutureMask.
The shoot accompanies a short interview with Okay Africa magazine, where Aamito discusses her fast rise to fashion fame, Oluchi Orlandi's role in making her dreams come true, walking for some of the world's biggest names in fashion like Balenciaga, Burberry, Topshop & Lacosté, keeping her Ugandan roots alive through friendship and food, how she keeps her drive alive, and more.
In the shoot we see Aamito in eccentric head wear by CoutureMask, structured skirts, faux fur pieces and more, with amazing photography by Remi Adetiba.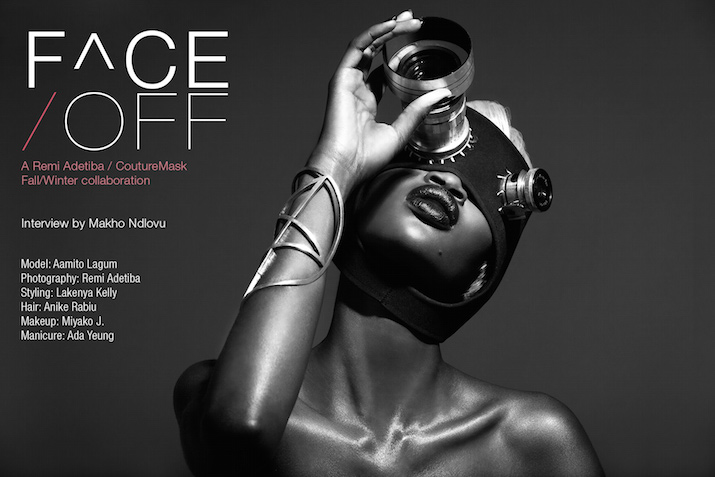 Read excerpts from her interview by Makho Mdlovu for Okay Africa.
On her greatest achievement so far
I consider my career milestones to be a grand crescendo: with the next being greater than the last. That said, I would love to think my latest showcase is always my greatest.
On keeping her Ugandan roots alive through friendship & food
I'm really lucky that I have friends that keep me down to earth and make sure I'm up to speed on the latest slang and gossip. But if I'm feeling homesick I get a little deeper and look up my favorite Ugandan music on YouTube or I run around the East Village markets looking for traditional ingredients and cook up a storm.
What does she think of Oluchi Orlandi
Oluchi was my golden ticket into the Chocolate Factory. Even before Africa's Next Top Model, I had gotten to learn her story, and she embodied the struggle of many an African talent; me inclusive. It was when I heard that she was coming to a country next to mine [Kenya] for auditions that I knew it was my closest shot.
The best advice Oluchi gave her
One of the toughest moments on the show was when I was down on my morale and Oluchi walked up to us and said 'what are you doing here? [The reality show] is a simulation of what the fashion industry is…it's tough. It is never going to be easier than this. Are you able to look past today's sweat? If you are, then that is what will you make you stand out.'
Her mom is her biggest fan
[My mother] has seen me learning to walk. She was there for my first photoshoot in which the only label I wore was my baby smile. It's not that she just sees my pictures; she HAS to see my pictures. She is prouder than anyone else can claim to be of me. She gets to see some clips of my walks though. Having given so much into making me who I am today, she cannot be any prouder.
What keeps her motivated
I have always been an ambitious as a person but the difference is I don't just dream, I do.
Aamito is definitely on her way to super stardom – We can't wait! Read more from the exciting interview on OkayAfrica.com.
Check out more fab images below:
See more images from the shoot on OkayAfrica.com.
Photo Credit
Photography & Concept: Remi Adetiba (in collaboration with CoutureMask) (Website: RemiAdetiba.com | Instagram: @RemiAdetiba) | (Website: CoutureMask.com | Instagram: @Couture Mask)
Styling: Lakenya Kelly (Website: TheDapifer.com | Instagram: @TheDapifer)
Hair: Anike Rabiu (Instagram: @AKR_Styles)
Makeup: Miyako J. (Instagram: @LoveMiyako)
Manicure: Ada Yeung (Website: AdaKissNails.com | Instagram: @AdaKiss)