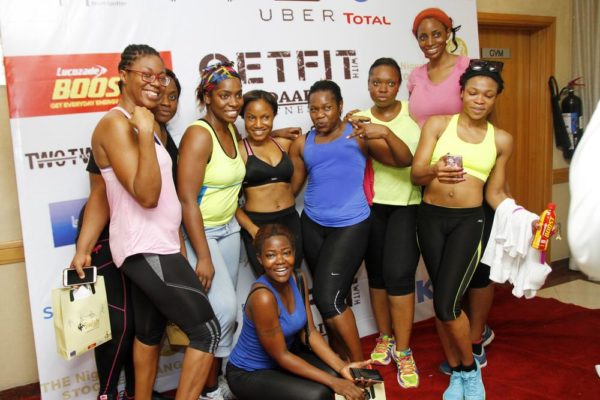 Wow! Lagos! What else can I say about Saturday, October 10th? You came…you saw and you got fit! Over 1,000 Lagos residents showed up to #GetFitwithAdaAri, we had so much fun while sticking to our commitment to a healthy lifestyle. Washington DC-based fitness instructors Ada-Ari, Stephanie Zayas, and DJ Cannon led the workout, along with a host of Lagos-based fitness instructors and enthusiasts Maje Ayida, Kate Henshaw, Lynxxx, and Adebola Williams.
Attendees were able to identify with our Nigerian music, they loved the energized concert-like atmosphere, and best of all, they loved the awesome free take-home gifts – no one had any barriers towards making fitness a priority that morning. Making the atmosphere just right to maximize everyone's potential would not have been possible without the help of Zapphaire Events.
Olubunmi Ilawole, Lagos State Ministry of Health Representative, endorsed the event and opened the morning with a brief speech highlighting the importance of maintaining a healthy lifestyle. Comedian Tee A and Godbless Otubure co-MC'd the event, introducing the Lagos-based fitness instructors and professionals.
Some of the most popular Naija jams to date fueled the #GetFitwithAdaAri attendees through squats, lunges, burpees and pushups – pushing their fitness limits while engaging in fun yet challenging exercise routines. After the sessions, numerous prizes were awarded for various challenges ranging from Instagram competitions to plank challenges. Winners went home with Samsung Gear Fit smart watch, Athleta yoga mats and gym bags, and Under Armour apparel. Goodie bags were provided by Swish Ideas and were stuffed with swag gifts from Lucozade, Cookie Skin, Complan, Scitec Nutrition and many other sponsors. Customized #GetFitwithAdaAri t-shirts were also provided by SuperGeeks.
The #GetFitwithAdaAri event kept its promise to keep everyone engaged and sweating all through but not everyone got an opportunity to experience it, even after an impromptu second session was performed to compensate for the capacity limitation at the venue. Ada-Ari wishes to extend her most sincere apologies to over 100 attendees who were turned away that morning. She pledges to go bigger and better for the next event, but until then, you can continue to enjoy free workout videos to your favourite African songs on www.adaari.com/videos.
#GetFitwithAdaAri was made possible due to the generous contributions from the following sponsors: HARPS Holdings Limited, KLM, Lucozade, Uber, Total Nigeria Limited, The Nigerian Stock Exchange, Truppr, So Fresh Market, Encase, Swish Ideas, SuperGeeks, LSWC, Cookie Skin, Scitec Nutrition, and Complan.
AdaAri would also like to thank her media partners: BellaNaija, Beat FM, Genevieve Magazine, Ebony Life TV, Prime TV and Spice TV.
Photo Credit: Alore Studios
________________________________________________________________________________________________
Sponsored Content