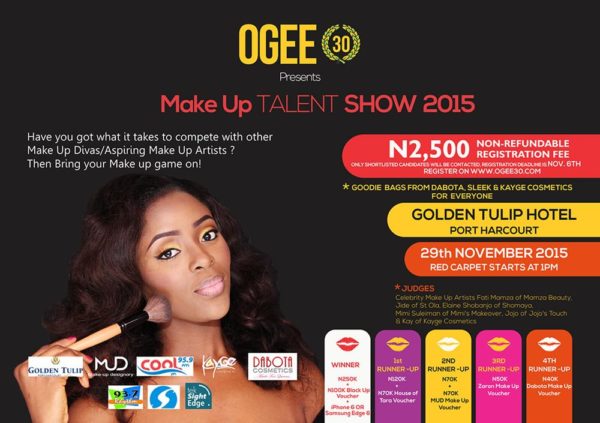 OGEE 30 limited, an organization designed to promote youth empowerment, announces its first ever make up competition – the Make Up TALENT SHOW 2015. The social enterprise focused on maximizing the social impact of Nigerian youths, partners with beauty companies like Dabota Cosmetics, MUD Cosmetics and Kayge Cosmetics to empower Nigerian youths through this competition.
So are you an aspiring makeup artist, a talented makeup diva or a beauty guru? This is your opportunity to showcase your talent! And bring your Makeup glow to this exciting competition happening in Port Harcourt.
The winner of the competition would walk away with 250,000 naira, a Black Up Product voucher worth 100,000 naira and an IPhone 6 or a Samsung Edge 6. The first and second runners-up, on the other hand, will go home with 120,000 Naira plus a 70,000 Naira Voucher of House of Tara and 70,000 Naira Cheque plus 70,000 Naira Voucher MUD Cosmetics respectively. The third runner up goes home with 50,000 Naira worth Voucher of Zaron Cosmetic products and 40,000 Naira Voucher of Dabota Cosmetics.
Date: Sunday, 29th November
Time: 1 PM (Red carpet begins)
Venue: Golden Tulip Hotel, Port Harcourt
OGEE 30 Limited disclosed that celebrity make-up artists such as Fati Mamza of Mamza Beauty, Jide of St Ola, Elaine Shabanjo of Shamaya, Mimi Suleman of Mimi's Makeover, Jojo of Jojo's Touch and Kay of Kayge Cosmetics, will feature as judges in the competition. OGEE 30 also promises to provide goodie bags from Dabota, Sleek and Kayge cosmetics for all participants in this fun filled, mind-blowing and exciting experience!!You do not want to miss it!
Applicants are required to register to enter the competition with a non-refundable fee of 2,500 naira only! Do not miss this opportunity, as registration closes on the 6th of November, 2015. Register now on www.ogee30.com.
For more information please email us at [email protected] or call +2349054078660.
_______________________________________________________________________________________________
Sponsored Content