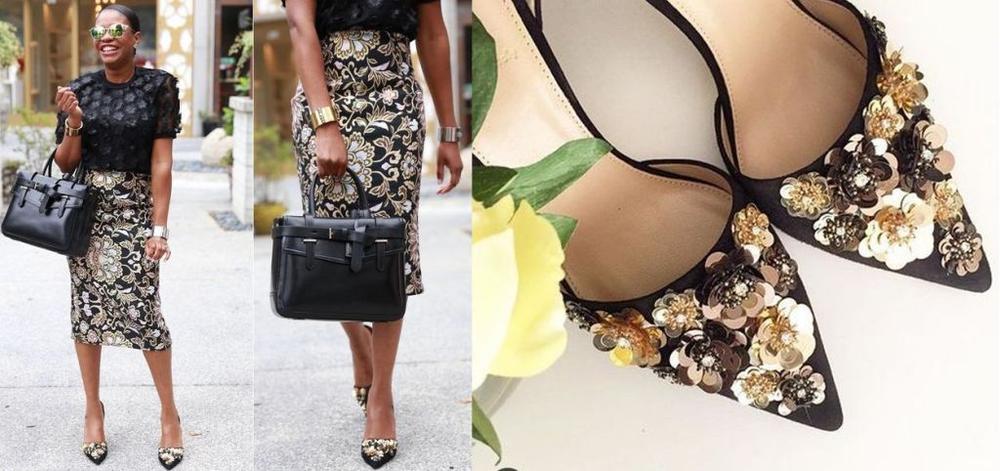 Hey style lovers! It's the 4th week of my 'Awed by Monica: Hot Shoe Trends to Rock' feature, and I am so excited to share this episode with you! If you're just joining us, this is a feature where I let you in on some of the fab shoe trends happening right now.
Catch up with episodes 1,2 & 3.
For the next 7 weeks, I will be dishing on the shoes that are taking centre stage right now. I will also be showing you how some of your favorite fashion bloggers, and Instagram trendsetters are rocking them, plus how you can rock them too!
The shoe trend we are looking at today is the 'Glam Shoe Trend'!
I coined this name – 'Glam Shoe Trend' from the fact that this trend literally consist of all thing glamorous: metallic's, sequins, embellishments…it's got it all. With the holiday season right around the corner, now is the perfect time to introduce this shoe trend and see how your favorite Instagram trend setters are rocking it.
When you think of the word 'glamours', you think of things that are special, unique and often times reserved for special occasions. But for this feature, we are taking our glam shoes out of their boxes and rocking them till the fashion police comes knocking.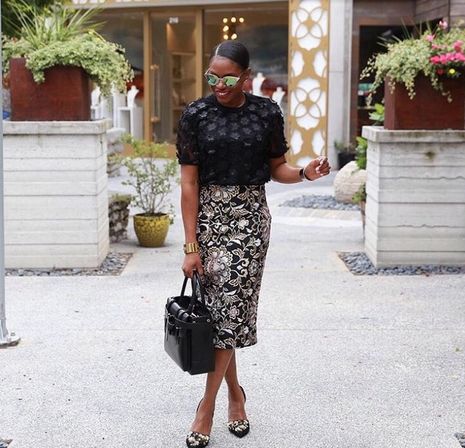 I absolutely adore my floral sequin pumps. In this look I take a dressy shoe and make it more reserved with a classic pencil skirt and a top that mimics the floral pattern on my shoes.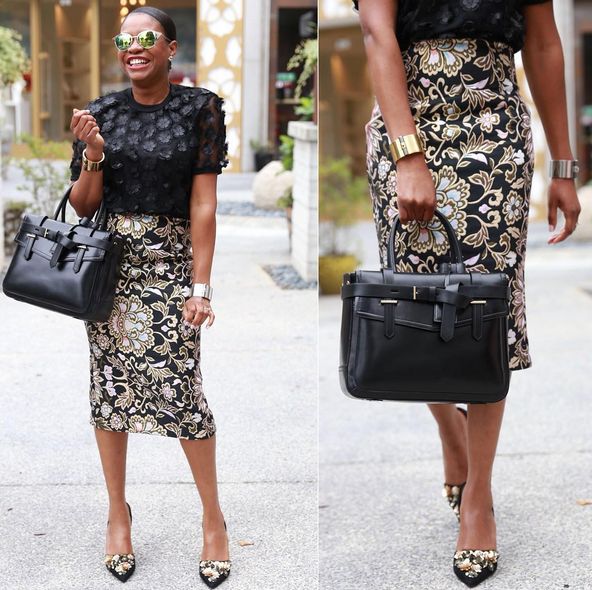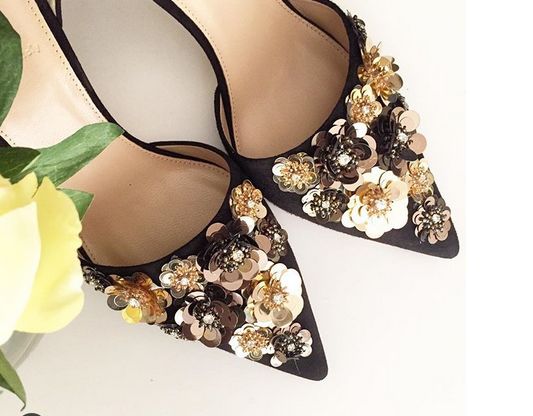 This look is perfect for a variety of events such as church, brunch and even work.
Stella glams up her casual-cool classic denim & white outfit with a little glitter and fur (check out the fur shoe trend here). This look is perfect for occasions where you're not required to dress up, but you still want to make a style statement. The combination of these two shoe trends is sure to make heads turn.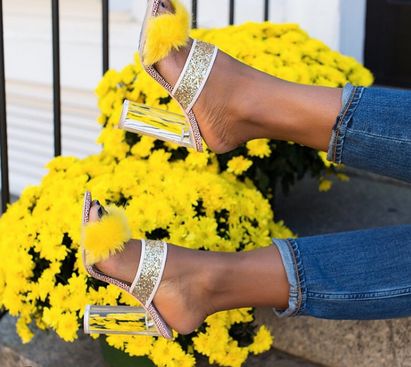 I just love this look! It's so classy and the green is absolutely stunning on Agatha of Ironyofashi's skin. This is definitely a look to be tried by all.
Her absolutely gorgeous Manolo Blahnik Hangisi pumps are embellished at the vamp of shoe, with a crystal-encrusted square buckle. The green pairs perfectly with her dress creating a strong outfit.
I would recommend this look for church, luncheons or anytime you just want to step out like a queen.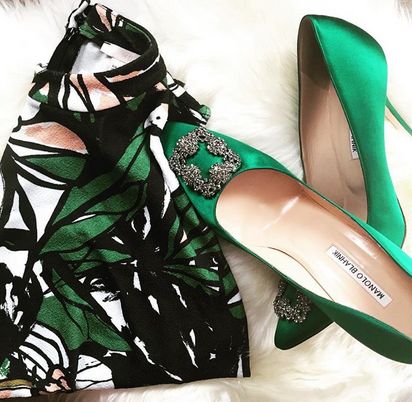 Folake Huntoon of Style Pantry is totally channeling a Rocker Chic with this look. I like how she paired these exquisite satin, jeweled mules with a laid-back understated outfit.
Burgundy is a major color this season, and this hot colour framed the stones on her shoes perfectly. I truly believe you make a bigger style statement when you create a wow factor with the right pieces. I would wear this outfit to dinner, the movies, and be sure you will definitely stand out.
We should really meet up to plan how we are stealing Lisa Folawiyo's shoe rack!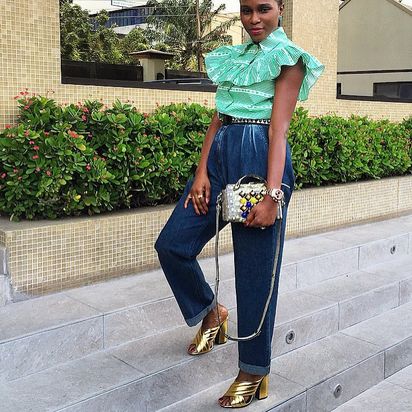 Designer, Lisa Folawiyo, definitely takes this trend to heart. She pairs glam shoes with a variety of looks, showing just how versatile the trend is. Gold metallic mules, jeweled satin shoes, and glitter mary janes are just some of the glam shoes that Lisa has used to compliment her outfits.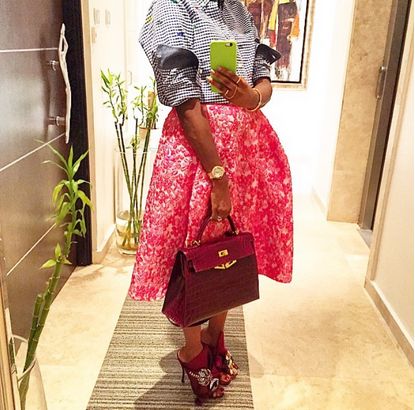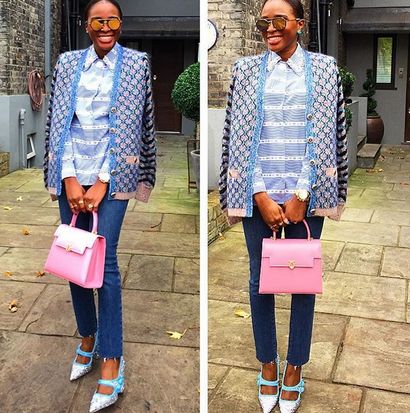 Day or night, these shoes can literally transform your look, and that is why this is probably one of the hottest trends to try right now.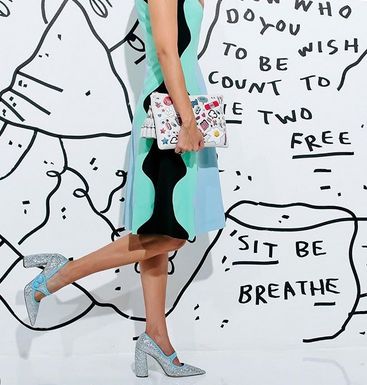 ***
So lovelies, is this a trend you will try out this season? Will you be shopping for glam shoes, or dusting off your old ones? Either way, get with the trend and rock out with style!
Photo Credits: Awedbymonica.com | @AwedByMoni | @JadoreFashion | @StylePantry | @CarrieC | @Lisafolawiyo (Instagram)