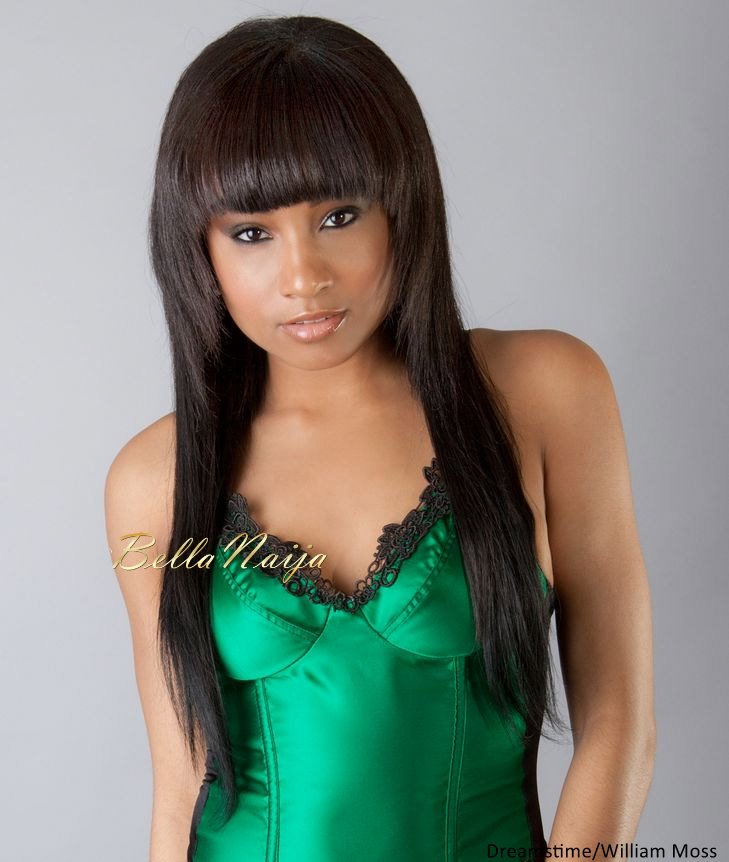 Have you every heard the saying – 'beauty is pain' or 'beauty always comes with a price'? Although not in all cases, but in some cases those sayings are true.
Braiding comes with pain and sometimes hair loss, hair treatments can take up most of your day, makeup can lead to all colours of stains on your clothes, and perhaps one of the most painful – fringes or bangs leave you with breakouts.
Every time it gets closer to the end of the year, I have this yearning to get a new hairstyle with a full or side bang. I don't know why – maybe it just looks 'Christmasey'. But the only thing that discourages me from rocking my fringed look is the breakout of pimples that come with it 9 out of 10 times. I'm sure I am not the only one who has had this experience.
It starts out with one pimple, then before you know it others come and join the party – it can be so frustrating.
So, I decided to try something else this time around. I decided that if I'm going to rock this fringe, I'm going to have to figure out how I can keep the breakouts at bay. Google is such an amazing tool, it definitely helped me out, and advice from friends made my search that much easier.
Today I'll be sharing my find with you! Five tips that can help you do the same – rock a fringe without worrying about breakouts. Check them out and don't be shy to share your tips too.
***
1. Clean your fringe
This may sound weird, but according to my aunt, it works.
Just like other parts of your hair, your bang or fringe picks up dirt. This dirt is in constant contact with your face because your fringe/bang is in constant contact with your face. So imagine this – as you swipe your fringe back and forth, press it on your forehead, or even brush it out, you are rubbing the accumulated dirt on your skin.
This dirt then leads to a build up of oil, dirt and dead skin on your forehead, which eventually leads to pimples.
So do yourself a favour – take a face wipe and go over your fringe everyday (you can do this at night). The wipe is moist enough to not leave your fringe soaking wet, or damage it, and will take off dirt and makeup residue accumulated during the course of the day.
2. Stop or reduce makeup on your forehead
If you're rocking a fringe, chances are your forehead won't be visible. So this gives you the opportunity to leave it bare when it comes to makeup. So try making up the rest of your face, excluding the forehead.
I advice this because your hair can pick up dirt, oil & makeup products used, creating a bad cocktail of grime for your face – and these will lead to some sporadic breakouts on your forehead.
If you don't want to leave your forehead completely bare, you can always put some loose powder on it to reduce shine.
3. Stop or limit bad hair habits
A fringe can be a great accessory to your face. And just like with other accessories, you will end up fiddling with it. I know when I have a fringe on, I tend to brush it downward towards my face a lot. And this isn't necessarily good if you're trying to avoid pimples.
The forehead gets irritated easily, and having hair brush against it constantly might lead to said irritation. You can stop or limit the way you fiddle with your fringe by making mental notes to remind you of what could happen if you do.
4. Change your fringe style
Your fringe doesn't always have to touch your forehead.
You can talk to your hair stylist to give you an elevated fringe. This looks pretty much like a regular fringe from the outside, but underneath is a little elevated so it doesn't touch or brush your actual skin.
Another way is to get a high fringe. A few years back, the high fringe came back into circulation and seems to still be making its rounds. This hairstyle entails cutting the fringe higher above the forehead so it curves closer to the hairline. It eliminates all problems of having breakouts while rocking a fringe and is still on trend.
5. Change your skincare routine
My 5th tip is to change your skincare routine – this cuts across many boarders.
You can reduce or stop using oil-based skincare products to reduce the level of oil you have on your face artificially. Also, you can take it a step further by reducing fatty meals for full abstinence from oil while you have your fringe on.
Another way to adopt this is by taking your skincare routine up a notch. This entails paying more attention to cleansing your forehead and face, taking off makeup every night, exfoliating more regularly, drinking lots of water to keep skin supple and using moisturizers for regular skin as opposed to dry skin.
This way you keep the pimples at bay while you're rocking the hairstyle you love!
***
Do you have tips on holding back or treating breakouts while rocking a fringe? Don't forget to share them!
Photo Credit: Dreamstime/William Moss