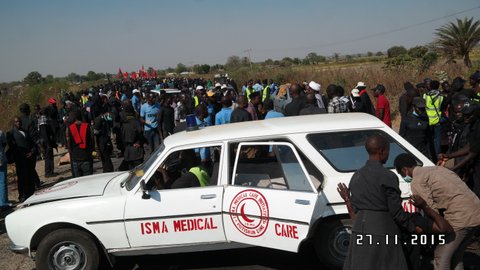 Over 20 people have been declared dead in Dakasoye village, Garun Mallam LGA in Kano state.
Shia Muslims, members of The Islamic Movement in Nigeria (ISMA) were on their annual Arba'een symbolic trek from Kano to Hussainiyyah Baqiyyatullah ground in Zaria, Kaduna State, when the suicide bomber, disguised as one of the faithful, detonated his bomb.
Ibrahim Usman, head of media for ISMA for the 2015 Arba'een symbolic trek, confirmed the incident at around 2:30pm today. He also confirmed over 20 people are dead. Their parts are strewn all over the village.
An anonymous source told Vanguard the bomber is feared to be from the terrorist group Boko Haram,
"He was dressed in black like everyone else. His accomplice was initially arrested and confessed they were sent by Boko Haram,"

"They were part of the young men abducted by Boko Haram in (the Borno state town of) Mubi last year and taken to Sambisa Forest where they were given some military training.

"They were sent to Kano 11 days ago and kept in a house specifically for this attack."
There are graphic photos elsewhere online, but we will not be publishing them.