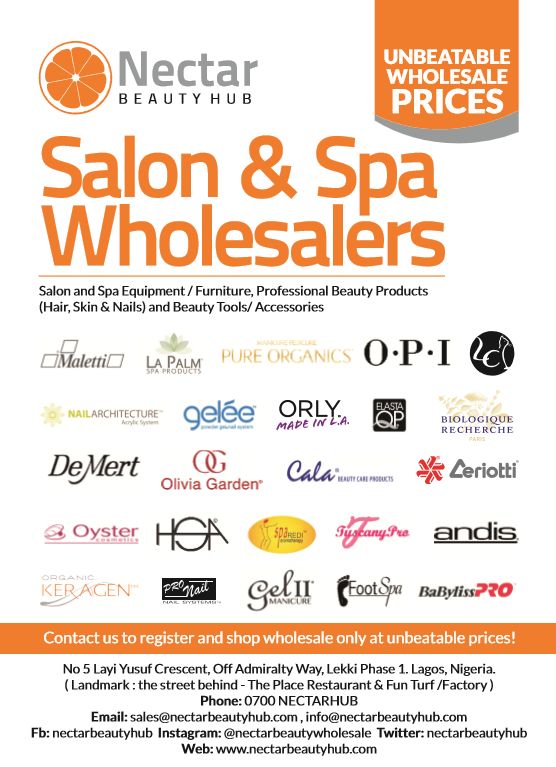 Nectar Beauty Hub is a wholesale beauty outlet for products, accessories, furniture and equipment used in the beauty industry. It can be described as a one stop shop for "All things needed for the Beauty Business".
Nectar Beauty wholesale is known of stocking professional brands who stand out globally for their quality. Their clients are hair salons, beauty retail, pharmacies, online stores, nail & makeup studios, barber shops, spas, online stores & supermarkets. They have brands such as Oyster, Wella, OPI , Ceriotti, Maletti, Babyliss, Le Chat, Orly, Shea Moisture,Taliah Wajid, La Palm, Gel II, Nouvelle, Eslabondexx & lots more.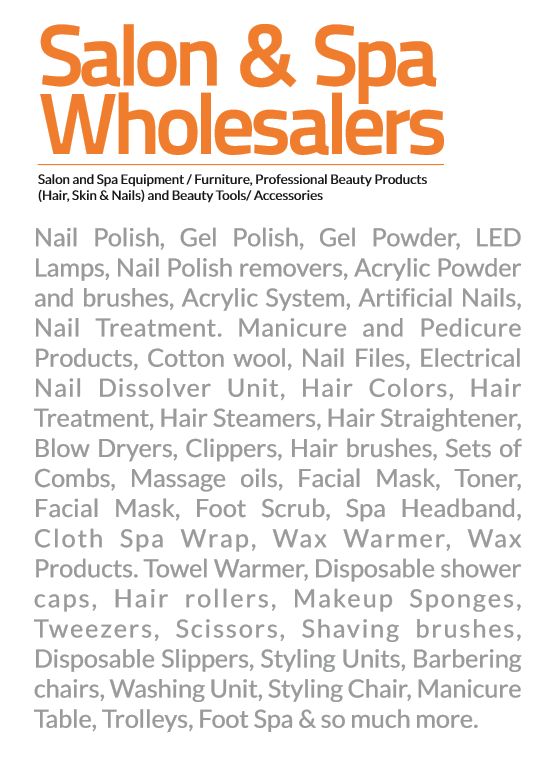 For those looking to start up or re-design their salons, spas or nail studios, Nectar Beauty has it all from styling units, nail polish, massage oils, hair dryers, clippers to manicure and pedicure tables & chairs…you name it and they will get it at unbeatable prices!
They go through the hassle of getting all items for you, all you have to do is give them a call on 0700 NECTARHUB & 08024242650. Tell them what you need, and if they do not have it in store, they will definitely order it for you.
Nectar Beauty will also be organizing FREE training programs in the year EXCLUSIVELY for their clients. At this event, international experts will come in and offer professional training to all their clients at NO Cost. The first will be in February!
Free Training Schedule for 2016 – Registered Clients Only!
Check out the programs set for the free training below;
Hair Color: Be a Master Colorist!
The hair coloring process includes temporary, semi-permanent and permanent hair dying, bleaching or lightening of hair, applying lowlights and adding highlights. Each of these processes require a different knowledge and skill set. Therefore, proper training is required of a master colorist in order to ensure proper results and avoid damage to the client's hair or scalp.
Hair Growth: Introducing ESLABONDEXX™ in Nigeria
The time for hair breakage and damage is over, so,"Don't go Breaking my Hair" is a must-have for all hair salons.
ESLABONDEXX™, used in combination with any chemical hair treatment, prevents damage before it can even start, preserving and protecting the hair structure whilst the chemical treatment is acting. In fact, ESLABONDEXX™ strengthens the hair structure delivering elasticity, strength, enhanced condition, and preventing it from breaking.
Blow Dry
This is open to anyone with an interest in blow drying/styling the hair to create volume and smooth frizz-free hairstyles using rounded brushes and hand dryers.
Innovations in the Nail Industry – Introducing GeléeTM Powder Gel® Nail System
Odorless, no monomer required, with the easy brush-on technique, and now LED/UV curable – GeléeTM is ideal for natural nail enhancements and artificial tip extensions.
The NEW Soak-off formula allows you to effortlessly design beautiful nails that will last for weeks with easy removal. Bring durability and strength back with their newly designed GeléeTM Powder Gel® Nail System.
Innovations in the Nail Industry – Launching the LeChat Mood Nail Polish
This are the color changing gel polish colors. Change your nail polish colours with your mood literally at no additional cost.
Nail Extensions and Nail Art
This is for nail spas wishing to take nail art to the next step by ensuring a flawless finish for every nail.
Electric Nail File – File like a Pro
Learn how to optimize time and create a smooth finish using the electric Nail File with confidence. Learn the ABC for pigmentation & acne treatments. Plus secret techniques will be unleashed. Strictly for Spa's Only
Innovations in the Nail Industry: Introducing the Air Gel
No UV lamp required for extended wear Gel Polish which lasts up to 1 month, dries in 4 minutes and removes like a polish. They are also infused with vitamins to ensure strong healthy nails.
Innovations in the Nail Industry: Introducing Gel II
This is a 2-step Gel Polish. With no Base Coat required, it feels thinner, and lasts longer than any other gel available! Forget base coats, bond-aids, and primers. Gel II® delivers a fast 2-step professional system that is unique from any other on the market. Fused with essential vitamins, Gel II® makes nails stronger, healthier, as well as stunning for weeks!
2016 Africa Nail Art Competition
For all Nail Technicians across Africa. A chance to get shortlisted to the Top 20 finalist that will showcase skill in the second edition of Africa's Nail Art Competition.
Registration
Free Registration for 2016 only. Annual Client Membership Fee of 10,000 Naira will apply as from 2017, renewable on an annual basis.
Christmas Promotion Extension
Nectar HUB will be extending its Christmas promotion up until the end of January for anyone to shop retail at wholesale prices with minimum purchase value.
Nectar Beauty Hub is located at 5 Layi Yusuf Crescent, Off Admiralty Way, Lekki Phase 1 (LandMark: the street behind The Place Resturant/FunTurf/Factory) | Call them on: +234 0700 NECTARHUB or +234 8024242656 & 34 | Visit their website: www.nectarbeautyhub.com | Follow them on Instagram: @nectarbeautywholesale
_______________________________________________________________________________
Advertorial – Sponsored Content