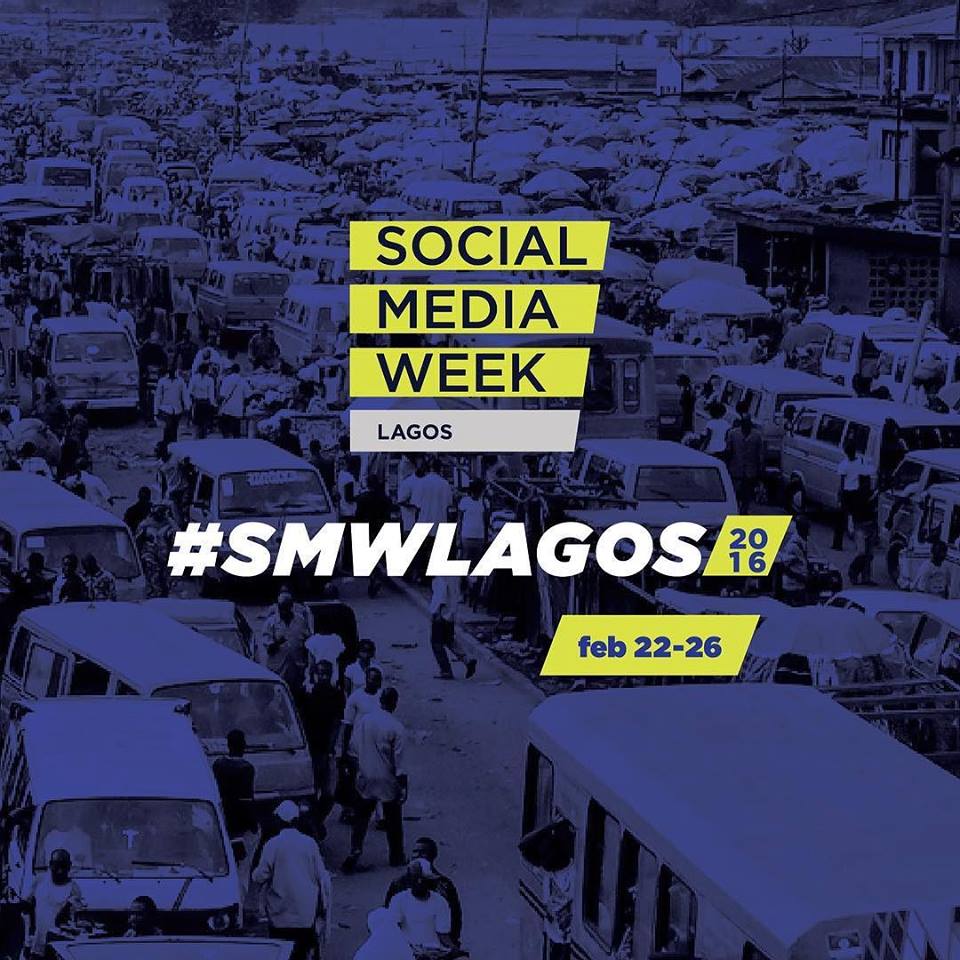 Social Media Week Lagos is back in 2016 and the action kicks off today.
There are lots of exciting events all week long.
To register, visit the schedule page on the SMW Lagos official website and click the event you are interested in.
You can register for your free badge or if you want the VIP experience, buy an Executive VIP Badge.
Feb 22 Monday
Welcome + Future of Media Summit Kick Off
8:30 AM – 10:00 AM
Hosted by SMW Lagos
SMW Interactive Pavilion
Official Event
Feb 22 Monday
Technology & Smart Globalisation: Driving Africa's SDG Agenda
9:00 AM – 10:00 AM
Hosted by The Lodt Advisement
Hangout Suite
Independent Event
Panel / Tech
Feb 22 Monday
Reading Culture, Book Publishing & Social Media
9:00 AM – 10:00 AM
Hosted by Bookhub.ng
Experience Stage
Independent Event
Panel / Culture
Feb 22 Monday
Jelly! All Week
9:00 AM – 7:00 PM
Hosted by CapitalSquare Lagos
CapitalSquare Lagos
Independent Event
Networking Mixer / Business
Feb 22 Monday
SMW Lagos Executive VIP Lounge
9:10 AM – 5:30 PM
Hosted by Social Media Week Lagos
Executive Lounge
Official Event
Other / Business
SMW Lagos Executive Badge required
Feb 22 Monday
Executive Boardroom Open Hours
10:00 AM – 5:00 PM
Hosted by Social Media Week Lagos
Executive Boardroom
Official Event
Other / Business
SMW Lagos Executive Badge required
Feb 22 Monday
'Power, Politics and Perception': Social Media, Power, Ethics, Political Commentary and Activism in the Network Age.
10:30 AM – 11:30 AM
Hosted by alli.org
Experience Stage
Official Event
Panel / Politics
Feb 22 Monday
The Future of Digital Publishing
10:30 AM – 11:30 AM
Hosted by The Guardian Nigeria
Innovation Stage
Official Event
Panel / Media
Feb 22 Monday
The Networked And Disruptive Enterprise
10:45 AM – 12:00 PM
Hosted by Sawubona Advisory Services Limited
Hangout Suite
Independent Event
Panel / Business
Feb 22 Monday
Digital Exhibitions: Challenging the Traditional Space
10:45 AM – 12:00 PM
Hosted by Poseidon Imaging
Masterclass Suite
Independent Event
Multi-format / Media
Feb 22 Monday
Innovation at Work: Leveraging the Power of Digital
11:00 AM – 12:00 PM
Hosted by Wild Fusion Nigeria
Wild Fusion Nigeria
Independent Event
Multi-format / Marketing
Feb 22 Monday
The Power of iWitness: Storytelling for Change
12:00 PM – 1:00 PM
Hosted by Freedom Foundation
Experience Stage
Independent Event
Panel / Humanity
Feb 22 Monday
The Future of Africa's Media in a Platform-Agnostic Age
12:00 PM – 1:00 PM
Hosted by Quartz
Innovation Stage
Official Event
Multi-format / Media

Feb 22 Monday
Messaging Everywhere: Building an African media company in the age of social. A conversation with Claude Grunitzky, co-founder of TRUE Africa
12:30 PM – 1:30 PM
Hosted by TRUE Africa
Hangout Suite
Official Event
Multi-format / Media
Feb 22 Monday
Social Media & Newsgathering
12:30 PM – 1:30 PM
Hosted by AGENCE FRANCE PRESSE
Masterclass Suite
Official Event
Panel / Media
Feb 22 Monday
#PowerUp Lunch Hour
1:00 PM – 2:00 PM
Hosted by Casper & Gambini
Executive Lounge
Official Event
Networking Mixer / Networking & Parties
SMW Lagos Executive Badge required
Feb 22 Monday
What does New Media have to do with Cybercrime Act?
1:30 PM – 2:30 PM
Hosted by NIGERIAN COMMUNICATIONS COMMISSION
Innovation Stage
Official Event
Panel / Media

Feb 22 Monday
Get a Real Job: Social Media Careers & The Validation Struggle
1:30 PM – 2:30 PM
Hosted by Denda
Experience Stage
Independent Event
Other / Media
Feb 22 Monday
Fintech Meets Retail
2:00 PM – 3:30 PM
Hosted by One Credit
Cre8 Space
Independent Event
Multi-format / Tech

Feb 22 Monday
Using Skills to Make Steady Income from Virtual Employment
2:15 PM – 3:30 PM
Hosted by Paradigm Initiative Nigeria
Hangout Suite
Official Event
Panel / Business
SOLD OUT
Feb 22 Monday
How Does The Western Media Get Nigeria Wrong?
3:00 PM – 4:00 PM
Hosted by The Guardian
Innovation Stage
Official Event
Panel / Media
Feb 22 Monday
Media Partnerships – Powered by Facebook
4:00 PM – 5:15 PM
Hosted by Facebook
Masterclass Suite
Official Event
Masterclass / Tech
SOLD OUT
Feb 22 Monday
Global Social Media Strategies For Your Start-Ups
4:00 PM – 5:15 PM
Hosted by Black Enterprise Magazine
Hangout Suite
Official Event
Class / Business

Feb 22 Monday
Create, Collaborate & Innovate; Harnessing Technology to Provide Digital Jobs for Africa's Young Tech Professionals
4:30 PM – 5:30 PM
Hosted by eWorker.co
Innovation Stage
Independent Event
Panel / Tech
Feb 22 Monday
The Future of Digitization
5:45 PM – 7:00 PM
Hosted by BRAND SOULHOUETTE LIMITED
Hangout Suite
Independent Event
Masterclass / Tech
Feb 22 Monday
Leading A Digital Publishing Revolution
5:45 PM – 7:00 PM
Hosted by Pulse Nigeria
Masterclass Suite
Official Event
Masterclass / Media
Feb 22 Monday
SMW Lagos Opening Cocktail Party Powered by @CirocLifeNGR
7:00 PM – 10:00 PM
Hosted by Ciroc Premium Vodka
#CIROClife Lounge
Official Event
Party / Networking & Parties
Feb 23 Tuesday
PenCom Innovators Breakfast & Fireside Chat with Chinelo Anohu-Amazu
8:30 AM – 10:00 AM
Hosted by Pencom
Innovation Stage
Official Event
Showcase / Business
Feb 23 Tuesday
SME Support Clinic
9:00 AM – 5:00 PM
Hosted by The Future Project
Red Media Africa
Official Event
Multi-format / Business