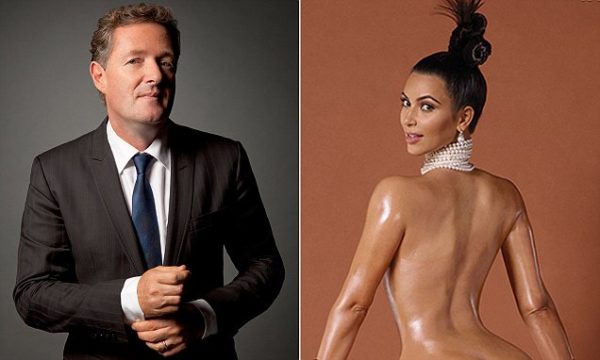 A couple of hours ago Daily Mail's Editor-at-Large Piers Morgan tweeted that he had something in store for Kim Kardashian (after she gave that epic clapback) and now his plans have been unveiled in the form of an article.


The article is titled "You've still got a great body, Kim but if you're really so successful, so secure and so rich why do you still feel the need to pose nude at 35?"
Read the 50-year-old British journalist and television personality's article in part below.
***
She's a smart cookie who, like her rapper husband Kanye West, knows exactly how to set the world agog with apoplexy with a single tweet.

Of course, nudity has been a key part of her brand ever since she first burst into public consciousness via a leaked sex tape.

Since then, Kim's ruthlessly exploited every crevice of her body in a way so spectacularly successful that it's turned her into a multi-millionaire.

Until recently, I've had no problem with this. She works hard, has a keen eye for fashion and beauty lines, and has proven herself to be a skilled self-publicising marketer.

When she first broke the internet in 2014 by baring her champagne-dangling derriere for PAPER magazine, I defended her amid the inevitable 'slut-shaming' onslaught which instantly erupted.

I wrote then: 'Kim doesn't take drugs, get drunk, fall out of clubs, cheat on her man, or do any of the other insanely louche things that stars with far greater 'talent' often do. She's good to her fans, and is by all accounts a good, loving daughter, sister, wife and now mom herself.'

My conclusion read: 'Kim Kardashian-West's laughing all the way to the bank. And all you lazy, snide, snobbish, patronising and hypocritical critics can go kiss her a*s – there's plenty of room.'

But that was then.
***
In one final act of Kimye defiance, she unleashed a second nude photo with the hashtag: '#liberated.

Hmmmm.

I'm not so sure any of this is very liberating.

In fact, I found it all a bit depressing.

Kim's 35 now, and the mother of two very young children.

She still looks fantastic, and of course has every right to post as many naked pictures as she likes. It's her body, her life.

But it's hard to escape the creeping suspicion that this new frenzied and frankly rather desperate attempt to 'break the internet' is happening because other younger members of her family have been grabbing all the scantily-clad attention recently, notably half-sister 20-year-old Kendall 'Instagram Queen' Jenner.

Every supermodel, movie and pop sex symbol (with the exception of the increasingly grotesque and embarrassing Madonna) knows there comes a time when you have to hand the baton onto the next generation, however reluctantly.

Nobody is a better illustration of this than Cindy Crawford, who still commands huge attention as a model but has moved to a less-flesh business model with great style, dignity and commercial benefit.

It's not so easy perhaps when your brand is so indelibly linked to your own nudity, but it's essential if you don't want to fall into the trap of becoming an ageing parody.

That moment of truth has arrived for Kim Kardashian.

As Chloë Grace Moretz so rightly said, does she really want young girls to think the only way to succeed in life is by flashing their naked flesh in tweets to the gawping, salivating world?

She can surely be a far more powerful role model to them, and indeed to her own daughter North, by now proving she can be just as successful in other less prurient ways?

The time has come for Kim to consider the unthinkable and actually start putting her clothes back on.
To check out his full article, click here.
What do you make of Piers Morgan's article?