It's Wednesday and it's time for a new edition of BN Style Your Bump, a series where BN Style looks into maternity style from different women to help inspire you! So far we have profiled Chrissy Teigen, Patricia Bright, Kourtney Kardashian, Tamera Mowry, Maky Benson, Blake Lively, Lami Phillips, Nikki Perkins and Lilian Esoro-Franklin – click here to see them glow in style.
Today we have the Duchess of Cambridge, the lovely Kate Middleton. Mother of two and married to Prince William, Duke of Cambridge, Kate is not only a Duchess or a Princess, she's the Queen of stylish coat, jackets and dresses. Her closet is a mixture of Asos and Alexander McQueen, she's also very frugal and is not afraid to wear a good outfit more than once, my kind of girl.
With the British weather in mind, be prepared to see lots of coats and jackets and a few dresses here and there. Her pregnancy style is also good inspiration for the working woman. I like her use of accessories, prints and colours to make what might seem boring look stylish and pretty but what I like most about her maternity style is the length of her dresses. They're short enough to flaunt her legs and just long enough to do that in a tasteful way.
I'm a little partial so we'll start with her print looks.
This first coat dress from Hobbs, she's worn it for both pregnancies in 2011 and 2013.
Another black & white dress she has worn twice, for both of her pregnancies. Notice how for both dresses, a simple hat makes the difference. This look is great inspiration for a working mum, the jacket is a great addition to make you look work appropriate and it also takes attention away from your bump.
Another A-line polka dot dress from Asos but this time in a different colour mix and with a longer black jacket.
The next few are her more fitted dresses. Notice how both dresses have an empire wait joining above her belly. Also the dresses are not tight, but they're fitted enough to rock her bump in a tasteful way.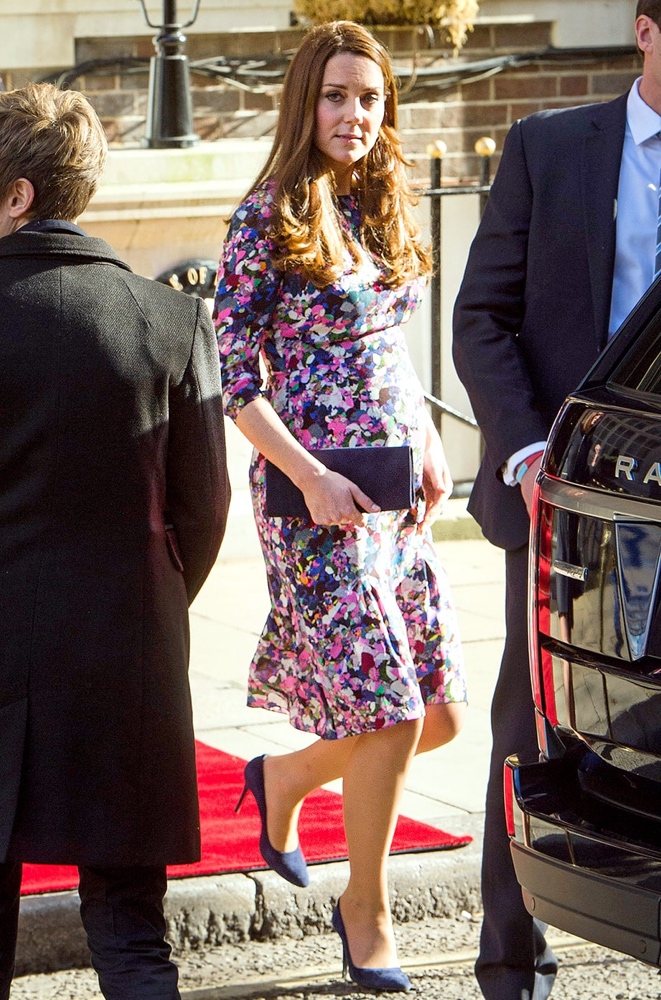 These next coat dresses are in lovely colours especially the yellow one. Her choice of length remains unwavering with both dresses cut above the knee.
Another coat dress in a gorgeous pink colour.
And another frugal moment, wearing this Alexander McQueen dress coat twice in 2013 and 2015.
Here she is in another empire waist cut lace dress and jacket in the same colour. I really like her monochrome looks, very clean and classy.
Love this colour mix in her, it compliments her skin tone nicely.
In another empire waistline cut, Kate is wearing this pretty dress by Emilia Wickstead.
As Snow White, here she is in similar white A-line dress coats.
A vision in blue, she's wearing more A-line dress coats which are great for hiding the baby bump.
Here's she is in another A-line coat dress in brown with a lovely pop of green for St. Patricks day.
And finally one evening look with her baby bump in it's early stages, here she is in this dress by Jenny Packham.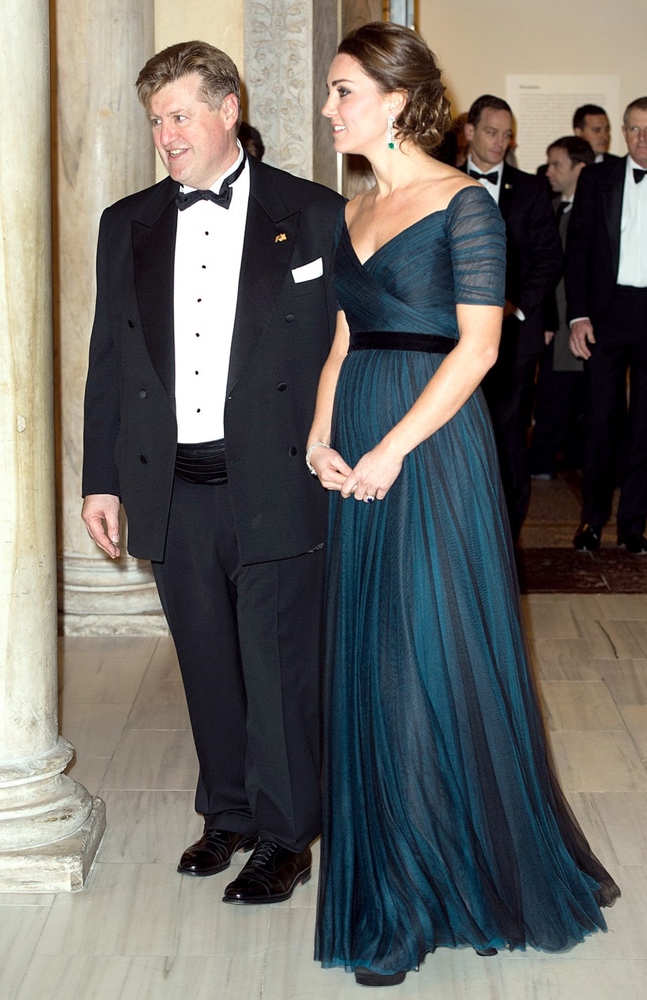 That's the end of today's edition, hope you enjoyed it. Don't be fooled by the coats and coat dresses, you can always find a similar style with a lighter fabric. Look out for more stylish editions of BN Style Your Bump every Wednesday one BN Style.
Photo Credits: Max Mumby/Getty Images, Chris Jackson/Getty Images, Paul Ellis/Getty Images, Alex Lentati/Getty Images, Olivia Harris/Getty Images, John Stillwell/Getty Images.