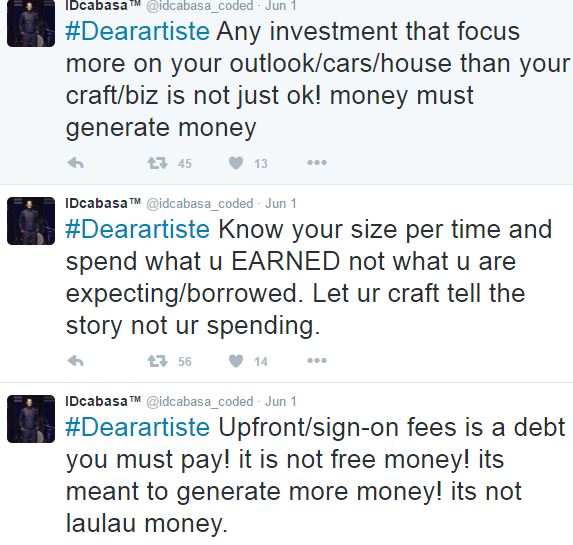 The unexpected turn of events in the past few days has brought award-winning music producer ID Cabasa out to advise artistes using a#DearArtiste series.
In recent times, artistes like Runtown and Skales are facing various allegations leveled against them by their management for backing out of their contracts mid way.
Check out some of his tweets here!
1.Sign contract like sworn enemies,work like best of friends 2.Sign thorough and honest terms. 3. don't collect upfront dat u can't pay back

— IDcabasa™ (@idcabasa_coded) June 1, 2016
#Dearartiste Upfront/sign-on fees is a debt you must pay! it is not free money! its meant to generate more money! its not laulau money.

— IDcabasa™ (@idcabasa_coded) June 1, 2016
#Dearartiste Know your size per time and spend what u EARNED not what u are expecting/borrowed. Let ur craft tell the story not ur spending.

— IDcabasa™ (@idcabasa_coded) June 1, 2016
#Dearartiste Any investment that focus more on your outlook/cars/house than your craft/biz is not just ok! money must generate money

— IDcabasa™ (@idcabasa_coded) June 1, 2016
#Dearartiste Money is not emotional,Biz does not carry any emotion! calculate/plan/strategize/build system around your craft=Skill

— IDcabasa™ (@idcabasa_coded) June 1, 2016
#Dearartiste Music is emotional but Showbiz is not! Talented guys get paid from d POCKET(change) but skilled guys get paid through CHEQUES

— IDcabasa™ (@idcabasa_coded) June 1, 2016
#Dearartiste Living in Lekki/Island is not the definition of success! If after paying the rent u go broke then its not 4 u.

— IDcabasa™ (@idcabasa_coded) June 1, 2016
#Dearartiste Street sense=Survival sense! you won't die if u don't club! infact clubbing without being paid appearance fee is fraud 2 urself

— IDcabasa™ (@idcabasa_coded) June 1, 2016
#Dearartiste Don't market your weakness! that u re a great singer/actor doesn't make u a great Biz man. Song don't pay d bills d biz does

— IDcabasa™ (@idcabasa_coded) June 1, 2016
#Dearartiste PRAYERFULLY get a team around you! And get school-ed about your craft and the biz around it. NEVER STOP READING AND LEARNING.

— IDcabasa™ (@idcabasa_coded) June 1, 2016